Commentary
Fernando Torres on road to redemption
Updated:
October 19, 2011, 8:24 PM ET
By
John Brewin
| ESPN.com
[+] Enlarge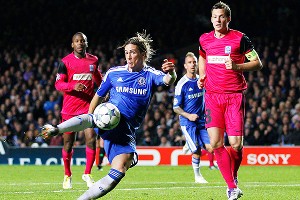 Ian Kington/AFP/Getty ImagesTorres scored twice in Chelsea's 5-0 thrashing of Genk.
LONDON -- When Fernando Torres runs out for Chelsea, it is still difficult to ignore his presence. Fresh angles can be sought in the form of new faces like Oriol Romeu and Raul Meireles, but at a club like Chelsea the money still talks. Torres, the 50 million-pound man, is always a main point of discussion. To move the story on from himself, his mission is simple. He must score goals, and make those goals part of the Chelsea furniture, a Stamford Bridge staple like a John Terry fist pump, a playing of Harry J All-Stars' "Liquidator" or the waving of a stick of celery.
Previously, just when Torres' Chelsea career had looked capable of being rescued, the inexplicable struck. Having scored two goals of the type he once trademarked, Torres debited their value through comedic mistakes; an Old Trafford skew preceded a lunge of the type that used to be known as a "forward's tackle," but is now illegal. Torres' previous indifference means he is yet to be granted football's version of absence making the heart grow fonder, whereby a missing player's importance becomes ever more exaggerated. There is still so much more for him to prove, but a redemptive road is being negotiated.
That rush of blood against Swansea City and a resultant three-game domestic ban have reduced his October to watching his teammates save for international duty and the visit of KRC Genk, Belgian champions and Bridge whipping boys in the Champions League. Weak though Genk may have been, it provided a fillip to the growing sense that the Torres powers are beginning to return. An early striking of the post when he had just Genk keeper Laszlo Koteles to beat did not serve to shatter a brittle confidence. His head stayed up, with positivity pronounced, and soon the moment arrived to score his first Champions League goal for Chelsea.
ESPN FC on Twitter
Don't miss a moment of the latest soccer coverage from around the world. Follow us on Twitter and stay informed. Join »
Launching off the shoulder of the last defender, a shot was fired past Koteles in a style once so familiar in a Liverpool shirt. Raucous plaudits accepted, and chest now puffed with pride, he was soon able to feel sufficient assurance to offer condolences to Frank Lampard for a failed flick, and then Florent Malouda for a near miss set up by his own destructive run into the heart of the Belgians' defense.
A header from an Anelka cross soon brought another goal, and a jumping celebration of relief and further belief. The Stamford Bridge-ites who have willed Torres on in hope rather than expectation could enjoy his moment. Chelsea owner Roman Abramovich must have been grinning from ear to ear, though then again, he always is, and perhaps even during his current legal wrangle at London's High Court.
Successful feints and flicks are the preserve of a player imbued with a settled football brain, and Torres delivered incisive link play throughout. His teammates enjoyed playing with him, too. Genk was simply blown away by a Chelsea team that may have lacked the surges of Juan Mata and Daniel Sturridge, but created four goals in 40 minutes all stamped with a mark of quality. Meireles' opening strike was a long-range finish of Lampard-esque precision, while Branislav Ivanovic's header took the game into the realms of rout after just 40 minutes. With the Champions League group stage being negotiated with an ease that Chelsea's English counterparts cannot match, grounds for optimism about the new Blues are swelling. So long described as a group of old soldiers approaching their last stand, this is now a team bursting with youthful vigor and fresh ideas.
Casualties and a resetting of certain expectations are likely to result. Reputations can be respected but not bowed to, with past glories placed in the history books. Chelsea fans have begun to fear for Didier Drogba, for seven years their standard bearer in attack. Age, injury and the arrival of Torres are at the root of that. Manager Andre Villas-Boas has already staked his reputation on an approach to the old guard that has let them know that he makes the decisions, not them, as previous incumbents often allowed them to do. Terry was again a non-participant in this competition, while Lampard looks rejuvenated by the challenge of fighting for his place.
Torres, however, is a player the Portuguese manager needs to make work. Any team would desire a striker of such strength, pace, aerial presence and the ability to link play with a breaking midfield. Fernando Torres always was that player. He just needed to find it within himself. It may just have been located.
His manager believes that any previous malaise was "not a question of form," a statement open to interpretation, perhaps, but his next statement about Torres supplied a telling truth. "It is important for players to feel confident," said Villas-Boas. "And he has been feeling confident."
If confidence was all that was required to make Torres the force he once was, then Chelsea must continue to plump up his ego. Mata already looks a force. Meireles is clearly an adaptable force of consistency. Romeu's possession play shows the benefits of a Barcelona education. These are all clear signs of a squad heading for a trophy-delivering rejuvenation. Yet it is Torres who provides the key to the success of a new Chelsea.
John Brewin
ESPN FC