Commentary
James Milner is Man City's unsung hero
Updated:
October 27, 2011, 2:04 PM ET
By
Michael Cox
| Special to ESPN.com
[+] Enlarge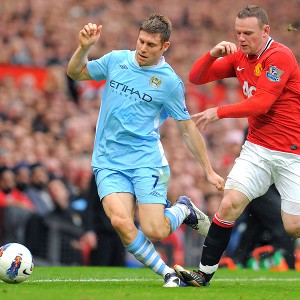 Andrew Yates/Getty ImagesIt's versatile, workmanlike players such as James Milner who help clubs win titles.
The last time James Milner was withdrawn from a Premier League game by Roberto Mancini, the midfielder was livid. Making way for David Silva midway through City's 3-0 defeat at Liverpool in April, he shook his head as he ran off and was clearly disgruntled as he slumped down on the bench. You'd expect that reaction from Carlos Tevez or Mario Balotelli -- but Milner? OK, it wasn't a full-blown strop, but this was the ultra-professional, quietly spoken squad man who went about his job without fuss. With a player like that openly showing dissent toward his manager, you started to worry for Mancini.
An FA Cup win, Champions League qualification and more superstar signings later, much has changed. Milner was substituted at Old Trafford last weekend, having played a crucial role in City's most famous Premier League win to date. The scene couldn't have been more different from the one at Anfield six months previously -- he walked off the pitch to chants of his name from the away supporters, and a pat on the back from his manager.
Milner would be the first to admit that he isn't the biggest name at the club. But while Silva has started the season superbly, Edin Dzeko is scoring a goal every 56 minutes, Sergio Aguero has adapted to the Premier League swiftly and Balotelli continues to grab the headlines, it's players like Milner who win titles.
When a club progresses from being a hopeful to an outright title winner, there's always one or two players who play a surprisingly crucial role. Blackburn Rovers probably wouldn't have triumphed in 1994-95 were it not for Mark Atkins, a utility player who left the club shortly after the title win. Atkins played a pivotal role in midfield because of David Batty's long-term injury. When Arsenal won the double in 1997-98, the energetic Ray Parlour stepped up from being a "cult favorite" to an excellent right-sided midfielder, inspirational in the run-in, and man of the match in the Cup final. Milner's in that mold -- versatile, hardworking and understated.
ESPN FC on Twitter
Don't miss a moment of the latest soccer coverage from around the world. Follow us on Twitter and stay informed. Join »
In a squad full of big names and a few big egos, Milner has been played in various roles. A wide player when he was younger, his final season at Aston Villa saw him brought into the middle of the pitch by Martin O'Neill. The move resulted in the best performances of his career. "Changing position has been a massive thing," he said when he was voted PFA Young Player of the Year that season. "The manager moved me into the middle and it suits me a bit more, as it helps me get into the game and influence the game."
Milner wants to play through the middle, and he's had chances there this season. Mancini has used him in the center three times, on the left twice, and on the right once -- at Old Trafford. But that adaptability makes him perfect when Mancini has a specific tactical plan in mind. On Sunday, he wanted Milner and Silva to take turns drifting across the pitch to the opposite wing, to double up against the opposition full-backs.
[+] Enlarge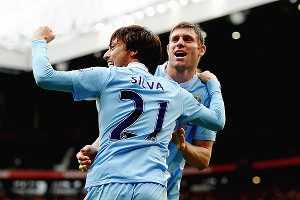 Laurence Griffiths/Getty ImagesAfter City scored the second goal against United, David Silva celebrated with Milner, showing his appreciation for the Yorkshireman's play.
It worked brilliantly: midway through the first half, City took the initiative in the game. Milner moved across to the left, Silva played him in, and Milner pulled the ball back for Balotelli to finish. In the second half, Silva came to the right, swiveled and found Milner, and the cross was again converted by Balotelli. Silva, Milner, Balotelli. Both times.
After that second goal, Silva ran to celebrate with Milner rather than Balotelli, showing his appreciation for the Yorkshireman's play. Those two combine well together: Silva's the genius who wants someone to get into the right positions to link with; Milner is humble enough to do the hard running to emphasize Silva's creativity, rather than trying to be the main man himself. "We don't expect anything less than what we have seen from him," he says of Silva. "We see it every day in training, week in, week out, and he has won a World Cup, so nothing is going to faze him."
It sums up City's wealth, of course, that it can afford to spend 16 million pounds plus lose Stephen Ireland (a transfer originally valued at 24 million pounds, but on the basis of Ireland's performances for Aston Villa so far, it's probably more like 16 million pounds) on a useful squad man like Milner. Gareth Barry at 12 million pounds is a similar case, but both have shown their worth so far this season -- Barry's distribution has been calm and precise.
Other title contenders have reliable veterans who accept their diminished place in the squad and are happy to play when picked -- Ryan Giggs or Michael Carrick at Manchester United, Paulo Ferreira or Nicolas Anelka at Chelsea. City wouldn't have had that level of experience and sense of security had it not bought players like Milner and Barry; the club would have been stuck with wayward slackers like Ireland and Michael Johnson when its big names were out. Too many rich clubs focus on superstars and nothing else -- Real Madrid's "galacticos" being the obvious example -- but City has assembled a decent squad, too.
Hopefully, Milner will continue to get game time. This time last year, he had completed 90 minutes in his first nine league games at City, but then played just seven complete matches before the end of the campaign. He has more competition this year, but his performance at Old Trafford shows that Milner's ready to be much more than a faithful sidekick.
Michael Cox is a freelance writer for ESPN.com. He also runs zonalmarking.net.