Commentary
Previewing the MLS East final
Anybody who doesn't believe that MLS is a league laboring under the yolk of parity has but to watch the Eastern Conference final on Sunday (5.30 p.m. ET, Fox Soccer), when Sporting Kansas City hosts the Houston Dynamo, for evidence. Surely few other leagues in the world could produce a match with contestants as well-matched as these two.
The two sides ended first and second during the regular season in the East, with nearly identical records of 13-9-12 for Sporting and 12-9-13 for the Dynamo. They both feature a sturdy defense, clinical offense, an up-tempo game and a distributor who can alter the game with a long ball or set piece -- Brad Davis for Houston and Graham Zusi for Kansas City.
Perhaps recognizing themselves in their opponents, they go into the game with a great deal of respect for one another. "I think they're a good team from the run of play, they defend well," Kansas City coach Peter Vermes said. "I don't think there's just one good part to their team, they're good all-around. They're extremely experienced and we won't take that lightly. [Dynamo coach] Dominic [Kinnear] has had a lot of success over the years." Indeed, before missing the playoffs the past two years while rebuilding the squad, the Dynamo reached three straight conference finals, winning the MLS Cup in 2006 and 2007, making this their fourth appearance in the conference final in six years.
[+] Enlarge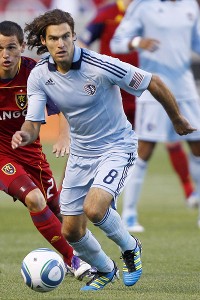 George Frey/Getty ImagesGraham Zusi assisted on both goals in Sporting's 2-0 win over Colorado in the second leg of the conference semfinals.
"It's a team of quality players, but they have depth as well," Kinnear said of Kansas City, alluding (at least in part) to the four quality central forwards Sporting possesses: Omar Bravo, Teal Bunbury, Kei Kamara and CJ Sapong.
Key matchup: Dynamo winger Brad Davis vs. Sporting holding midfielder Davy Arnaud
While the label of "left-footed David Beckham" is a little odd, Dynamo left winger Davis -- long overlooked for the national team -- certainly is a linchpin for the Dynamo. His free kicks assisted on the go-ahead goals in both of the Dynamo's conference semifinal legs against the Philadelphia Union (which the Dynamo won 2-1 away and 1-0 at home). And his distribution off the wing and corner kicks is unfailingly dangerous. Davis was long underrated, but nevertheless, said Vermes, "He is somebody that every year he's been in the league you've had to be aware of."
Davis will doubtless be minded by Sporting midfielder Arnaud, the team's captain and leader in combat. A tough-as-nails holding player, Arnaud, who usually operates at right mid in K.C.'s 4-3-3 anyway, will have the pivotal task of shutting down Davis.
Players to watch:
For Houston -- striker Brian Ching, goalkeeper Tally Hall, defender Geoff Cameron
For Kansas City -- forward Omar Bravo, forward Teal Bunbury, midfielder Graham Zusi
Although Ching was hobbled for much of the regular season, the experienced striker hit form during the conference semis, assisting on a goal in the first leg and scoring on a header in the second. Hall has filled in admirably for the retired Pat Onstad this year and seems to be getting more dependable with every game. Cameron, since moving back into central defense over the summer, is emerging as one of the league's most athletic and skilled defenders who is dangerous going forward too.
Bravo, Sporting's star designated player, missed the semis (which Sporting won 2-0 and 2-0 over the Colorado Rapids) because of a groin stain and will be a game-day decision. His runs and defensive work are crucial to K.C. Bunbury scored twice in the first leg on deft runs to essentially decide the tie, taking advantage of his pace and finishing touch. Zusi doled out both assists in the second leg off set pieces and launches the runs of the three forwards K.C. usually plays with.
[+] Enlarge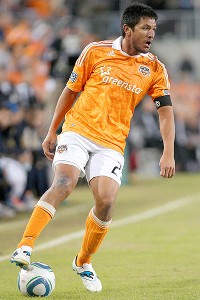 Thomas B. Shea/Getty ImagesForward Brian Ching contributed a goal and an assist in Houston's two-legged semifinal with Philadelphia.
X factors: Dead-ball situations and offensive efficiency
During the conference semis, the Dynamo scored two of their three goals off free kicks and Sporting two of four. Zusi and Davis both send laser-guided service into the box. For each team, minimizing fouls in its half will be crucial.
Both teams showed that their forwards are sharp. Neither really wasted any major chances, punishing mistakes whenever they got the chance. This will put further pressure on each defense -- both of which are highly qualified -- not to make mistakes.
Outlook:
Sporting faces a much sturdier team than the Rapids were. Colorado was badly decimated by injury, particularly affecting its back line -- which was without three of its four regulars in the second leg -- making it unsurprising that Sporting strolled out to a 4-0 aggregate win.
The Dynamo, meanwhile, won't be able to sit back as they did for much of their second leg with Philadelphia, when they'd built a 2-1 lead going into the game and added to that in the dying seconds of the first half. Sporting would pick them apart, so the Dynamo will have to put possession above all else.
Houston hasn't lost in eight games since being beaten 3-0 by, yes, Sporting Kansas City on Sept. 9, when Sporting won handily at home by stabbing through-balls between the Dynamo defenders. (The two teams played to a 1-1 tie in their other game on July 16.) But Houston has shored up its back line considerably and is 6-0-2 since, including a four-game winning streak. Kansas City, meanwhile, has also won four in a row and hasn't lost in seven, going 5-0-2.
The outcome of this game is anybody's guess. (I'm calling it a Dynamo win on penalties, since you twist my arm.) What is a safe bet, however, is that this game will be one of the best of the year.
Leander Schaerlaeckens is a soccer writer for ESPN.com. He can be reached at leander.espn@gmail.com. Follow him on Twitter at @LeanderESPN.

Contributing writer, ESPN.com
Leander Schaerlaeckens is a contributing writer for ESPN.com. He has previously written for The Guardian, The Washington Times and UPI.