Commentary
Mihajlovic doomed from the start
Updated:
November 8, 2011, 2:18 PM ET
By
Michael Cox
| Special to ESPN.com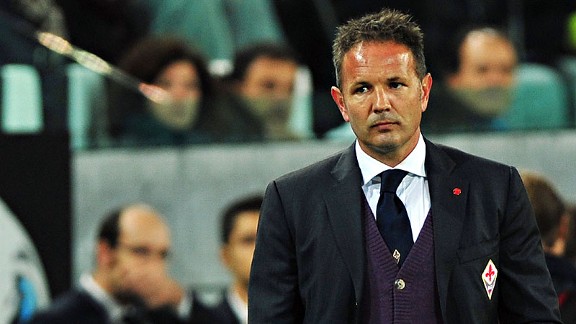 Giuseppe Cacace/AFP/Getty ImagesSinisa Mihajlovic's troubled reign at Fiorentina -- one marked by player unrest and average results -- came to an unceremonious end Monday.
Sinisa Mihajlovic's departure from Fiorentina on Monday came as no surprise, after a poor run of form at the beginning of the season and constant calls for the manager to leave from the club's supporters.
Serie A Highlights
Click here for the best goals from Round 10 of Serie A, which includes a stellar shot from AC Milan's Robinho.
Replacing Cesare Prandelli was an almost impossible task. Prandelli had taken charge of Fiorentina in the summer of 2005, when it had narrowly avoided relegation to Serie B on the convoluted basis of its head-to-head record against two other sides. By the time Prandelli left, Fiorentina had enjoyed two consecutive Champions League campaigns -- and it would have been more were it not for the penalties of the Calciopoli scandal.
It wasn't just results that earned the current Italy coach a place in the hearts of Viola fans. The style of football Fiorentina played under Prandelli was expansive and attractive, and he always conducted himself with great dignity. There was a special bond between the coach and the fans -- when Prandelli's wife, Manuela, died of cancer in 2007, the Curva Fiesole displayed banners expressing their condolences, and Prandelli was clearly moved.
At that time, he spoke of the kindness of the fans and opened up in interviews, saying there was more to life than football. At the same time, he continued doing an excellent job as coach. He'd left Roma after a couple of months in 2004 to care for his wife, and few would have excused him if he'd done the same in her final days. He didn't, and went on to become Fiorentina's longest-serving coach in history, before leaving for the Italy job with the blessing of the fans. And not all coaches would get that from a Florentine crowd that has often been hostile to the national side.
[+] Enlarge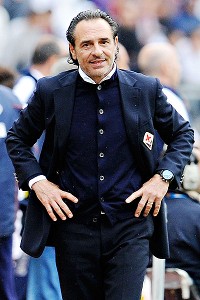 Giuseppe Bellini/Getty ImagesReplacing Cesare Prandelli was always going to be a tough act to follow for Sinisa Mihajlovic.
Fiorentina had collapsed in the final months of Prandelli's reign, and hasn't really got over its Champions League exit at the hands of Bayern Munich on away goals in 2009-10, when it was the victim of several unfortunate refereeing decisions and a brilliant long-range drive from Arjen Robben. That sense of injustice has clouded the club's mind since, and was combined with the knowledge that it was unlikely to get back to that position any time soon. Its chance had gone, and so had Prandelli.
With the club in this state, Mihajlovic was guilty of being overambitious when he arrived in Florence in 2010. He declared that his target was the top four, making his lack of success since all the more disappointing. He was dealt a huge blow before the season even started, with Montenegrin wonderkid Stevan Jovetic ruled out for the entire 2010-11 season with a cruciate ligament injury.
Fiorentina was unable to bring in a replacement. Jovetic was young and would return, so a big transfer outlay was hardly justified. His natural backup, Adrian Mutu, was still suspended because of a drugs ban. Here, Mihajlovic's petulant past as a player came back to haunt him. He had previously spat into Mutu's face during a Champions League match between Lazio and Chelsea in 2003. That was seven years before the two met again, but how could Mutu have any respect for his new coach? He didn't. Mutu was involved in a well-reported bar brawl in Florence shortly before his ban expired, then walked out on a training session before a match with Bologna in January to try to engineer a move to Cesena. He was suspended by the club, but reinstated into the squad for the latter part of the season, when Mihajlovic really should have given him the Carlos Tevez treatment and frozen him out. Mutu then joined Cesena in the summer anyway -- it's baffling why Mihajlovic persisted with Mutu when promising youngsters like Adem Ljajic and Khouma Babacar were starved of playing time.
Typically, given Mihajlovic's playing career, discipline was a problem throughout his reign. Riccardo Montolivo's tedious on-again-off-again contract negotiations resulted in him being stripped of the captaincy over the summer. His agent had previously voiced his client's annoyance at the signing of Gaetano D'Agostino, a similar midfielder. It demonstrated the unrest within the squad.
[+] Enlarge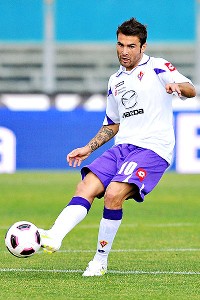 Massimo Paolone/Getty ImagesAdrian Mutu was one of many players with whom Mihajlovic clashed.
There were further problems. Artur Boruc was signed as a backup goalkeeper and complained about his lack of playing time, then Sebastien Frey got injured, and Fiorentina solved the problem by letting Frey go to Genoa on a free, losing a club favorite and probably the better keeper. D'Agostino also left in the summer and complained about his treatment.
Juan Manuel Vargas was left out of the squad for the game against Cesena because he was late from returning from international duty among wider concerns about his professionalism. Houssine Kharja was told off for commuting to training every day from Milan, and promised he would move to Florence -- then didn't, creating another row with Mihajlovic. "He said he wasn't going to do this anymore, but instead he's defending his position," Mihajlovic complained. "He showed a lack of respect for me and all his teammates." He certainly did, but so did others, and the anarchy at Fiorentina, having been such a settled squad under Prandelli, shows Mihajlovic's lack of leadership.
Youngsters Ljajic and Babacar were told off, Lana Del Rey-style, for their obsession with video games. Ljajic was also told to eat less chocolate and get a haircut. No one is sure whether Mihajlovic was trying to be an old-school disciplinarian or a cuddly father figure. Ultimately, he was neither.
Mihajlovic is a decent tactician. Occasionally, he would come up with excellent plans to thwart bigger opponents. Against Napoli this season he pushed Walter Mazzarri's side out of shape by using Alessio Cerci high up on the right, but won the tactical battle rather than the match, which finished goalless. He is probably too much of a reactive manager, constantly changing shape and personnel -- and a terrible away record of three wins from 24 matches show how submissive Fiorentina could be.
It's difficult to imagine what legacy Mihajlovic will leave -- average results, unimaginative football and no improvement of the situation when he took over. Youngsters Babacar, Jovetic and Ljajic progressed little for various reasons, though at least promising center back Michele Camporese made his breakthrough, and that might be Mihajlovic's sole achievement in the long term.
ESPN FC on Twitter
Don't miss a moment of the latest soccer coverage from around the world. Follow us on Twitter and stay informed. Join »
Insults got personal -- sections of the crowd chanted "gypsy" at Mihajlovic last week, prompting others to display an amusing banner at the weekend saying, "As a coach we question you, but as a man we respect you. Sorry!" He accepted the apologies, and those who brought his personal life into the equation would do well to understand what a fascinating but horrible life he led back in his home country and stick to football.
He is replaced at Fiorentina by Delio Rossi, who has previously worked with Corvino at Lecce. The two are faced with a rebuilding job, with the first task being to move the club forward, probably dispensing of some of the big names that thrived under Prandelli. In that sense, Mihajlovic's reign has already been forgotten.
Michael Cox is a freelance writer for ESPN.com. He also runs zonalmarking.net.