Commentary
Klinsmann still upbeat despite loss
Updated:
November 11, 2011, 8:56 PM ET
By
Ravi Ubha
| ESPN.com
PARIS -- Walking from the train station to the mammoth Stade de France on the outskirts of Paris, two American fans in team colors could be heard saying, "I think we'll score a couple of goals tonight." Maybe they knew France was missing a slew of regulars at the back.
[+] Enlarge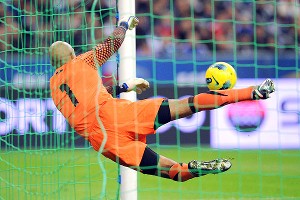 Franck Fife/Getty ImagesTim Howard once again put in a stellar performance for the U.S., including a tremendous save in the second half.
They must have went back to their hotel, or wherever else -- Paris has much to offer, you know -- disappointed.
The dearth of goals continues under Jurgen Klinsmann, although some would say the U.S. losing only 1-0 in France, even if Les Bleus were largely experimental, was a good result. Thank Tim Howard for limiting the damage -- again.
The facts, though, reveal that Klinsmann has won one of his six games since replacing Bob Bradley, with two goals scored, not the kind of numbers U.S. fans envisioned.
Klinsmann said this week that he wasn't too bothered about win-loss records at this stage and was convinced the goals eventually would come. He was still, predictably, optimistic after the friendly.
"We made life very difficult for France," Klinsmann said in a news conference. "They realized after half an hour there is a team that has a go at them."
But the U.S. didn't create a single good chance, registering two shots on goal altogether, which shouldn't diminish the performance of Jozy Altidore. He was the lone ranger up front and worked tirelessly. On another day, or maybe playing at home, he would have gotten a first-half penalty after deceiving the much derided (in England) Laurent Koscielny and wouldn't have been flagged offside as he charged toward goal deep in the second.
Klinsmann's lineup, devoid of Landon Donovan, always suggested chances would be at a premium. For all his desire to find the back of the net, he clearly didn't want to play an overly offensive squad and get burned when the predictable space resulted for the technically superior French. Instead of starting Michael Bradley alongside Maurice Edu in the middle of the pitch, he opted for the dreadlocked Kyle Beckerman. It made for an overwhelmingly defensive duo.
The role of the former coach's son has been diminished under Klinsmann, and when Beckerman came off midway through the second half, it wasn't Bradley, but Jermaine Jones, who entered.
ESPN FC on Twitter
Don't miss a moment of the latest soccer coverage from around the world. Follow us on Twitter and stay informed. Join »
Beckerman has drawn mostly negative reviews in his stint with the national team, and he gave away a free kick in a dangerous spot in the first half, was saved by an offside when stripped of possession and generally likes to play those square balls. However, he was busy, tried to be more proactive than Edu and made a fine defensive block when France piled on the pressure in a five-minute spell with the game scoreless in the second half.
Brek Shea, meanwhile, had an interesting night. He was busy tracking back early on the left side of midfield as impressive left back Timothy Chandler bombed forward. Nice work defensively. Yet he couldn't produce the same performance he did against Ecuador -- yes, it's an inferior side to France -- last month. Shea admitted afterward it wasn't his best outing and was surprised to learn that French manager Laurent Blanc had singled him out for praise.
"There were some players that I didn't know that kind of impressed me, like Shea," Blanc said in his news conference. "And then I saw that he was born in 1990, and so I was impressed by him."
Danny Williams, filling in for Donovan in the lineup, was a nonfactor. When he did have chances to create, he wasted them, failing to spot Chandler in space in the first half, and going into the middle and straight into traffic instead of down the wing when one-on-one with a defender in the second. The most animated Klinsmann got all night was when Chandler's pass appeared to strike a French defender on the arm a few yards outside the French box. He berated the linesman and fourth official.
There also was worrying news as it related to veteran right back Steve Cherundolo. Solid at the Gold Cup, Cherundolo didn't excel against the Ecuadorians, and his 32-year-old legs were caught out for pace by the French.
France's goal in the 72nd minute also exposed the pace of center backs Carlos Bocanegra and Clarence Goodson. Howard rescued his side when a long ball caused havoc in the 69th minute -- he stood firm to deny substitute Loic Remy and cut down the angle to thwart debutante Olivier Giroud on the rebound -- but couldn't stop Remy, an injury doubt before the game, a second time.
Remy raced past Goodson on another long ball and beat Howard to the far post. For most of the night, Bocanegra and Goodson, in for the injured Oguchi Onyewu, coped in the center, with Goodson making a good tackle to deny Jeremy Menez after he was initially beaten. Goodson had to get his timing right, too. If not, it would have been a red card.
If Altidore deserved plaudits, Dempsey didn't get an opportunity to show what he could do. With Beckerman and Edu busy trying to press and break up play in midfield, he barely saw the ball. Such was his frustration that early in the second half, he tried an ambitious long-range effort from 40 yards. He was closer with a free kick in the 78th minute.
In the end, Klinsmann said Chandler is his left back. He didn't have to say the same about his keeper. With the U.S. tiring in the second half after limiting French opportunities in the first, Howard was always going to be called upon. And besides stopping Remy and Giroud, he brilliantly dived to his left to push out Karim Benzema's free kick.
Klinsmann said Howard is among the top five or six keepers in the world, taking his game to another level. "It's a pleasure to work with him because he's very calm and a balanced leader for our back four and the whole group in general," Klinsmann said. "I told him to take a lot of responsibility together with other players, and he stepped it up the last couple of months."
Hey, Tim, have you ever played as striker?
London-based Ravi Ubha covers soccer and tennis for ESPN.com. You can follow him on Twitter here.