Commentary
Analyzing England's win over Spain
Updated:
January 16, 2012, 12:42 PM ET
By
James Tyler
| ESPN.com
Stop me if you've heard this one before. England's national team pulls off a plucky upset against one of the world's elite teams, and suddenly it's 1966 again and Bobby Moore is hoisting the Jules Rimet trophy.
At least that's how the British media -- not exactly renowned for their reservedness -- saw Saturday's 1-0 win over Spain, just as 14 years ago when England impressed against strong competition to get the media bloviating anew on World Cup dreams. In 1997, England took part in Le Tournoi, a four-team summer tournament with three of the biggest soccer superpowers -- France, Brazil and Italy -- and stunned the world by winning two of three games to lift the competition's trophy. What happened next? Aime Jacquet's France side, derided as being "paleolithic" after losing to the Three Lions, would go on to demonstrate defensive mastery en route to capturing the 1998 World Cup, while the English did their usual "lose on penalties" routine in the second round to end yet another competition empty-handed.
[+] Enlarge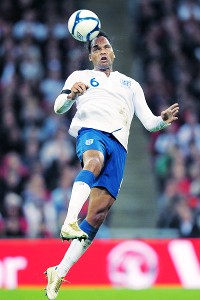 Shaun Botterill/Getty ImagesJoleon Lescott paired with Phil Jagielka in the center of England's defense to deny Spain in Saturday's friendly.
Such is life as an England supporter. Worse yet is the cruelty that awaits a true England believer: interlocking cycles of refusal to believe the hype laced with absurd, absinthe-fueled dreams of seeing the Three Lions become internationally relevant once more. So how nice it was that Frank Lampard & Co. catalyzed that bipolarity by knocking off the current European and world champions, 1-0, in a sleepy November friendly played at Wembley Stadium -- the ultimate mean-everything and mean-nothing result. That said, I bet the media's favorite punching bag, Fabio Capello, felt vindicated by the result, even if his missing his son's wedding shows a lack of perspective that would make Rupert Murdoch proud.
Let's look at the positives. England's defending was nothing short of lion-hearted heroic, bending to Spain's relentless possession game yet frustrating the likes of Andres Iniesta and Juan Mata around the box as they searched aimlessly for that decisive, penetrative final ball. Oh, and the game winner itself, an artful Stoke City-esque smash-and-grab -- Darren Bent rising highest to guide James Milner's free kick onto the post, beating Pepe Reina decisively so Frank Lampard had a free header on the rebound. And although the crowd of 87,000-plus got to see David Villa crack the upright with 20 minutes to go as well as several spurned Spanish chances inside the final 10 minutes, Joe Hart and his back four held firm. The only part missing from this most English of defensive efforts was the spurious red card that would have reduced the side to 10 men.
Then there were the individual performances: Scott Parker was typically guts and glory in the heart of the English midfield, just as he has been for Spurs all season. The in-form pair of Joleon Lescott and Phil Jagielka withstood the waning-yet-still-occasionally-potent advances of Fernando Torres and an out-of-form Villa, and young Phil Jones had his moments as a defensive midfielder when faced with the Spanish passing attack. For a side devoid of Wayne Rooney, John Terry, Steven Gerrard and Rio Ferdinand, it was nothing short of revelatory.
But even these 200 words of praise is already too much fuel for the pining English psyche. If we learned anything from Le Tournoi, it's that such results in isolation will get overblown -- after all, it's the Lions' biggest result since beating Germany 2-1 in an exhibition game three years ago -- and while Capello's men deserve full credit for seeing out a nervy, narrow win that no one foresaw in the pregame buildup, context is king. Spain's tiki-taka panache -- racking up nearly 350 touches inside England's half in the first 45 minutes alone, compared to 75 for the home team beyond midfield -- was infused with a degree of laziness to be expected from randomly placed international breaks amid the fully bloomed domestic season. After all, the major goals of any player in these interminable inter-lulls are simple: survive a 90-minute kick-around without injury, and welcome Carlos Tevez back from his latest unapproved jaunt.
[+] Enlarge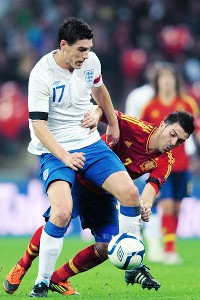 Laurence Griffiths/Getty ImagesGareth Barry is among Fabio Capello's options in midfield as England heads toward Euro 2012 next summer.
If you paid closer attention, you'll have noted that England's own efforts to play a measured keep-ball game still looked Wigan-esque by comparison. And as prolific as La Furia Roja have been in tournament play since 2008, Vicente del Bosque's sides rarely deign to hit top gear with the pressure off, losing to Italy, Portugal, Argentina and now the English since lifting the World Cup last July while going 8-0-0 in Euro 2012 qualifying. In short, they know which games are worth the effort, as does the Spanish media: Marca lamented the 1-0 defeat with the headline "Damned Friendlies," while AS cried about an "Accidental Defeat."
Pundits will quickly point out that it is possible for England to look decent without Rooney, the only English player to make it on the World Player of the Year short list for 2011. (Spain, by comparison, had seven nominees on the 23-man ballot.) However, haven't we known this for some time? England's winning percentage since 2003 without the mercurial Wazza is at a respectable 69 percent, compared to just 60 percent whenever the Manchester United star takes the field.
All told, this England team is not dissimilar to the many others that have marched manfully, chests puffed out and hearts on sleeves, into big tournaments since 1966: heavy on headline-generating potential but much lighter on talent and depth than the rest of the perennial contenders. As Barney Ronay noted in an article in The Guardian on Friday, just seven of the current 25-man squad have even been to an international tournament, and once Rooney and Rio return, they'll be the only players that have won a European trophy. The term "long shot" doesn't even cut it.
Joe Hart's a proven star between the posts and there's a lot to like about the balance of a possible Parker-Jack Wilshere-Gareth Barry midfield if the trio retain both health and form down the stretch, but the rest is a mess. Who partners Terry at the back, presupposing the embattled Chelsea captain is even still worth the armband next summer? What serves as Plan B if Theo Walcott or Ashley Young underwhelm as England's primary wing threats? Are Phil Jones, Jack Rodwell and Danny Welbeck ready to star at this level? Can Bent lead an international line in Rooney's absence? And what if Fabio bows to seniority/dementia and tries vainly like every Three Lions manager in the modern era to shoehorn Lampard and Gerrard into the same starting XI?
Until then, I guess I'll dust my flag off, paint my face and watch as this rabble gathers momentum before being thrashed 4-1 again by Germany in the knockout rounds. Even though that denouement will be as painful as it is inevitable, best to let Fleet Street have its day. "England: We Believe."
James Tyler is a freelance writer who has worked for ESPN The Magazine. He was the founder and editor of Unprofessional Foul and has written for Run of Play and Time magazine. He can be found on Twitter at @UFJamesT.

Soccer
James Tyler is an ESPN editor for soccer.