Commentary
Pressure is on Portugal in playoff
Updated:
November 15, 2011, 10:28 AM ET
By
Michael Cox
| Special to ESPN.com
International football seems to be increasingly unpopular these days -- for various reasons, the club game has completely superseded it, both in terms of quality and reputation. International friendlies are considered irrelevant, while international qualifiers are often a formality for the bigger teams that naturally attract the most attention.
[+] Enlarge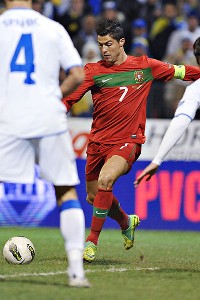 Andrej Isakovic/AFP/Getty ImagesRonaldo's biggest adversary this past Friday against Bosnia was the pitch, which was in poor condition.
However, the biennial playoffs for the World Cup or the European Championships are international football at its most intriguing. Here, you have the unique prospect of two-legged international fixtures with a huge prize at stake. You have world-class players -- Cristiano Ronaldo, Luka Modric and Edin Dzeko this time around -- out of the comfort zone they enjoy with their clubs, and forced to inspire their nation to victory. There are no suspicious withdrawals through injury, no games ruined because the referees are being lenient (as in international friendlies), no halfhearted atmospheres. It's among the best occasions on the football calendar.
Unfortunately, the two-legged format has been rendered almost irrelevant this time around, with thumping wins for Ireland and Croatia over Estonia and Turkey, respectively, in the Euro 2012 playoffs. It's hard to imagine either side surrendering such a lead when they face off again Tuesday, while the Czech Republic will start the return game against Montenegro with a two-goal advantage -- not safe, but in command of the tie.
The only evenly balanced second leg is Portugal's home game with Bosnia, after the first leg finished 0-0 on an outrageously poor pitch. Portugal seemed to overcompensate in that respect -- it played a surprisingly basic route-one style of football, launching balls toward the head of center forward Helder Postiga and trying to spray long diagonals out to Cristiano Ronaldo on the left. It should have provided the breakthrough -- Ronaldo had an excellent chance in the first half, except a bobble ruined his effort and the ball flew wide -- but Bosnia rallied after the break once it switched to a 4-4-2 system, which saw key creators Miralem Pjanic and Zvjezdan Misimovic get more of the ball. It was a game of two halves, within a game that was only half the contest anyway.
The tactical battle in the second leg is likely to be similar in terms of formations. Portugal's side will be largely the same -- manager Paulo Bento might replace Postiga with Hugo Almeida upfront, but this won't have a huge impact upon the shape of the side. There have been some calls to move Fabio Coentrao into the midfield to provide a more vertical option, but this remains unlikely.
Bosnia coach Safet Susic welcomes back Sasa Papac and Boris Pandza after suspension, to significantly strengthen the defense, which means he has a choice between continuing with Adnan Zahirovic out of position at right back, or pushing center back Sanel Jahic out there. Right back is a key position since that man is likely to be up against Ronaldo, and the choice between midfielder and center back might hint at the bravery of Susic's overall approach.
Regardless of that, Portugal will dominate possession. They have three fine central midfielders in Miguel Veloso, Joao Moutinho and Raul Meireles who are good passers of the ball, but they often lack penetration and outright creativity. There is no one in the mold of Rui Costa or Deco, and Portugal's play can be rather predictable. Veloso will sit deeper and the other two players will venture forward more, but Ronaldo and Nani are more likely to provide decent balls into the box. The problem, though, is that since neither Postiga nor Almeida is a regular goal scorer, Portugal also depends upon the wide players for goals.
Bosnia's approach away from home will be interesting -- Sasic's first thought will be how to stop Portugal. The temptation for the underdog is always to sit very deep and narrow, but it's debatable whether this will be the right approach for two reasons. First, whether Portugal's striker is Postiga or Almeida, Bosnia's strength (if it has one, a cynic might add) is in the air rather than through any pace, which means the defense should push up and force him away from goal. Second, narrowness is not an option considering Portugal's quality is on the flank; Ronaldo would receive the ball in space before cutting in and shooting, while Nani will dribble past opponents and can move the ball onto either foot.
Going the other way, central midfielder Haris Medunjanin is very important. When Bosnia got a draw against France in Paris last month, he played a fascinating role, coming deep to the left of the pitch to get the ball from the defenders, while also playing intelligent, searching balls toward the likes of Dzeko, Misimovic and Pjanic. He struggled to exert an influence upon the game Friday and was replaced in the second half, but needs to play well here. He's likely to be up against Meireles -- the Chelsea man's natural role in this midfield is to drop deep and form a midfield three alongside former Sporting pair Veloso and Moutinho, but Bento might be better off instructing him to close down Medunjanin to prevent his dictating the play when Bosnia wins the ball.
As a whole, Portugal can be braver with positioning -- for example, when Medunjanin drops deep and allows left back Papac forward, does Nani need to track Papac all the way, or can he pass him onto Meireles? When Pjanic comes in from the right, does Coentrao have to follow, or leave him to Moutinho and be in a position to counterattack down the flank?
Ultimately, this game will be about performing under pressure. Failure to qualify would be a disaster for Portugal, while qualification would be a historic landmark for Bosnia. In that sense, the away side has nothing to lose, and the pressure is on Portugal. It's a complex, fascinating, intriguing meeting -- outside of major tournaments, this is as good as international football gets.
Michael Cox is a freelance writer for ESPN.com. He also runs zonalmarking.net.