Commentary
Is England the new Greece?
Updated:
November 18, 2011, 4:35 PM ET
By
Michael Cox
| Special to ESPN.com
[+] Enlarge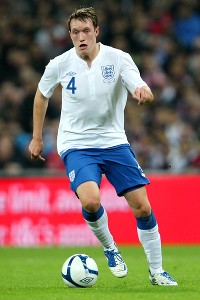 Marc Atkins/Icon SMIPhil Jones was part of a highly functional, defensively minded midfield trio for England against Sweden.
It's the age-old debate in football: Is success about players or tactics?
Triumphant teams at the international level manage to blend both, but you can crudely separate this century's major tournament winners into two distinct groups: France in 2000, Brazil in 2002 and Spain in 2008 and 2010 won primarily because they clearly had the best players, particularly going forward. Greece in 2004 and Italy in 2006 won because they had the best tactics, particularly defensively.
England's problem, you might argue, is that neither technical quality nor tactical sophistication has ever been a major part of its game. But it's clear which approach England has gone for over the past decade -- a focus upon individuals over the importance of a system.
The Three Lions have had enough star individuals over the past decade. During major tournaments in that period, they generally had a front six chosen from the following eight players: Steven Gerrard, Frank Lampard, David Beckham, Michael Owen, Paul Scholes, Wayne Rooney, Joe Cole and Owen Hargreaves. The first four have all, at one point, been named as one of the best three footballers in Europe. The latter four didn't reach those heights, but were intelligent players -- Scholes and Hargreaves were great users of the ball, and Rooney and Cole are popularly regarded as the most talented of the lot. You can question the lack of technical ability -- a criticism that will persist because of the ultimate failures of the side -- but these players all showed great quality for their clubs.
Of course, the insistence on shoving them into the same side came at the expense of tactics, epitomized by the difficulties of playing Gerrard and Lampard in the same side, a problem which first arose in 2003. Amazingly, they were still being fielded together in the central midfield zone during England's opening World Cup game last year. But that was a microcosm of a wider problem. Too often England played a rigid 4-4-2 that didn't suit individuals, nor did it get the best out of the group as a whole. Before Euro 2004, manager Sven-Goran Eriksson decided that with no left winger but good quality in the center of the pitch and talented attacking fullbacks, England would be better off with a diamond in midfield. He tried it in training, but the players weren't happy. The midfielders approached Eriksson and asked to switch back to a straight 4-4-2. Eriksson agreed. It was the ultimate example of putting the demands of players over the strength of a system.
[+] Enlarge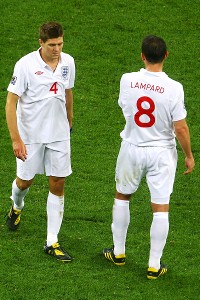 Lars Baron/Getty ImagesAs recently as the 2010 World Cup, England tried to shove Steven Gerrard and Frank Lampard together in the midfield at the expense of tactics.
England barely has that generation anymore. Scholes is retired. Gerrard, Ferdinand, Hargreaves and Owen all have major fitness problems, and Cole and Beckham haven't started for England for years. Only Lampard was part of the squad this week.
That's a cause for optimism among some -- putting behind a failed group of players -- but England isn't quite ready for the next generation. The likes of Jack Wilshere, Daniel Sturridge, Jordan Henderson, Andy Carroll, Danny Welbeck and Adam Johnson have been introduced by Capello, but none are yet at the level the aforementioned eight once were. Few have enjoyed good openings to the season, whether through injury or selection issues. So with one generation of players already gone and another not yet here, what can Capello do? He has to fall back upon a system.
This week, that's exactly what he did. The 1-0 win over Spain was notable because England didn't look to compete with Vicente Del Bosque's side in a midfield battle it was never going to win, a mistake it made during a 2-0 defeat in Seville in 2009. Instead, England sat deep with nine players and soaked up pressure. It rode its luck at the back, as any defensive side does, and the goal came from a very rare chance. But England won, and it won because of the system rather than the individuals. It's a long time since England has been able to say that.
Tuesday's 1-0 victory over Sweden was even more interesting. This time, England wasn't the underdog, it didn't need to be reactive. Yet the side Capello named was the most functional you'll ever see, including a defensive-minded midfield trio of Phil Jones, Gareth Barry and Jack Rodwell (all players capable of playing at center back) and an old-fashioned target man in Bobby Zamora. It was so lacking in attacking thrust that Barry wore the No. 10 shirt, but he was the man who got the vital goal -- like against Spain, it came from a cross, a header and a bit of luck. Perhaps England is the new Greece.
But even a functional side needs players, and Capello doesn't have a set group to rely on. This week, when the Guardian asked four of its football writers to name the 23-man squad they'd take to Euro 2012, only seven outfield players (and the three goalkeepers) were included in all four. In other words, 13 of the 20 outfield squad spaces are up for debate, an astonishingly high figure. Capello has plenty of decisions ahead.
Greece in 2004 and Italy in 2006 adopted various formations -- the managers were wise enough to pick players who suited the system for each game, and the players were tactically intelligent enough to adapt. Does England have these players? If it does, it's more likely to be the unspectacular players who have thrived in the past week, rather than the individualists of the past.
Michael Cox is a freelance writer for ESPN.com. He also runs zonalmarking.net.
Soccer on ESPN.com

Follow Soccer on ESPN: Twitter
Coverage on ESPN FC
Euro 2012 in Review