Commentary
Previewing the 2011 MLS Cup
LOS ANGELES -- Wins count for little when they don't foretell the crucial victories at the end of the year. Similarly, streaky form is forgiven if amends are made during the playoffs. For either the Los Angeles Galaxy or the Houston Dynamo, Sunday's MLS Cup final -- held at the Galaxy's own Home Depot Center -- will be written into a new chapter in club lore that comes with a shiny memento for the trophy case. For the loser, it will be a bad memory, retold with "if only."
The glamorous Galaxy -- the most frequent finalist in MLS history, making their seventh appearance -- are juxtaposed with the scrappy Dynamo. Los Angeles is loaded with star power and boasts the league's biggest payroll at about $14 million. The Dynamo are the league's most cleverly run club and won championships in 2006 and 2007, but they have never employed household names or ventured out of the league's traditionally stingy budgets.
Favorite versus underdog. Giant versus minnow. It's all lost on the men in charge, the Galaxy's Bruce Arena and the Dynamo's Dom Kinnear, one of whom will become the league's first coach to win three MLS titles. They understand the magnitude of their challenges and have little use for the labels.
[+] Enlarge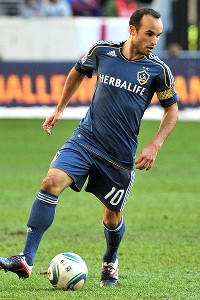 Christopher Pasatieri/Getty ImagesGalaxy midfielder Landon Donovan opted to rest during the recent international period to prepare for MLS Cup.
"We don't really care what other people think," said Kinnear. "If people respect us, that's wonderful; but so long as we have respect in the locker room and from our organization, that's good enough for us."
"We realize how difficult an opponent Houston is going to be," said Arena.
Key matchup: The central midfields.
Like most games, this one will likely be decided in the center of the park. The Galaxy play with two roaming central playmakers,
David Beckham
and Juninho, who are crucial to their side's distribution. The Dynamo rely on
Adam Moffat
and Luiz Camargo to shield the defense, cut off opposing circulation, keep midfield spaces tight and quickly navigate the Dynamo out of pressure on the counterattack.
Needless to say, these assignments are mutually exclusive. And whichever of these central midfield tandems acquits itself best will go a long way toward disturbing the other team's game plan and making good on its own.
Players to watch:
For the Galaxy -- forward Robbie Keane; midfielders David Beckham and Landon Donovan.
For the Dynamo -- forward Brian Ching; midfielder Adam Moffat; defender Geoff Cameron.
Unoriginal choices though they may be, the Galaxy's three designated players are impossible to look past and are similar in their transcendent ability. ("If I had to pick an MVP on our team, I don't know that I could," said Arena.) Keane is lethal on the run and has improbable skill for a man his size. Donovan, the team's emotional leader, will make runs from midfield but still be relied on to help out on defense when necessary. Beckham will dump long balls over the top and into the box for the Galaxy forwards. That is, if he isn't bothered by whatever caused him to skip practice on Thursday and Friday -- unconfirmed reports speak of a cold and a hamstring issue.
The old war horse Brian Ching, as sturdy a target man as you're likely to see, is in rare good health and will battle the Galaxy's iron defense for his fourth championship ring. Adam Moffat will be relied on to deliver cleanly for the Dynamo's biggest attacking weapon, their set pieces, in addition to fulfilling his aforementioned defensive duties. Geoff Cameron, at 6 foot 3, will have to ward off the Galaxy's probing runs and still find time to move forward to get his head on high balls.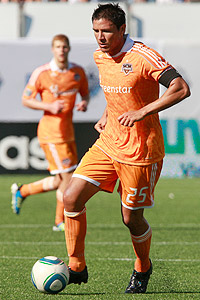 Jeff Vinnick/Getty ImagesForward Brian Ching played a major role in Houston's attack during the Dynamo's championship seasons in 2006 and 2007.
X-factors: Life without Brad Davis and the time off.
The Galaxy are without striker
Chad Barrett
, but the Dynamo lost Brad Davis -- left winger, MLS assist king and purveyor of pinpoint crosses, corners and free kicks -- to a torn quad midway through the 2-0 Eastern Conference final win over Sporting Kansas City. This is a considerable loss. Nevertheless, the Dynamo are confident they aren't the one-man team they are often made out to be. "I think a lot of people might have written us off at halftime of that game, and we did OK," said Kinnear. "Brad's been a big player for us, but I think we're a good team with or without Brad."
Because of an ill-timed international break, two weeks will have passed between the conference finals and the MLS Cup final. This is likely to be an advantage for the Galaxy, whose three designated players are either hobbled or recently returned from injury. "I would have loved to play the game a week ago, especially with the youngest team in the playoffs," said the Dynamo's Ching. "You're on a roll and you don't want to take a break. It gives guys a lot of time to sit there and mull things over."
Outlook:
Read nothing into the Dynamo's 3-1 thrashing of the Galaxy in Houston's final regular-season home game. The Galaxy fielded just one regular starter, and a central defender at that. The Dynamo needed the win for a good playoff seeding while the Galaxy rested up ahead of the playoffs. Do read into the fact that the Galaxy are undefeated at home this year and the Dynamo have won only two road games during the regular season -- although it should be said they did win both of their away games during the playoffs.
The Galaxy's squad is fairly similar to the one that made it to the 2009 MLS Cup final in Arena's first year in charge; it lost on penalties to Real Salt Lake. It was educational in the Galaxy's growing process, and a mistake the club hopes to correct. "I think the experience two years ago was good for this team," said Arena. "In preparation, I probably could have done a better job with the team, and that will be helpful on Sunday."
The Dynamo players, for their part, comprise a confident and remarkably tight-knit team, and they have stared down favored opponents for much of the year. "I think it's going to be a lot better game than people expected," said Davis. "People expect L.A. to come out and walk all over us, but I don't think it's going to be like that at all. We've got a damn good chance."
Be that as it may, between the Galaxy's superior talent, experience and considerable home-field advantage, a 3-1 win for Los Angeles is the most realistic prediction.
Leander Schaerlaeckens is a soccer writer for ESPN.com. He can be reached at leander.espn@gmail.com. Follow him on Twitter @LeanderESPN.

Contributing writer, ESPN.com
Leander Schaerlaeckens is a contributing writer for ESPN.com. He has previously written for The Guardian, The Washington Times and UPI.
Soccer on ESPN.com

Follow Soccer on ESPN: Twitter
Coverage on ESPN FC
Euro 2012 in Review