Commentary
Dynamo struggled without Davis
LOS ANGELES -- Brad Davis strolled over to the L.A. Galaxy's Landon Donovan, his torn quad covered by black track bottoms and his thick beard growing out of his orange Houston Dynamo beanie like a half-moon. They locked fists and embraced quickly, the scorer of the 2011 MLS Cup's only goal gratefully accepting the congratulations of the man who wasn't there on the field during the big game. Davis turned away, tucked his hands back into his pockets, looked to the ground and shuffled back to his Dynamo teammates forlornly watching the hubbub surrounding their victorious opponents.
When Donovan was interviewed on air, for the stadium to hear, he returned the favor. "No question Brad Davis' absence hurt them," he said. "It would have been a lot different had he been there."
It would have. Donovan and the Galaxy were deserving 1-0 winners of Sunday night's final, there's no arguing that. But the conditions under which the Galaxy could dominate might have been different had the league's MVP runner-up and assist king, Davis, not torn his left quad in a freaky challenge during the Dynamo's 2-0 Eastern Conference final win over Sporting Kansas City.
[+] Enlarge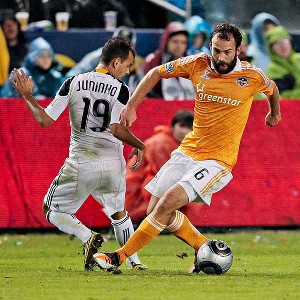 AP Photo/Bret HartmanAdam Moffat and the Dynamo midfield had a tough task matching the Galaxy without Brad Davis in the lineup for MLS Cup.
Davis and his precision long ball and set pieces were missed. "When we got in those good areas, our delivery was off," said Dynamo head coach Dominic Kinnear. "On the set pieces we had we were just off. When you have a free kick or a corner kick, you want to put them under pressure, and I don't think we did that tonight."
Davis' absence was painful in other less-lauded areas of his game too. The Galaxy dominated possession, was able to push its defense very high and tormented the Dynamo down the right flank. Davis would have helped hold the ball up for longer stretches, perhaps breaking the Galaxy's rhythm.
And his injury made the Dynamo weaker at two positions. Left back Corey Ashe had to move further forward and was mediocre in his new spot, failing to serve the forward line with sufficient frequency. His replacement in the back, Jermaine Taylor, was the lone weak link in the Dynamo defense. Consequently, the Galaxy prodded through the right side time and again during the first half, creating chances early and often and setting the tenor for the game. Davis would have posed the threat of picking the Galaxy off out of position on a counter, too. Absent that threat, the Galaxy defense could push very high, safe in the knowledge that Dynamo forwards Calen Carr and Brian Ching were stranded on very lonely islands.
After the game, the Dynamo predictably had little appetite for speculation on what the outcome might have been without that Davis-shaped hole in their game.
"It's a delicate question," Kinnear said. "He's a good player. We missed him."
Delicate indeed; one that split the locker room down the middle, as some wondered, while others wouldn't entertain the notion, finding no solace from their disappointment in hypotheticals.
"I won't sit here and say with Brad we would have won," defender Andrew Hainault said.
ESPN FC on Twitter
Don't miss a moment of the latest soccer coverage from around the world. Follow us on Twitter and stay informed. Join »
"We won without him in Kansas City," defender Geoff Cameron countered. "I think it hurt us a little bit, but guys stepped up and you can't take anything away from them."
The man expected to replace Davis behind the ball on set pieces, filling those giant dead-accurate shoes, knew the team had bled talent. "I'm sure he could have made a difference tonight," midfielder Adam Moffat said. "He's a quality player. It's obvious he's a great talent."
Whether they'll admit it or not, the 2011 Dynamo will forever put an asterisk behind that MLS Cup final loss in their minds -- "what-ifs" making way for "would-haves" as the images of the game become grainy in their minds.
"Of course he would have made a difference if he was there," team captain Ching concluded.
He looked down.
"But he wasn't."
He paused.
"So …"
Leander Schaerlaeckens is a soccer writer for ESPN.com. He can be reached at leander.espn@gmail.com. Follow him on Twitter @LeanderESPN.

Contributing writer, ESPN.com
Leander Schaerlaeckens is a contributing writer for ESPN.com. He has previously written for The Guardian, The Washington Times and UPI.
Soccer on ESPN.com

Follow Soccer on ESPN: Twitter
Coverage on ESPN FC
Euro 2012 in Review