Commentary
Five ways to fix Chelsea
Updated:
November 22, 2011, 1:13 PM ET
By
Michael Cox
| Special to ESPN.com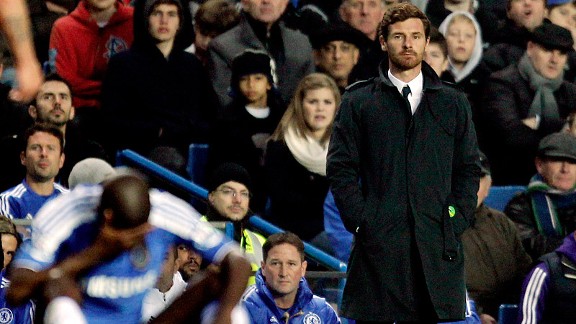 Ian Kington/AFP/Getty ImagesChelsea is off to its worst start of the Roman Abramovich era. But while Andre Villas-Boas faces challenges, he's a smart manager who deserves time to fully rejuvenate the side.
Sunday's 2-1 loss at home to Liverpool was Chelsea's fourth defeat of the season, prompting questions about the future of Andre Villas-Boas. Dispensing of a coach after just 12 games would be hasty even by Roman Abramovich's standards, but with former caretaker boss Guus Hiddink available after leaving Turkey last week, a change is not unthinkable.
That would be a great shame, for Villas-Boas has modernized Chelsea and is clearly a very bright young manager. There's no denying that Chelsea has problems, however. Here are five ways Villas-Boas can refocus Chelsea, and keep his job.
1. Sort the defense out
Chelsea's center backs clearly aren't comfortable with a high defensive line. Both John Terry and David Luiz have been criticized for their performances this season -- Terry for his lack of pace, Luiz for his failure to perform basic defensive tasks.
[+] Enlarge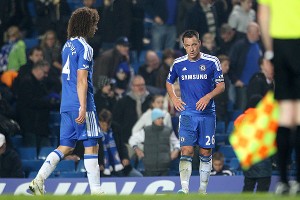 Press Association/AP ImagesWhen paired together, David Luiz and John Terry have been extremely shaky in Villas-Boas' system that demands a high line.
Both are good players, but a combination of Villas-Boas' style of play and the fact that they're being paired together has made them both extremely shaky. In a system with a high line, they probably need a covering defender alongside them. Terry's best displays for Chelsea have come when he's been with an intelligent defender like Ricardo Carvalho or Marcel Desailly, or the pace of someone like William Gallas to sweep up behind. Luiz, meanwhile, was excellent alongside the calm, composed Luisao in his Benfica days.
Villas-Boas spent much of the first half Sunday screaming at Terry to come across and cover when Luiz moved higher up the pitch. Terry either didn't hear him or ignored him, and Chelsea was vulnerable to balls being played in behind Luiz for Liverpool's strikers.
Branislav Ivanovic is a similar defender to Terry and won't really help the situation. Indeed, it was Ivanovic alongside Terry when Chelsea conceded five goals to Arsenal. Brazilian center back Alex might be a solution, but it would mean either dropping Luiz for a man five years older, the opposite of what Villas-Boas wants to do with the squad, or leaving Terry out, which seems unthinkable.
2. Choose between Drogba and Torres
Chelsea's two star strikers are completely different beasts. In theory, that should be of great benefit to Villas-Boas -- he has Didier Drogba when he wants to play a direct game, and Fernando Torres if he wants pace in behind defenses.
The two require completely different types of service, though, and for a side struggling to adapt to a new system, the constant switching between the two up front brings further confusion to Chelsea's overall style. Granted, Villas-Boas has been hampered by both Drogba and Torres picking up three-match bans in recent weeks for reckless tackles, but he's contributed to the confusion himself.
Torres is surely the man who fits into Villas-Boas' system better, but the use of Drogba against Liverpool on Sunday meant that Chelsea played far too many long balls toward him, which Daniel Agger and Martin Skrtel, both very good in the air, must have been delighted with. Ironically, when Torres came on late in the match, Chelsea quickly went behind, had little time left and was forced to play long balls, and so could have used Drogba then.
3. Make Juan Mata the focal point of the side
Mata is a supremely gifted footballer, the most talented, creative player Chelsea has had since Gianfranco Zola left the club in 2003. His swift adjustment to English football has been highly admirable, but with Frank Lampard still in command of the central attacking midfield position, Mata has been forced to play from the flank, usually the left, but sometimes the right, like on Sunday.
[+] Enlarge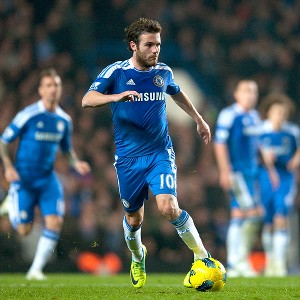 Adrian Dennis/AFP/Getty ImagesJuan Mata is the most talented, creative player Chelsea has had since Gianfranco Zola.
There's nothing wrong with that -- his fellow Spanish international David Silva has shown that it's possible to drift in from the wing and become a pivotal playmaker -- but Chelsea isn't in the habit of getting the ball to him quickly, and at times he seems an afterthought when he should be the team's primary creator.
When trailing at halftime to both Manchester United and Liverpool, Villas-Boas has sacrificed a midfielder, introduced another wide forward and brought Mata into the center of the pitch to dictate play. On both occasions, Chelsea has been much better in the second half, and Mata had a brief spell Sunday when he was supreme, drifting into pockets of space on either side of Lucas Leiva, playing quick passes and getting Chelsea back into the match. Regardless of his starting position, Mata is the man to look to, and Villas-Boas needs to remind his players of Mata's importance.
4. Pick more wisely between Mikel and Meireles in the holding role
From the man who spent years scouting opponents for Jose Mourinho, you'd expect Villas-Boas to be a master of picking the right players for the right occasions. In Chelsea's big games so far, however, his selections have been curious, especially in the holding role. There he has a choice between the strength and physicality of Jon Obi Mikel and the more dynamic, energetic Raul Meireles.
Take the three "big" games Villas-Boas has played so far: Manchester United away, Arsenal at home and Liverpool at home. In the away game, you'd expect Mikel to be the obvious choice, especially against such a clear creative threat like Wayne Rooney. In the home games, where Chelsea is likely to dominate possession, Meireles' quicker passing ability seems perfect.
ESPN FC on Twitter
Don't miss a moment of the latest soccer coverage from around the world. Follow us on Twitter and stay informed. Join »
Yet Villas-Boas has picked the opposite on each occasion. Meireles was overrun by Rooney, while Mikel's passing was poor against both Arsenal and Liverpool, when he looked for a long pass to Drogba too often and was caught in possession by Charlie Adam for the first goal. In all three games, Villas-Boas has been forced to replace his holding player, practically admitting the initial error.
5. Stick to his principles
The slight, specific changes outlined above are considerations, but overall Villas-Boas is going about things in the right way. He shouldn't stop his side passing out from the back because of one Mikel mistake, and he shouldn't drop Luiz while the Brazilian is still learning. Most importantly, he shouldn't stop trying to modernize the squad.
Since Mourinho left Chelsea, no manager has been at the club long enough to make it worth their while to try to build a big project, and Villas-Boas arrived to find a decrepit squad. Until the summer there was no natural replacement for Lampard or Drogba -- now there are Mata and Romelu Lukaku. Petr Cech's successor will be Thibaut Courtois, also signed in the summer and out on loan at Atletico Madrid. Daniel Sturridge has started seven games -- already five more than in the past two seasons combined, while Oriol Romeu should become a good holding midfielder. Chelsea is moving forward.
"We have set out to build something new," Villas-Boas defiantly said in his postmatch news conference Sunday. ""Our commitment is towards the club and what we are doing in the future."
In overall terms, Chelsea is on the right track, but Villas-Boas has some crucial decisions to make about team selection.
Michael Cox is a freelance writer for ESPN.com. He also runs zonalmarking.net.
Michael Cox
ESPN.com writer