Commentary
Praise for Theo Walcott long overdue
Updated:
November 30, 2011, 9:22 AM ET
By
Michael Cox
| Special to ESPN.com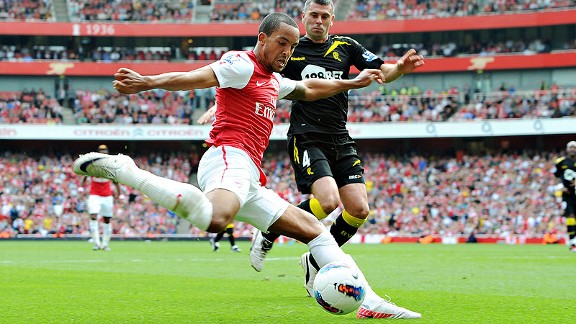 David Price/Getty ImagesFor a player frequently derided for his lack of footballing intelligence, Theo Walcott has finally come into his own at Arsenal.
Arsenal fans have fewer player-specific chants than last season. They liked singing about Cesc Fabregas, of course, and Samir Nasri had a nice song to the tune of "Give It Up" by KC and the Sunshine Band, which will be revived for Tuesday's Carling Cup tie with Manchester City -- albeit with somewhat ruder lyrics. Robin van Persie's still a fan favorite and gets a nice chorus of his name, but there's only so many times you can sing "We've only got one song" before spoiling the joke.
The chant that got the most airtime during Saturday's home draw with Fulham was the simple, bellowed "Theo, Theo." Hardly the most nuanced chant, but that might be appropriate for hardly the most nuanced of players. Theo Walcott, as every English football fan will tell you, is about pace and little else.
Yet Walcott has become a terrific player over the course of 2011. His positioning is more varied; he links brilliantly with van Persie, surely the player of the calendar year; and only David Silva, Nani and Ashley Young have recorded more assists. Not bad for a player frequently criticized for a lack of an end product.
Walcott has always had the pace, but he has learned how to use it better. For the first few minutes against Fulham, he employed his speed to try to get in behind the defense. As soon as van Persie dropped deep between the lines, Walcott was on his way before the first pass had even reached the Dutchman. If Fulham left back John Arne Riise switched off for a second, Walcott was long gone. Had van Persie played the ball right to Walcott rather than left to the offside Andrei Arshavin in the first half, Arsenal wouldn't have had such a difficult afternoon.
But Walcott can do that only so often. There comes a point at which the opposition defends so deep that such a ball in behind is impossible -- the angle of the pass is too straight, and too likely to trickle through to the goalkeeper rather than slide into Walcott's path. A couple of years ago, Walcott spent entire games trying to encourage those through balls. It became predictable, Walcott too reliant upon that killer pass. "When I was younger, my teammates would kick it behind the defense and I'd run onto it and score," he told Arsenal Magazine last year. "It's not that easy anymore."
It certainly isn't. Now, Walcott's positioning is varied. Rather than incessantly going in behind (or making the run, stopping when the pass wasn't played immediately and then getting the ball when stationed next to the opposition left back), he drops off more, then speeds past an opponent with the ball. He did that brilliantly against Norwich's Marc Tierney for van Persie's equalizer in Arsenal's previous match.
[+] Enlarge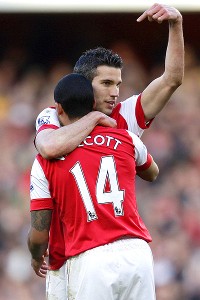 Ian Kington/AFP/Getty ImagesRobin van Persie has been in a rich vein of form this year, in part due to the improved link-up play between him and Theo Walcott.
Alternatively, because opponents are so keen to stand off and deny him space in behind, Walcott gets space for a cross. He has become adept at this skill -- Thomas Vermaelen's headed equalizer against Fulham came from one of his crosses; van Persie had a good headed chance from another; and Aaron Ramsey blazed over the crossbar when he should have hammered the ball into the net. Everything went down Arsenal's right, which reflected well on Walcott, especially because Arsenal didn't have any overlapping runs from right back, with Bacary Sagna injured and Johan Djourou not comfortable motoring forward.
It has taken a while for Walcott to become an all-round attacking threat. Perhaps, for a player frequently derided for his lack of footballing intelligence, he took a while to adjust to Arsene Wenger's methods. Wenger doesn't specifically instruct players; he puts them in environments during training that are intended for players to come to conclusions themselves. It's why he's so keen on playing five-a-side, for example.
"Five-a-side confronts the player with constant decision-making," Wenger told FourFourTwo. "When you receive the ball, you are faced with dozens of options. Your brain acts like a computer: It realizes it has been faced with this situation before and tries to come up with the right answer."
Van Persie explains Wenger's approach to correcting attacking moves. "I made a couple of little mistakes in a game," van Persie said. "He told me that a top player doesn't do those actions … it was up to me to find my answers. I was finding my own answers and that's how he helped me big-time." Van Persie is a player you can rely upon to find his own conclusions. For Walcott, it has taken longer.
Maybe that's why he had such trouble when given specific tasks by Fabio Capello ahead of last summer's World Cup. "I made a run inside from my position out wide on the right. Suddenly Mr. Capello started screaming at me at the top of his voice," Walcott recalls in his autobiography. "Training stopped and everyone stared at their feet and looked embarrassed. 'Theo,' he was yelling. 'I will kill you if you come inside like that again!'" Yet other players in England's training camp described the instructions as "simple," and to anyone who watched England under Capello in the buildup to 2010, it was obvious that he wanted his right winger to stay wide. Walcott just wasn't used to following orders.
ESPN FC on Twitter
Don't miss a moment of the latest soccer coverage from around the world. Follow us on Twitter and stay informed. Join »
His omission from that tournament spurred him on. "I just wanted to come back and prove people wrong, to make sure it didn't happen again," he said -- and he's now forcing opponents to alter their tactics to stop him. After Saturday's game, Fulham manager Martin Jol recalled the first half. "Walcott got a one-versus-one three times," he said. "You don't want that, and we tried to correct it." When Walcott got the ball in the second half, Fulham tried to double up against him, often with Dickson Etuhu. Gaps appeared elsewhere.
Walcott's still not perfect. He needs to arrive quicker at the far post when the ball is on the left to improve his goal-scoring tally, and he was partly responsible for the goal Arsenal conceded Saturday, when Riise broke past him.
But there seems a strange reluctance to accept that Walcott has become a fine footballer. A hat trick against Blackpool last season resulted in a "Match of the Day" montage that evening, demonstrating why he has "no football brain." After terrorizing Ashley Cole in Arsenal's 5-3 win at Stamford Bridge last month, one report read, "Credit where credit is due. Walcott was excellent."
Why so hesitant and forced? "Credit where credit is due" is hardly how you would praise or congratulate someone if the enthusiasm was genuine. It's not as if the performance was a one-off, either. Walcott's form has been good since he outwitted Cole in their previous meeting last Christmas.
Maybe the World Cup call-up in 2006 was the worst thing that could have happened to him; maybe he's a victim of a culture in which many are desperate for players to fail. Whatever the reasons for the negativity, Walcott is now a very good footballer, and it's time for him to get the recognition he deserves.
Michael Cox is a freelance writer for ESPN.com. He also runs zonalmarking.net.
Soccer on ESPN.com

Follow Soccer on ESPN: Twitter
Coverage on ESPN FC
Euro 2012 in Review