Commentary
Prem League preview and predictions
We break down all the matches of Round 14
Round 14 of the Premier League kicks off Saturday. Here's a look at each match:
Newcastle vs. Chelsea, 7:45 a.m. ET (on ESPN2 and ESPN3)
Chelsea's … struggles, to put it nicely, don't get any easier this week with Newcastle -- a team we keep expecting to start playing terribly, but instead one that keeps winning. No doubt Andre Villas-Boas needs a result this week, but that won't be easy at St. James' Park -- er, sorry, Sports Direct Arena, Home of Mike Ashley, Who's Not Paying For These Naming Rights But Doesn't Want You To Forget His Company Even Though Its Signage Was Already All Over The Stadium Formerly Known As St. James' Park.
What won't happen: Alan Pardew lends an arm to a sobbing Villas-Boas after yet another poor Chelsea display.
What will happen: Draw.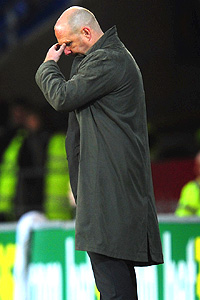 Stu Forster/Getty ImagesWill Steve Kean "forfeit" the Premier League, too? The world waits ...
Blackburn vs. Swansea, 10 a.m. ET
After Steve Kean's (kind of awkward) admittance that he "forfeited" his team's Carling Cup quarterfinal against Cardiff in order to sit five players (and then used the coach's favorite claim that his words were "taken out of context"), he'll be hoping dearly that those five players (and six others) can get a win against Swansea this weekend. But last-place Blackburn won't have an easy go from Swansea, which has drawn its past two away matches after losing four straight.
What won't happen: Kean decides to forfeit against Swansea, too, and only play his top 11 against the Big Four for the rest of the season.
What will happen: Home win for Blackburn.
Man City vs. Norwich, 10 a.m. ET
Man City's draw with Liverpool last weekend was only the second match in which it had dropped points this season. Clearly it's the start of Mancini's demise … Or not, because Norwich, despite playing well in its previous match, still was in the Championship last year and probably doesn't have too much of a chance against the Prem leaders. Though the two haven't played since 2005, Norwich has won two out of its past 24 trips to Manchester.
What won't happen: Man City chants London Underground slogan "Mind the Gap" to its opponents, followed by the players sticking out their tongues and giggling.
What will happen: Actually, that might happen if Mario Balotelli gets bored on the bench.
QPR vs. West Brom, 10 a.m. ET
Two teams that met in the Championship last year are facing off on the bigger stage. It will be QPR's first game with 20-year-old Elvijs Putnins between the posts, after the team's second first-team keeper was injured last week. Manager Neil Warnock pitched a bit of a fit about the Premier League not allowing him to sign a replacement, so was left with Putnins, recalled from a loan with a non-league side.
What won't happen: Out of sympathy, the Prem decides to let Warnock choose any starting goalkeeper he chooses from the other 19 teams.
What will happen: Draw.
Tottenham vs. Bolton, 10 a.m. ET
It was a disappointing week for Tottenham, which likely saw its European dreams end early with a 2-1 loss to PAOK Salonika in the Europa League. Lucky for 'Arry Redknapp, Spurs haven't lost a home game to Bolton in seven tries, and Owen Coyle's bottom-three side doesn't look too capable of changing that statistic this week.
What won't happen: Bolton wins.
What will happen: Tottenham wins.
Wigan vs. Arsenal, 10 a.m. ET
Arsene Wenger is brushing his team's Carling Cup loss off by maintaining, potentially while crying into his coffee, that the Gunners were focusing on league play all along. So the next chance for his team to try to climb back into the top four comes away at Wigan. Which, well, Arsenal probably doesn't need to be that focused on, anyway.
What won't happen: Wenger throws his water bottle all the way across London, hitting 'Arry in the eye.
What will happen: Arsenal wins.
[+] Enlarge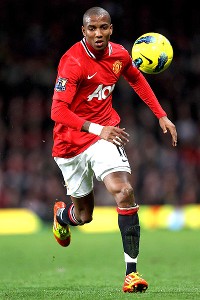 Alex Livesey/Getty ImagesAshley Young returns to Villa Park on Saturday.
Aston Villa vs. Man Utd, 12:30 p.m. ET
Dimitar Berbatov took a long enough break from moping on the bench to limp off the field during United's Carling Cup loss to Crystal Palace (ahem -- no comment needed there). So the Red Devils will be stuck with Wayne Rooney and Javier Hernandez up front. Which … what a shame. They'll be getting their assists from Ashley Young, making his first trip back to Villa Park since signing with United this summer. Despite Darren Bent's best efforts, it's hard to believe he'll be disappointed in his return.
What won't happen: Young is overcome with emotion upon his return and demands to leave United to rejoin Villa.
What will happen: Young scores and remembers exactly why he left.
Everton vs. Stoke, Sun., 10 a.m. ET
With the majority of England's Europa League hopes now on Stoke's shoulders (at least, until Man City joins it in the competition next week), Tony Pulis has enough on his plate without worrying about the silly league matches. Y'know, which might explain why the Potters have won one of their past 16 league away outings. Sunday's matchup with midtable Everton shouldn't be exactly a barnburner.
What won't happen: Stoke and Man City playing in the Europa League final.
What will happen: Everton wins.
Wolverhampton vs. Sunderland, Sun., 11 a.m. ET
Sunderland will be playing its first match this season without Steve Bruce at the helm. Assistant Eric Black will run the club for now, but Sunderland is said to want Martin O'Neill for its full-time boss. Other candidates in the running are Mark Hughes, Rafa Benitez and Carlo Ancelotti. So, basically every manager who has coached (semi-)successfully in the past five years in the Prem, then.
What won't happen: Rafa and Carlo combine to form a Euro dream team and box it out for the job against O'Neill and Hughes.
What will happen: A pretty boring match with none of those four men involved in the slightest. Apparently we got a bit off-topic in this preview.
Fulham vs. Liverpool, Mon., 3 p.m. ET (on ESPN2 and ESPN3)
Liverpool was dealt a center-midfield-size blow when Lucas was ruled out for the rest of the season on Thursday (a loss few Pool fans would have expected to mourn a year ago). But the Reds haven't lost since September, and Fulham hasn't won a league game since October. In a month in which Fulham faces a must-win Europa knockout game and Liverpool, Chelsea and United, this could be a rough start.
What won't happen: Injured players Clint Dempsey and Steven Gerrard link arms and lead a sideline sing-along.
What will happen: Liverpool wins.
Soccer on ESPN.com

Follow Soccer on ESPN: Twitter
Coverage on ESPN FC
Euro 2012 in Review