Commentary
The evolution of Cesc Fabregas
Updated:
December 13, 2011, 3:57 PM ET
By
Michael Cox
| Special to ESPN.com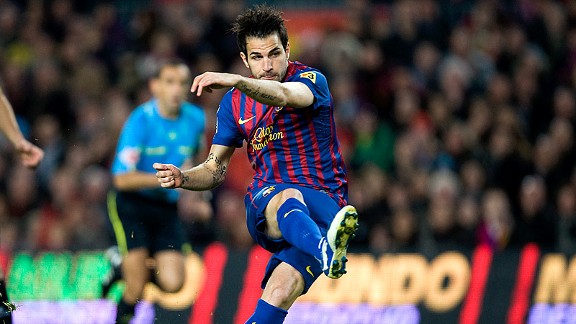 David Ramos/Getty ImagesHe was originally envisioned as a deep-lying midfielder, but Cesc Fabregas has gradually moved up the pitch and even been used as a central forward at Barcelona.
In 2001, Cesc Fabregas was going through an unhappy period personally. Aged 13, he was a highly promising midfielder in the Barcelona youth system, but had been devastated by the news that his parents had started divorce proceedings. Like any youngster who is told that, future superstar or not, it was a huge blow.
Fabregas' youth team coach at the time, Rodolfo Borrell -- now doing a similar job at Liverpool -- called on Fabregas' hero to help cheer him up. He went to Pep Guardiola, then the Barcelona captain, and asked him to sign his No. 4 shirt for Fabregas. "Dear Francesc Fabregas," Guardiola's message read. "I'm waiting a couple of years to see you in the No. 4 shirt for Barcelona."
ESPN FC on Twitter
Don't miss a moment of the latest soccer coverage from around the world. Follow us on Twitter and stay informed. Join »
It meant a lot to Fabregas. "Guardiola was a hero for me and someone I really looked up to," he said. "I learned from watching him and the way he passed the ball and calmly controlled the game from midfield." That No. 4 shirt was supposedly always reserved for Fabregas when he finally returned to the club. He had worn the number in Barcelona's youth teams, and inherited the shirt from Patrick Vieira at Arsenal.
But the number was not just a number. It was a role. The No. 4 at Barcelona meant doing what Guardiola used to do -- sitting in front of the defense, rarely breaking forward but always on hand to keep possession and start attacks. Yet Fabregas' role at Barcelona is completely different from that. Sergio Busquets does the Guardiola job, Xavi Hernandez does something similar higher up the pitch, Andres Iniesta links midfield and attack. Fabregas' role is often even further forward than that, used as part of a de facto front three, popping up in the box to finish moves.
[+] Enlarge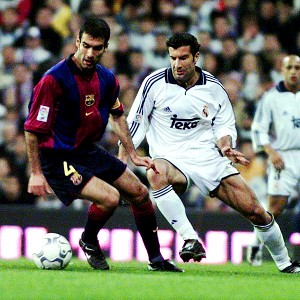 Getty ImagesDuring his playing days, Pep Guardiola was Barcelona's No. 4 -- a midfielder who sits in front of the defense, a role Fabregas once was expected to fill.
"When I started at Arsenal we were playing 4-4-2, I was one of those two in the middle so I could come very deep to get the ball," Fabregas recalled. He played alongside Gilberto Silva in the heart of midfield -- at that stage, Arsene Wenger always favored a "double pivot" in the center of the pitch, protecting the back four, and generally leaving two wide players to link up with the forwards.
But Fabregas' tactical development changed because of injury. He was out for much of the 2008-09 season, when Arsenal got used to playing with two more sturdy players in front of the back four -- Alex Song, Denilson or Abou Diaby. Simultaneously, Wenger moved to more of a 4-3-3 system, and when Fabregas returned, Wenger found that he was suited for the most attacking role of the three, playing much higher up the pitch.
It went even further -- a 4-3-3 evolved into a 4-2-3-1, which meant the wingers dropping back slightly, and Fabregas venturing even further forward. It suited him brilliantly: In 2009-10, he hit 15 league goals; his previous best had been seven.
At Barcelona, he's yet again been pushed higher up, often being used as a central forward. In the 3-2 win at Milan in the Champions League in November, for example, he was frequently the highest player up the pitch, taking it in turns with Lionel Messi to draw defenders out of position, before the other exploited the space. The relationship between those two has been sensational, explained nicely by Graham Hunter.
Guardiola has sometimes played two midfielders at the back, and is now trying to use another upfront. He is trying to create a team of midfielders. "Midfielders are intelligent players who have to think about the team as a whole," he said in an interview with FIFA.com this week. "They're selfless players who understand the game better than anyone, and the more midfielders you have, the easier it is to slot them into other positions. That's how they become versatile." And that's why Fabregas has often been used upfront.
[+] Enlarge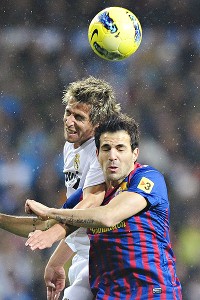 Javier Soriano//AFP/Getty ImagesFabregas' three headers from 12 games with Barcelona underscores how much of a penalty-box player he has become.
But it hasn't been plain sailing, despite some impressive performances. Guardiola's comment about the "anarchy" that Fabregas brings to the side was a backhanded compliment -- he also pointed out that he needed to hold his runs more. Other Barca insiders pointed the finger at Fabregas when the team's form started to slip. He had become too "English" in his style of play, they believed, too eager to attack quickly. This urgency was contagious and made Barca's passing patterns too obvious; they lacked the calmness they've become renowned for. Like Zlatan Ibrahimovic before him, Fabregas was brought in to provide "something different," but ended up making the side play to his own strengths.
The weekend Clasico showed when and how Fabregas can be effective. For the first half-hour, he was very poor, seemingly unaware of his positioning. Real pressed Barca hard, denying them space, and Fabregas was too keen to play forward passes, giving the ball away. It was Busquets and Xavi who steadied Barcelona with their calmness. They kept the ball; they didn't panic. Eventually, Barcelona created chances.
But the second half was perfect for Fabregas. Barcelona took the lead early on, and Real had to come after them. Jose Mourinho's side pushed up high, but no longer had the legs to close down in midfield. Fabregas' direct running in behind the defense became a key factor, most obviously when he put the finishing touch upon the game's decisive goal, a thumping diving header after a slick break. It was the third header he's scored at Barcelona in 12 games. At Arsenal, he scored just one header in 212 games. It underlines how much more of a penalty-box player he's become, and he's hit eight La Liga goals overall. Guardiola never got more than two in a season.
Fabregas has had different roles throughout his career: deep in a 4-4-2, higher up in a 4-3-3, pushed further forward in a 4-2-3-1, and now used primarily upfront. As it turns out, role number four is the least suited to shirt No. 4 -- but Guardiola's wait wasn't in vain.
Michael Cox is a freelance writer for ESPN.com. He also runs zonalmarking.net.
Michael Cox
ESPN.com writer
Soccer on ESPN.com

Follow Soccer on ESPN: Twitter
Coverage on ESPN FC
Euro 2012 in Review