Commentary
David Villa's injury blow for Barca, Spain
Updated:
December 15, 2011, 3:57 PM ET
By
Michael Cox
| Special to ESPN.com
[+] Enlarge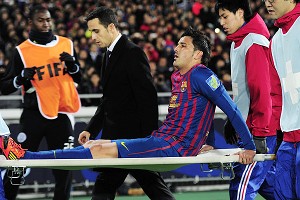 Shaun Botterill/Getty ImagesDavid Villa broke his leg during the Club World Cup and is set to miss about six months of action.
After a week when David Villa found himself constantly linked with a move away from Barcelona in the upcoming January transfer window, the speculation can finally stop. No one wanted it to happen this way, though.
Spain's record goal scorer broke his left tibia during Barcelona's easy win over Al-Sadd in the Club World Cup semifinal Thursday. He faces around six months on the sidelines.
Villa has had to cope with a supporting role at Barca this season. He has started half of the club's 16 league games, and although he's managed five goals, only one -- the opener against Atletico Madrid -- has been anything other than adding to a thrashing in a match Barcelona was going to win. He's been left out of Barcelona's trickier fixtures -- only a substitute at Real Madrid, Athletic Bilbao and his old club, Valencia. For a player who waited so long to get his move to one of Spain's big two, it must be a huge blow to find himself omitted from the type of games he's always wanted to play in.
The arrival of Alexis Sanchez was bad news for Villa, and the deployment of Cesc Fabregas in the forward line and Thiago Alcantara's emergence have seen him slip down the pecking order. Some say Villa's problem is actually Lionel Messi. Reports in the Valencian press last month spoke of a rift between the pair, quickly denied by Pep Guardiola. The headlines indicated that they weren't on speaking terms. It seems to be a huge exaggeration, but there probably was a grain of truth in the reports. Villa has become frustrated by the whole team being built around Messi.
Guardiola is -- understandably -- so keen to get the best out of No. 10 that he formats the entire side to benefit the Argentine. For an adaptable youngster like Pedro Rodriguez, playing a backseat role is fine, but Villa has often looked uncomfortable in his wide-left position.
When talking about the Barcelona system and the benefit it enjoys from so many of its squad coming through La Masia, Pedro said it was often obvious in training who hadn't grown up at the club; they just got little things wrong. It was assumed as a slight dig at Zlatan Ibrahimovic, but it applied to Villa too, even if he's clearly more of a fit for Barcelona than the Swede ever was.
[+] Enlarge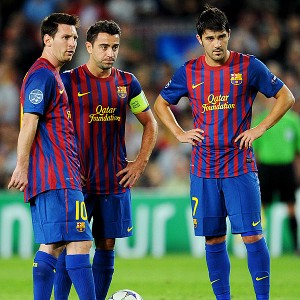 Jasper Juinen/Getty ImagesAmid rumors of a rift between Lionel Messi and David Villa, the Spaniard has had to cope with a supporting role on the team.
Even Villa accepted he didn't have Pedro's natural understanding of the system. "When I didn't know which positions to take up last season, I just watched Pedro and copied him," Villa said.
Villa is the better overall player, but Pedro is perfect for Barcelona. Fellow Barcelona boys Fabregas and Alcantara also have that understanding, but Sanchez is a newcomer. To be omitted at the Bernabeu over the weekend at the expense of Sanchez must have hurt Villa, but Guardiola's decision was vindicated when the Chilean scored Barcelona's equalizer.
To Villa's credit, he has accepted his role in the squad. "Everyone is happy with my work, and I feel important," he said this week.
He still has many fans. El Pais noted that "Villa 7" was one of the five most-sold shirts in the club's official shop so far this season.
Villa's injury will hurt Barca -- he's the closest thing it has to a poacher -- but it retains great attacking options. His time on the sidelines will be a bigger blow for Spain. If Villa was out for exactly the six-month period estimated, he'd return just after Spain's opening Euro 2012 game. The time frame may change, but it's unquestionably going to be close to see if he's fit for the tournament.
Manager Vicente del Bosque took only three strikers to South Africa last year -- Villa, Fernando Torres, who is in terrible form, and Fernando Llorente, who has scored just four goals this season for Athletic Bilbao. Villa's lack of playing time at Barcelona was a worry, but his injury is a disaster.
There are other options. Valencia's Roberto Soldado has been on fire for the past 18 months, but he hasn't played for the national side for more than four years. Alvaro Negredo started the season well but has scored only a lone penalty in the past three months.
Spain's success owes much to the cohesion between players, both on and off the pitch, and integrating a new man at this stage will be difficult, especially in such a leading role.
[+] Enlarge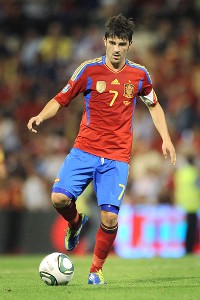 Jasper Juinen/Getty ImagesWill Villa be back in time to play for Spain at Euro 2012? It's going to be a major headache for manager Vicente del Bosque.
Furthermore, if Villa's fitness is still in doubt by the time Del Bosque has to name his squad, he'll probably be forced to take an extra striker as an insurance policy. That means one less fringe midfielder will go, and it was often the "outsiders" in the squad, such as Pedro and Jesus Navas, who made a difference in South Africa. Meanwhile, star players who return just in time for a major tournament often find themselves lacking match fitness. David Beckham in 2002, Wayne Rooney in 2006 and Fernando Torres and Didier Drogba in 2010 were a shadow of their true selves. Preoccupation with Villa's return might derail Spain's chance of success.
Del Bosque must somehow try to turn this into a positive. Since the World Cup, Spain has become too predictable, and against other big nations it's been poor, losing 4-0 to Portugal and 4-1 to Argentina plus further defeats to England and Italy. At Wembley last month, Del Bosque used Villa wide on the left and David Silva as a false nine. It didn't work. Spain had too many players moving into the same zone. It needs variety in its play, and a tall, static pivot upfront like Llorente might turn out to help.
As mentioned, the Athletic Bilbao striker has been struggling for goals, but that doesn't necessarily have to be a problem. None of Spain's eight goals at the World Cup came from a player who started the match as a central striker. Villa's five goals came in the four games he started on the left with Torres upfront -- the three times he played as a striker, he was goalless. The job of Spain's central striker is essentially to occupy defenders and bring others into play rather than scoring goals, and if Villa doesn't make it back for Euro 2012, the identity of his replacement might not be dependent upon who is high up the Pichichi table.
Michael Cox is a freelance writer for ESPN.com. He runs zonalmarking.net.
Michael Cox
ESPN.com writer
Soccer on ESPN.com

Follow Soccer on ESPN: Twitter
Coverage on ESPN FC
Euro 2012 in Review