Commentary
Will FFP save football from itself?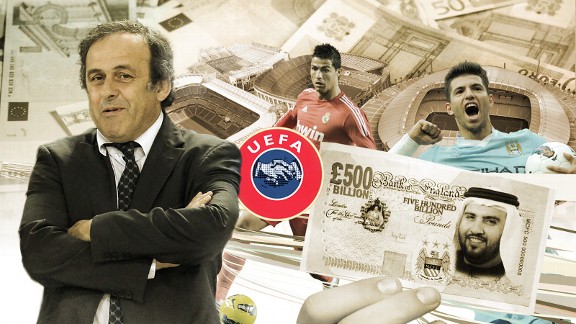 ESPN.com IllustrationEurope's landmark Financial Fair Play rules kicked off this season, but will UEFA president Michel Platini's byzantine initiative really curb out-of-control spending?
You may not have noticed it, but UEFA's landmark Financial Fair Play scheme kicked off just as the 2011-12 European season did. The rules, intended to curb rampant spending and defaulted debt in European club soccer, mandate fiscal responsibility at the peril of missing out on continental competitions. What this means is that in the future it will become much harder for billionaires to buy middling midtable clubs -- think Malaga, Paris Saint-Germain, Manchester City -- and turn them into giants and start beating up on everybody else.
Sounds simple, but UEFA president Michel Platini's initiative is byzantine. So we've taken the liberty of breaking down the FFP rules for you.
What is Financial Fair Play and how does it work?
UEFA Financial Fair Play is a 91-page document published in 2010. It is designed to make wholesale changes to Europe's professional soccer industry. "The main objective is to introduce a little bit more discipline and rationality in the way football clubs manage the books," Andrea Traverso, head of UEFA's club licensing and financial fair play, told ESPN.com. The idea, in other words, is to make soccer clubs act like viable businesses, a far cry from their current behavior.
Clubs that can produce audited financial records that show that they broke even -- defined as expenditure that matches "football-related income" -- in each of the past three years and carry no outstanding debt pass muster; ones that don't risk being barred from playing in UEFA's continental competitions -- the Champions League and the Europa League. Financial data is being collected as of the current 2011-12 season. Clubs can be penalized as of 2013-14 and excluded from tournaments as of 2014-15. (The exact penalties will be proposed in January and ratified in March.) An independent UEFA panel, chaired by former Belgian prime minister Jean-Luc Dehaene, will oversee the process.
[+] Enlarge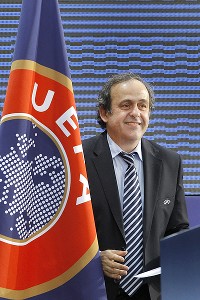 PATRICK KOVARIK/AFP/Getty ImagesUEFA president Michel Platini's Financial Fair Play initiative has enough loopholes to raise questions about its long-term effectiveness.
Certain debts and costs don't count, like any money spent on youth development or infrastructure -- like the Emirates Stadium, which put Arsenal in a massive financial hole. Also forgiven are the salaries and transfer payments of any player signed before June 2010. This is a big help, given that transfer payments are often spread out over the length of the acquired player's contract with the new club, and thus written off on the balance sheet accordingly. In 2009-10, for example, Manchester City had 71 million pounds of such amortized transfer payments on the books. Whatever is left on those transfers no longer counts against the team's balance sheet as far as UEFA is concerned. Without this amnesty clause, transfers from years past could still be on the books as negative equity, potentially impeding an otherwise healthy club from breaking even.
There exists an exception, too. During the first three years of the scheme, clubs can run a cumulative 45 million euros in the red, provided that the debt is taken on by a club owner who converts it into shares in the club. For the three-year period from 2015-16 to 2017-18, that overspending cannot exceed a total of 30 million euros. What it will become thereafter is yet to be decided, but Traverso said it would likely never be zero, as income is too unpredictable and dependent on performance in sports. If the club has no owner-benefactor, the maximum overspend is 5 million euros.
Should a club still fall short, UEFA's panel can nevertheless accept a team into competition at its own discretion, provided that it can demonstrate a trend of decreasing losses and a viable roadmap toward solvency.
What's the point?
We've written about soccer's debt problem in this space before. The sport's elite clubs have a bad habit of running enormous losses and then taking on debt to continue to live outside their means. They usually squander the borrowed money on ill-conceived transfer fees and salaries, inevitably run into trouble making repayments, and are forced to take on more debt to pay off previous loans that have come due. Then the cycle repeats. The most recent available figures show that for the 2009-10 season, just 16 of 20 clubs in the English Premier League, the world's wealthiest league, broke even, posting a combined loss of 484 million pounds. Manchester City alone hemorrhaged a total of 411.4 million pounds over the 2008-09, 2009-10 and 2010-11 seasons and has a payroll that is 14 percent larger than its annual income. Unconfirmed reports -- Italian clubs' financial records aren't publicly available -- suggest Inter Milan did even worse from 2007 to 2009, losing 527 million euros, the largest known losses over such a short period of time.
"

The harsh reality [is] that if it continues along this path, professional football will run headlong into bankruptcy.

"

-- UEFA president Michel Platini
This pattern has actually taken amazingly few casualties because there always seems to be somebody out there -- a sugar daddy, a company, a bank, a local government -- willing to extend a troubled club more credit. Yet UEFA wants to break that debt cycle for the inarguable good of the game. "Can passion ever rhyme with reason?" asked Platini in UEFA's official publication, UEFA-direct, in August. "In football it is no easy task to make the two go hand in hand, given the comprehensive losses that some clubs have got into the bad habit of accumulating over the seasons. … The harsh reality [is] that if it continues along this path, professional football will run headlong into bankruptcy."
It is said that the push for Financial Fair Play came predominantly from the UEFA member nations that run smaller domestic professional leagues -- and whom Platini lobbied hard to get him elected -- hoping that their clubs will be better able to compete. The German Bundesliga, a larger league which already has a very strict licensing system requiring clubs to break even, was reportedly another patron.
Europe's smaller clubs have welcomed the scheme. "We're wholeheartedly on board with it," Toon Gerbrands, director of Dutch league leaders AZ, told ESPN.com. "It evens the playing field for countries where things are done fairly." They hope financially delinquent clubs in countries with lenient national federations will be forced to clean up their act. AZ, for example, still feels aggrieved about its dealings with Real Valladolid, a Spanish second-tier club which, like most of its peers at that level, is financially insolvent. AZ sold Bosnian midfielder Haris Medunjanin to Valladolid in 2008 for 250,000 euros, but was never paid, according to Gerbrands. It won court cases and arbitration hearings. Medunjanin has since been sold on to Maccabi Tel Aviv for 800,000 euros. "But we've still not seen our money," said Gerbrands. "It's too crazy for words."
In Financial Fair Play's Article 2, UEFA sets out its objectives as: improving clubs' transparency, credibility and improving their "economic and financial capability;" protecting creditors, tax authorities and players; encouraging clubs to "operate on the basis of their own revenues;" encouraging "responsible spending for the long-term benefit of football;" and, finally and crucially, protecting "the long-term viability and sustainability of European club football."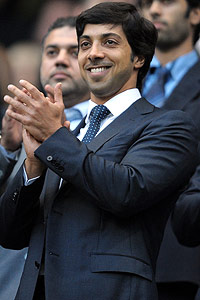 Andrew Yates/AFP/Getty ImagesUnfair advantage: Man City owner Sheikh Mansour has pumped 800 million pounds into the club since 2008.
What are the loopholes?
Many will doubtless be exposed over time. Right now, the biggest concern is sponsorship. Traditionally, the way rich owners have propped up loss-leading clubs is by simply providing the money to fund whatever it is they wanted to do, usually spending it on transfer fees and player salaries. The club ran a loss and the benefactor picked up the tab. On a balance sheet, this would show up as net losses over the season, given that outlay outpaced income. If, however, benefactors instead put money into the club in the form of sponsorship, it would show up on the other side of the balance sheet, as football-related income. This would at once circumvent the ban on cash injections under Financial Fair Play -- since benefactors usually don't take shares in the club as compensation since they already own them entirely -- and allow the club to balance its books and even facilitate more spending.
Some wonder if Manchester City is already doing this. Since being bought out by Sheikh Mansour, half-brother of the president of the United Arab Emirates, in August 2008, the man has pumped 800 million pounds into the club. But while City has been racking up the aforementioned losses, it has also managed to nearly triple income, from 56.9 million pounds in 2007-08, the last season before Mansour entered the picture, to 153.2 million pounds in 2010-11. Gate receipts and media income have all risen sharply, but by far the biggest factor has been skyrocketing commercial income, which has gone from 23.4 million pounds to 64.7 million pounds since 2009. The biggest driver of that growth? Sponsorship.
Not all of City's sponsors are suspect. But it is striking that among its portfolio of new commercial partners it counts no fewer than four companies (Etihad Airways, Aabar, Etisalat and the Abu Dhabi Tourism Authority) that are either owned or controlled by the UAE's government -- Mansour's family, in other words. Etihad's new 10-year 400 million pound sponsorship deal with City is so astonishingly rich that in August UEFA announced that it would investigate the deal.
Indeed, this loophole will have to be closed. "It raises the real question about the credibility of Financial Fair Play," Arsenal manager Arsene Wenger recently noted to The Guardian. "If the Financial Fair play is to have a chance, the sponsorship has to be at market price."
Will it work?
UEFA is cognizant that its Financial Fair Play rulebook will have to be a constantly developing document.
Much skepticism is derived from the vague language in the document, which doesn't hint at any kind of forcefulness. For one, if a club misses the acceptable overspend deviations, UEFA can still make an exception on the grounds that an ill-defined progress is being made.
"The way this has all been drafted, I think there is significant scope for UEFA to judge infringements on the regulations on a case-by-case basis," said Simon Chadwick, professor of sports business strategy at the University of Coventry. "There's enough room in the regulations for maneuverability. There's not a hard and fast case in the regulations." A double standard could arise whereby Europe's bigger clubs are given a pass with a minor penalty while smaller ones are left out to dry and excluded from competition.
"

If the players felt this was designed to constrain their wages, they could of course bring action in European court.

"

-- Stefan Szymanski, co-author of Soccernomics.
Traverso insists this won't happen. "Of course, to similar breaches you have to apply a similar severity," he said. "We will need to create a certain jurisprudence to be put in place."
"So far, we have kicked out from the competition something like 50 clubs from 2004 when we started the club-licensing system," Traverso said. "We've not admitted clubs like Real Mallorca or Timisoara. We've never had to tackle a club like Real Madrid. But the rules are the same for everybody and if you want to be credible as a governing body, we have to apply the rules in a serious way and if a club like Real Madrid doesn't obey the rules there have to be sanctions. We are ready for difficult decisions. The clubs know the rules and will have to comply with the rules."
Whether Financial Fair Play will hold up in court is another question. "Will [UEFA] have the legal power to force it through?" Wenger wondered to the Daily Mail. "I question it."
Others do, too. "If the players felt this was designed to constrain their wages, they could of course bring action in European court," said Stefan Szymanski, a sports economist at the University of Michigan and co-author of "Soccernomics."
"If UEFA excludes a club and that club happens to be in the European Union, I think this club could be confident in taking action and saying this is a restraint of trade," added Chadwick. "In European Union laws there's no exclusion for sporting leagues."
Then there's the sponsorship issue. UEFA says it will employ market specialists to adjudge whether fair value was paid and that consequences for artificially inflating sponsorship will be "very, very severe." But that, too, said Szymanski, "seems just like an open invitation to a number of court cases and will impose quite a few difficulties."
[+] Enlarge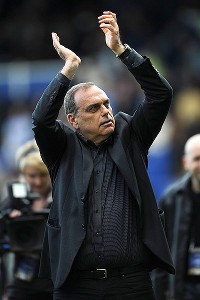 Christopher Lee/Getty ImagesAvram Grant was at the helm at Portsmouth in 2010 when it became the first top-division club in the past 30 years to become financially insolvent.
Even the core philosophy of Financial Fair Play is questionable. The debate over whether an economic problem is best handled top-down or bottom-up is as old as the study of economics itself. UEFA had no choice but to opt for top-down, since it only stages competitions for the top clubs. And therein may lie its flaw. "At the end of the day, what will it achieve?" asked Szymanski. "Will it make European football more solvent? I don't think it will. The Manchester Citys and Chelseas of the world aren't really the problem. The problem doesn't reside with the clubs they can regulate that participate in their own competitions. These clubs aren't in difficulties. The clubs that are insolvent in the second tiers are, and they don't qualify for the European leagues anyway. In the last 30 years there have been some 70 insolvencies in English football and only one of those occurred in the top division -- Portsmouth in 2010, which was about to be relegated."
Traverso argues that with financial restraints, the big clubs will deflate the player market. "They will stop holding as much talent and allow talent to go to the rest of the market and at a lower price," he argued. "That would make for better competition and the talent would be more balanced." By making big clubs break even, in other words, the amount of money available for players would drop and market prices would subsequently fall. That would make top talent affordable for smaller clubs, which wouldn't need to spend as much to keep up.
The crux of it: Much of Financial Fair Play's success will depend on whether the cost to sign players will become cheaper in a world dominated by agents and spurred on by fans who demand the latest and best talent.
What scenarios could ensue?
Given that only a fraction of Europe's clubs compete for places in the Champions and Europa League, the rest of them might not bother adhering to Financial Fair Play if their own federations don't make them. If better talent does indeed become more readily available for the smaller clubs, they might act like kids in candy stores and stock up while they can -- accruing more debt, rather than less.
And whereas Financial Fair Play is designed in part to promote parity, Szymanski argues it could actually stand in the way of all upward mobility for smaller clubs. "It might destroy the ability of clubs to come from a low base and compete with the established dominant teams," he said. "All business development comes from spending more today than you have in the hope of getting something back in the future. What this rule potentially does is limit your ability to do that." The status quo could ossify, making today's dominant clubs impossible to knock off their perch.
ESPN FC on Twitter
Don't miss a moment of the latest soccer coverage from around the world. Follow us on Twitter and stay informed. Join »
UEFA might have to soften its stance in the end. It has talked tough, but the self-regulation could just as well turn self-defeating. "Politically and strategically, Financial Fair Play puts Platini in a difficult position," said Chadwick. "On the one hand, he has to be concerned about financial problems and competitive balance, but at the same time, the Champions League has become a real cash cow for UEFA and he has to be careful not to kill the goose that laid the golden egg. If you look at the three biggest indebted clubs in world football, they are Real Madrid, Barcelona and Manchester United. Are you really telling me he'll ban the clubs that brought untold wealth to UEFA?"
UEFA might not be able to make do without its star clubs and risks alienating them to the point where they might form a breakaway continental competition, as they have threatened to do in the past. "I don't envisage wholesale, widespread banning of clubs from European competitions," said Chadwick. "The reason for that is if you take the Champions League as a product and as a brand, it's only as strong as its constituent parts, which are the big clubs that have built up these debts in order to compete in top-level football."
After all, Financial Fair Play isn't intended to be draconian or produce profits or resemble a Euro Zone austerity package, but merely to protect the clubs from themselves. "Football is a sport," said Traverso. "In our opinion, it's not a business. There's no reason why a club should be profitable. A club should just be able to cover its expenses, be run in a responsible way, to not fall into bankruptcy and not lead his competitors to fall into bankruptcy."
Is that too much to ask? Check back in 2018 or so.
Leander Schaerlaeckens is a soccer writer for ESPN.com. He can be reached at leander.espn@gmail.com. Follow him on Twitter @LeanderESPN.

Contributing writer, ESPN.com
Leander Schaerlaeckens is a contributing writer for ESPN.com. He has previously written for The Guardian, The Washington Times and UPI.
Soccer on ESPN.com

Follow Soccer on ESPN: Twitter
Coverage on ESPN FC
Euro 2012 in Review