Liverpool's Luis Suarez banned
Updated:
December 20, 2011, 10:31 PM ET
ESPN.com news services
LONDON -- Liverpool striker Luis Suarez has been suspended for eight matches and fined $62,000 after being found guilty of directing a racial insult at Manchester United defender Patrice Evra.
An English Football Association panel decided Tuesday that Evra's allegations had been proven.
[+] Enlarge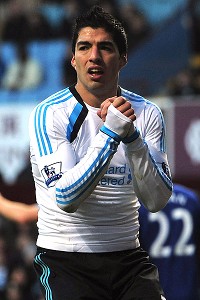 Jamie McDonald/Getty ImagesLiverpool striker Luis Suarez was barred for eight matches and fined $62,000 Tuesday for racially abusing United defender Patrice Evra on Oct. 15.
Evra, who is black, said Suarez referred to his race while insulting him during United's Premier League match at Liverpool on Oct. 15.
Evra, who is French and of Senegalese descent, was quoted as telling French TV station Canal Plus after the match that "there are cameras, you can see him (Suarez) say a certain word to me at least 10 times."
Suarez, who denied the charges, says on Twitter: "Today is a very difficult and painful day for both me and my family."
The suspension is pending appeal, which Suarez has 14 days to file.
Liverpool says it's "very surprised and disappointed" with the verdict against the Uruguay forward.
"It is our strong held belief, having gone over the facts of the case, that Luis Suarez did not commit any racist act," Liverpool said.
"It appears to us that the FA were determined to bring charges against Luis Suarez, even before interviewing him at the beginning of November," the statement added. "Nothing we have heard in the course of the hearing has changed our view that Luis Suarez is innocent of the charges brought against him and we will provide Luis with whatever support he now needs to clear his name."
The American-owned club claimed that Evra emphasized in his written statement to the FA that "I don't think that Luis Suarez is racist" and said the governing body echoed that sentiment in its opening statement at the hearing.
"We find it extraordinary that Luis can be found guilty on the word of Patrice Evra alone when no one else on the field of play -- including Evra's own Manchester United teammates and all the match officials -- heard the alleged conversation," Liverpool said.
The club noted that Suarez is "of a mixed race family background as his grandfather was black" and has been involved since the 2010 World Cup in a charitable project that uses sport to encourage solidarity among people of different backgrounds.
"It seems incredible to us that a player of mixed heritage should be accused and found guilty in the way he has based on the evidence presented," Liverpool said. "We do not recognize the way in which Luis Suarez has been characterized."
Liverpool tied the October match with United 1-1.
The FA said that the punishment was suspended, pending any appeal.
Information from The Associated Press was used in this report.
Soccer on ESPN.com

Follow Soccer on ESPN: Twitter
Coverage on ESPN FC
Euro 2012 in Review