Commentary
Carrick plays pivotal role for United
Updated:
December 27, 2011, 2:58 PM ET
By
Michael Cox
| Special to ESPN.com
Until Manchester United visited Swansea on Nov. 19, Michael Carrick hadn't started a single Premier League game this season. A brief injury was partly to blame, but Sir Alex Ferguson simply seemed to have lost faith in him after an average 18 months. After all, he wasn't completely out of shape -- he'd been fit enough for the bench on six occasions.
Swansea has an outrageous commitment to keeping the ball on the floor and retaining possession, with the third-highest pass completion rate in the league, and therefore that game at Swansea was the perfect match for Carrick's patient, composed passing style.
He was up to the challenge. He completed 92 passes in the match, 23 more than any Swansea player, and 33 more than any of his teammates. He steadied United, controlled the game and dictated the tempo. Having not started a single game before then, he hasn't missed a minute of Premier League action in the six games since the Swansea encounter.
"I think it's time Michael became the pivotal player of our team," Ferguson said this week. "We've always known he's got that in him.
[+] Enlarge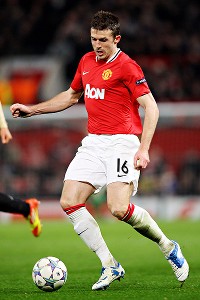 Alex Livesey/Getty ImagesGiven his first start of the season in mid-November, Michael Carrick has not missed a league game since.
"Now is the time for him to start a long period of dominating the center of midfield like he has in the last few weeks. Michael's been one of our best players -- he's been instrumental in what's happening to the team at the moment, and his performances have been quite outstanding."
Carrick has always divided opinion. He has his fans, including Xavi Hernandez, who pinpointed Carrick, rather than Cristiano Ronaldo or Wayne Rooney, as the man Barcelona had to stop ahead of the 2009 Champions League final. "Carrick gives United balance and can play defensively, too," Xavi said before the match. "He passes well, has a good shot and is a complete player."
Fellow Spanish midfielder Xabi Alonso, who duelled with Carrick many times in the Premier League in his Liverpool days, is also convinced of his qualities. "He makes those around him better," he says, and has more than once articulated a belief that England has needed a player like Carrick in its central midfield zone.
But even his biggest fans will concede that Carrick hasn't been at his best over the past couple of seasons. Maybe that 2009 final in Rome was the start of the decline -- Carrick was overrun by Xavi and Andres Iniesta, and was pressed whenever he got the ball. A couple of long, unsuccessful Carrick diagonal passes stick in the memory from that game, but at least he was attempting to pull the strings -- he was actually one of United's better performers in the first half, when United were still in the game.
Still, the criticism may have affected him. He appears to be a classic "confidence player," and high-profile mistakes often lead to a run of poor form. He was at fault for Yaya Toure's winner in last year's FA Cup semifinal, and was again given the runaround by Barcelona at Wembley in May (although as Pep Guardiola's side formed a triangle around him containing Lionel Messi, Iniesta and Xavi, officially the world's best three players at the time according to FIFA, it's difficult to imagine what he could have done).
Many thought that would be his last game for United, and others saw the rise of Tom Cleverley as evidence that he was set for a backup role, but injuries to Cleverley and Anderson, plus Darren Fletcher's ongoing health concerns, have meant another chance for Carrick. He's formed a good midfield partnership with Phil Jones in recent weeks -- Jones plays as an energetic, combative destroyer and allows Carrick to play a calmer role, playing sideways passes and getting into good defensive positions.
ESPN FC on Twitter
Don't miss a moment of the latest soccer coverage from around the world. Follow us on Twitter and stay informed. Join »
"He's terrific; I don't think everybody realizes what he does for the team," said Jones last week. "He's massively underrated. Other people may not notice what he does, but when you're playing alongside him, you can't help but be impressed. He seems to have this sixth sense -- he knows where to be, where the ball's going to be, he's always in the right place at the right time to either receive the ball or break up an attack." He clearly subscribes to the Alonso view, that his own performances are helped by the presence of Carrick.
Everyone knows that Carrick's strength is in distributing the ball, but he's showed more of an all-around game in the last fortnight. Away at QPR he stormed forward to score the second goal of the game, whilst in the win over Wigan he played impressively in an unfamiliar center back role. These things should come naturally to him, considering his physical and technical attributes, but with Carrick the key is his mental state. Had he not been performing well in his natural zone in midfield, he wouldn't have had such confidence to break forward to score a goal himself, and he probably wouldn't have been so composed at the back.
Ferguson is, of course, the master motivator, and knows how to deal with Carrick. "He's a laid-back character -- quiet and unassuming -- but in different periods during his time here he's shown his quality," he says.
The key question in all this: Why was Carrick left on the bench when United desperately needed a central midfielder? Why was Rooney briefly preferred for that midfield role whilst Carrick sat on the bench against Sunderland, a week before the Swansea game? Carrick's a player best suited for certain matches and certain opposition, certainly, but it seems that Ferguson specifically reintroduced him to Premier League action in the match that suited him best, to restore his confidence. That dull, uninspiring win at the Liberty Stadium might turn out to be a turning point in Carrick's United career, and a crucial game in United's season.
Michael Cox is a freelance writer for ESPN.com. He runs zonalmarking.net.
Soccer on ESPN.com

Follow Soccer on ESPN: Twitter
Coverage on ESPN FC
Euro 2012 in Review