Commentary
Pressure is on Andy Carroll
Updated:
December 29, 2011, 2:18 PM ET
By
Michael Cox
| Special to ESPN.com
It wasn't supposed to be this way for Newcastle. A year ago, Andy Carroll was the new Geordie hero, a local boy playing up front for a club that reveres the No. 9 shirt more than any other. On Friday night, the few thousand Newcastle fans at Anfield will doubtless boo his every touch as punishment for leaving in January.
But that was all expected when he left. The problem is, it wasn't supposed to be this way for Liverpool, either. In seeking an instant replacement for Fernando Torres, it panic-bought Carroll -- and he's managed to disappoint two sets of fans within one calendar year.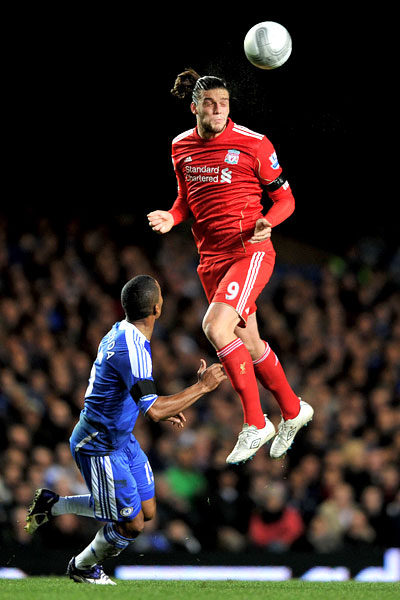 Darren Walsh/Getty ImagesLiverpool tends to rely too much on Andy Carroll's aerial ability.
The worst part of Carroll's decline over the past 12 months is that he has regressed to stereotype. When he enjoyed a good few opening months in the Premier League last year, those who recognized only his supreme aerial ability dismissed him as a target man -- a static figure for long balls and crosses. The truth was that he had so much more. Carroll was quick across the ground and able to work the channels. The inevitable comparisons to Alan Shearer were more apt when likening him to the all-rounder Shearer of the mid-90s, before knee injuries robbed him of pace and forced him to become a more basic player in his later years.
If any incarnation of Shearer seems appropriate for a comparison now, it's his current guise as a television pundit: dull, predictable and bringing the rest of the side down.
Aptly named for this time of year, Carroll's final game of 2011 will be his most important. Luis Suarez is suspended for the Newcastle game after he admitted to making an obscene gesture at Fulham fans earlier this month, so Carroll will start against his former club for the first time.
That's the emblematic, newsworthy story; even Kenny Dalglish admitted that, while he didn't quite understand why Carroll was getting so much criticism, the meeting with his former side was a fair reason for attention. However, this game is more important in relation to the rest of Liverpool's season. This is a taster of what it will be like once Suarez starts his probable eight-game ban for racially abusing Patrice Evra, which may be reduced on appeal, but could also be increased.
A side issue for Liverpool is the form of Stewart Downing, who was signed in the summer to provide the crosses for Carroll to thrive on. The form of the two is inextricably linked, and with Downing yet to provide either a goal or an assist for Liverpool this season, it's a combined 50 million pounds that has so far yielded few results.
It's the price tag that is the main problem. Carroll is only being judged in relation to the amount of money spent on him -- something he had no control over -- rather than in relation to the stage of his career. This is a player who has started only 38 Premier League games, the length of one complete season. For purposes of comparison, Jordan Henderson has started nearly twice as many, 74.
[+] Enlarge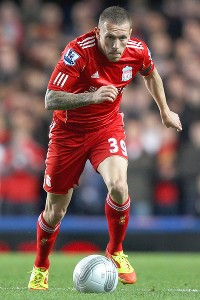 Clive Rose/Getty ImagesThe main beneficiary of Luis Suarez's looming ban probably won't be Carroll but Craig Bellamy, who has impressed this season.
Besides, Carroll's goal-scoring record isn't too bad: four goals from his 14 starts at Liverpool, a decent return, and one that compares favorably with Suarez's record when starting, which stands at six goals from 29.
But Suarez provides more than just goals -- he seems to improve others. His link-up play is slick; his movement is excellent. Fitting Carroll into the side is a difficult balancing act. He clearly provides a more direct option for Liverpool, and attacking variety is generally the key to a potent side. Like many tall strikers, though, he often seems to prompt a reliance upon long balls, which means bypassing the midfield, the zone Liverpool spent a lot of money strengthening in the summer.
Such qualities habitually lead to being used as a late-game impact player at big clubs, and Carroll often hasn't had long enough to impress. In the 1-1 draw with Norwich, he came on in the 80th minute; in the 1-1 draw with City he arrived in the 84th; and in the stalemate with Wigan he only appeared in the 87th. He needs more playing time.
With all eyes on Carroll, another ex-Newcastle player might shine. Craig Bellamy cost Liverpool nothing in the summer but has been an excellent signing, and has proved capable in a number of roles. He'd love a start up front, though, and with Dirk Kuyt not enjoying a particularly fruitful campaign, the Welshman seems the obvious choice to replace Suarez's qualities.
It's doubtful that Dalglish would use Carroll as the sole forward -- in a 4-5-1, for example -- for fear of attacks being too predictable. He needs pace and mobility up front, and therefore it's Bellamy, not Carroll, who might gain most from Suarez's absence.
ESPN FC on Twitter
Don't miss a moment of the latest soccer coverage from around the world. Follow us on Twitter and stay informed. Join »
But this is surely the season to give Carroll plenty of games. 2011-12 is essentially a "free" season for Dalglish and Liverpool. There isn't a need for instant improvement; consolidating last season's sixth place would be enough to keep Dalglish in a job, and anything else would be a nice extra. Now is the time to build a team for long-term success. Carroll is presumably a key part of that -- if not, he'll go down as one of the worst panic buys in football history.
Michael Cox is a freelance writer for ESPN.com. He runs zonalmarking.net.
Soccer on ESPN.com

Follow Soccer on ESPN: Twitter
Coverage on ESPN FC
Euro 2012 in Review