Commentary
Ozil is key to Real Madrid's attack
Updated:
January 12, 2012, 12:12 PM ET
By
Michael Cox
| Special to ESPN.com
Jose Mourinho's task at Real Madrid is far from simple. Charged with overtaking Barcelona after three seasons of Catalan domination in La Liga, he's also expected to do it in style. Barca has been regarded as the greatest side of the modern era for the method of its success as well as the success itself.
It's odd to have this debate when Real sits top of the league with more goals scored than any other side. Beauty is in the eye of the beholder, but it's fair to say that "beautiful football" is not quite the same as "attacking football." A goals scored column does not reflect how attractive the style of play is. If anything, it indicates the outright quality and relentlessness of the side.
[+] Enlarge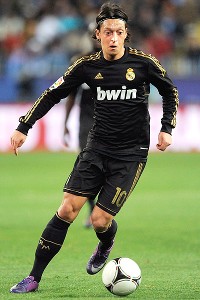 Denis Doyle/Getty ImagesDespite falling behing Malaga early, Mesut Ozil and Real Madrid rebounded to claim a 4-2 aggregate win to reach the quarterfinals of the Copa del Rey.
Mourinho has faced accusations of boring football in the past. His Porto and Inter sides that won the European Cup were more proactive and creative over the course of a league season than they suggested in the latter stages of the Champions League. If anything, it was his Chelsea side that played the least inspiring football. In his first season in London, Mourinho based his side around a strong defense; in a stark contrast from the current situation at Real, Chelsea hadn't won the league for 50 years and was happy to take success however it arrived.
Even when it scored goals, Chelsea smashed teams with brute force and pace rather than carving them apart methodically. Didier Drogba was a battering ram, the team's flanks had the speed of Arjen Robben and Damien Duff, and the middle contained a physical trio of Frank Lampard, Michael Essien and Claude Makelele. Nowhere was there a playmaker. Lampard specialized in powerful running and goal scoring, while Robben was a very different player to the one we now know -- he spent much of the time in his own half doing his defensive duties then sped along the line rather than coming inside.
Real Madrid is different. Mourinho's current side has, on a good day, three clear playmakers -- and that's not including Cristiano Ronaldo. Xabi Alonso is the deep-lying creator, quite rightly one of the most widely appreciated players in the modern game. Angel Di Maria plays a hybrid role, coming inside from the flank to take up central positions. Then there is Mesut Ozil, now literally as well as figuratively a "number ten."
Ozil, though, is the only one who will always be a playmaker; he can't do any other job. When Real comes up against a side as strong -- which generally means Barca -- Alonso becomes a midfield scrapper as much as a playmaker and Di Maria becomes a defensive winger more than an attacking threat.
Therefore, Ozil shoulders so much of a burden for making Real an aesthetically pleasing side. In truth, this campaign hasn't been the best for him. His form has been indifferent, he looks even more gloomy than usual, and a few times he's been shoved out to the right. Meanwhile, Kaka is lurking in the background.
Kaka is an immensely talented player but one who doesn't offer anything like the artistry of Ozil. Indeed, Kaka's style over the year has often been misunderstood. Though a Brazilian and an attacking midfielder, in his days at Milan it was Andrea Pirlo, Clarence Seedorf and often Rui Costa doing the playmaking. Kaka's speciality was a quick turn of pace. He'd get the ball, roar past a defender and finish nicely. He was essentially a striker playing a little deeper.
That was a perfectly stylish way to finish chances, but physically Kaka has changed. He's gone from being a slender player to a much bulkier one. He looks more like a number nine than a number ten, physically more similar to Karim Benzema than Ozil. In the past two years, the change in his body shape is remarkable. He doesn't have that sudden acceleration, and he can't speed past players. It's difficult to say what he really excels at.
[+] Enlarge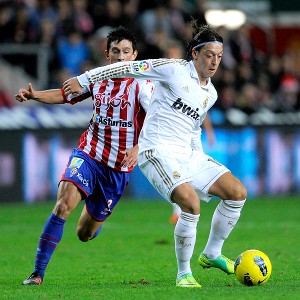 Denis Doyle/Getty ImagesOzil's constant movement and vision on the pitch make him an integral part of Real Madrid's attack.
With Kaka only a substitute, Ozil played his first league game of 2012 last weekend, Real's 5-1 win over Granada. The postmatch reaction to his performance was muted, yet he assisted three of the four goals scored in his 67 minutes on the pitch -- the first a brilliant improvised flick to help a Ronaldo ball onto Benzema. Kaka got his chance in the cup in midweek but lasted just 45 minutes against Malaga before he was withdrawn by Mourinho, another wasted chance.
It is Ozil that makes the side play, and his appreciation of space is incredible. He has a phenomenal ability to drift between the lines and find himself free. So often you could pause the game and draw a triangle or a square around the three or four players closest to him; Ozil would be precisely in the center. It's a difficult thing to quantify, difficult to outline why being five yards from the midfield and five yards from the defense is significantly better to being, say, seven yards from the midfield and three yards from the defence, but at this level, margins like that matter.
His thinking in such situations doesn't stop there. When one of the opposing players realizes Ozil is free and moves toward him, Ozil recognizes he's now being tracked and replicates his opponent's movement to keep a good distance between himself and his marker. There's two effects of that. First, the other opposition players see he's being tracked by a teammate so don't bother picking him up, despite the fact that the defender is never in control of the situation. Second, the opponent becomes dragged out of position to leave a gap for someone else to exploit. It sounds simple enough on paper, but it's more difficult to combine this constant movement with the actual concept of playing football -- getting the ball, creating chances. He's not just playing tag.
With Ronaldo and Di Maria in a line of three, Ozil is beside two players who love coming inside. Many typical number tens would find this frustrating. Ozil instead helps the side retain fluidity by moving to the outside. In particular, when a lateral ball is played to a Real fullback from one of the central midfielders, Ozil will make an arced run into that same channel. It's an unusual movement, going away from the dangerous central area of the pitch, and neither the opposition holding midfielder nor the relevant fullback knows who should be tracking him. In the confusion, it's often Ronaldo or Di Maria who can then make the opposite run and be the one in a dangerous position, ending up with the glory.
Few other players in football give the impression of always thinking. Ozil is always glancing around him, always looking over his shoulder to see where the space is. He's so concerned with making sure defenders don't track him that he occasionally does something Thierry Henry used to do in his Arsenal days, drifting out wide to the touchline and standing still, as if disinterested from the game, before bursting into life. Does it work? Rarely. Defenders aren't that stupid, but it shows Ozil's mentality, how he's constantly trying to get some space, trying to escape the attention of defenders.
Hopefully, he won't escape the attention of his coach. Mourinho has tried to play two strikers, he is giving chances to Kaka, and he wants to make the most of Di Maria. Those players can help win the league, but only Ozil has the ability to transform Real into a truly exceptional side.
Michael Cox is a freelance writer for ESPN.com. He runs zonalmarking.net.
Michael Cox
ESPN.com writer
Soccer on ESPN.com

Follow Soccer on ESPN: Twitter
Coverage on ESPN FC
Euro 2012 in Review