Commentary
Five resolutions for the U.S in 2012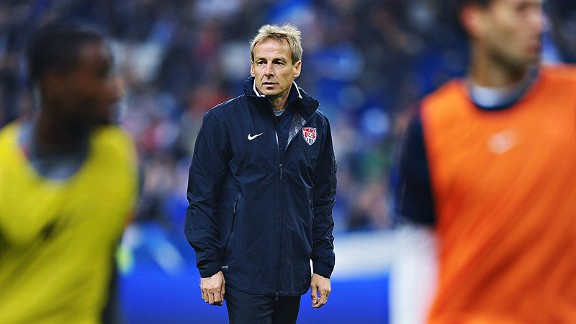 Mike Hewitt/Getty ImagesJurgen Klinsmann has many decisions to make before heading into a busy 2012 international schedule.
January is a time for New Year's resolutions, for promising yourself you'll do better, work harder and live more wholesomely than you have in the past. In short, lifestyle upgrades that also could benefit the U.S. national team.
With that in mind, here are five for coach Jurgen Klinsmann to try to live up to -- and hopefully stick to -- in 2012:
1. Pick a tactical framework
Once Klinsmann got his maiden game against Mexico (a 1-all draw for which he had no time to tinker with his team) out of the way, he implemented tactics that made a world of sense: an adventurous 4-1-3-1-1 with a holding midfielder shielding the defense, a midfield distributor playing farther upfield, two wide attackers and a roving forward behind a deep target man.
Future of U.S. soccer
Check out our coverage on the future of the U.S. men's national team:
• Top 10 under 21
• Coaches' roundtable
• Brazil Board 2014
• Sports Nation: Have your say
• 2012 U.S. resolutions
• Chat, 3 ET: Jeff Carlisle on U.S. soccer
• Report from U.S. camp

The style shift suits Klinsi's squad, the pace of the modern game, and the kinds of opponents the team will face in both World Cup qualifying (through CONCACAF) and at major international tournaments. Yet in five games, the U.S. has achieved mixed results. While the attack flowed better than it had in years, the Yanks often lacked sufficient manpower in the box to take advantage, mustering just a single goal during that span -- a 1-0 win over Honduras -- to go with four 1-0 losses to Belgium, France, and the eminently beatable Ecuador and Costa Rica.
In the U.S.'s most recent game, against Slovenia, Klinsmann shifted to a 4-4-2 with a diamond in midfield, thus employing a holding midfielder behind a central attacking midfielder. With Fabian Johnson on the left and Michael Bradley on the right, Klinsmann started no natural wingers, essentially scaling back the number of true attackers from four to two. And while this formation doesn't fit the American talent pool nearly so well, the U.S. broke out offensively against a defensively robust opponent, winning 3-2. Although the U.S. benefitted from the pressure an extra attacker allowed it to exert, the mismatches in midfield exposed the defense and left too much space for Carlos Bocanegra and others to cover.
Which is all to say Klinsmann has a difficult choice to make, and quick. He'll need to pick a formation and start building on it, because reinventing this team will be hard enough as is without continually altering the way it looks on paper.
2. Decide on a playing style
For all his talk about process and progress, one sometimes can't help but wonder whether Klinsmann is entirely lucid in his own vision for the national team. In his seven games in charge, his approach has varied wildly, vacillating between playing aggressively and up-tempo and pressuring high (against Costa Rica, Ecuador and Slovenia), sitting back and slowing down the game (against Belgium and France), and somewhere in between (against Mexico and Honduras).
[+] Enlarge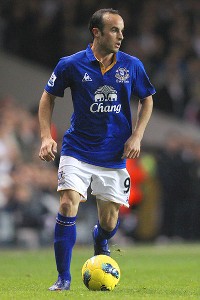 Dean Mouhtaropoulos/Getty ImagesLandon Donovan is thriving in his second loan to Everton, but with the USMNT playing well without him of late, how will he fit back in?
While minor adjustments to absorb and counteract opponents' strengths are sensible -- not to mention expected from top managers -- Klinsmann will have to work around what he wants his team to be at its core, letting that philosophy ossify into a style and identity particular to the Americans.
3. Find a spot for Donovan
For a decade, it seemed unimaginable, but today, Landon Donovan is no longer the focal point of the U.S. attack. He has missed Klinsmann's past five games, while much of the lineup appears to have found form in his absence. Jozy Altidore has improved dramatically in his hold-up play as a target striker. Slotting into the hole behind him, Clint Dempsey is playing some of the best soccer of his U.S. career, while Brek Shea has firmly ensconced himself on the left, courtesy of a string of strong performances and some dazzling runs.
If Klinsmann plays in the 4-1-3-1-1, that leaves the slot out wide on the right as the only suitable job left for Donovan. Danny Williams was unconvincing on the right wing in three starts, as was Robbie Rogers. But there's competition. Timmy Chandler looks like a good candidate to play on the right if another solution is ever found at left back. Fabian Johnson, meanwhile, was a revelation on the left in his full debut against Slovenia and can equally be deployed on the right.
Should Klinsmann opt for his 4-4-2 diamond, Donovan can play beside Altidore up front but isn't automatic there, either. As he demonstrated against Slovenia, Edson Buddle has become a more well-rounded player in his year in the Bundesliga II and is arguably a better pure striker than Donovan.
If he wants Donovan on his team, and there's nothing to suggest he doesn't, Klinsmann will have to deliberately carve out a spot for him.
4. Put in a complete performance against Italy
In the past six months, the U.S. has showed flashes of both progress and regression, has dominated and been dominated, has shown flair and flaunted bone-headedness -- often all in the span of a single game. Sometimes in a single half. What it has come nowhere close to achieving is a game played well in its entirety, consistent and effective from the first minute to the last.
[+] Enlarge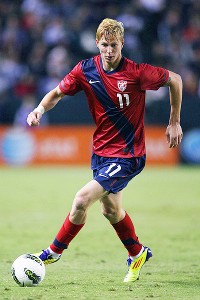 Victor Decolongon/Getty ImagesBrek Shea is one of only three players (along with Tim Howard and Clint Dempsey) to feature in all seven games under Klinsmann so far.
The U.S. will face Italy in Genoa on Feb. 29. In the maturation of a rebuilding team, there are certain watershed games in which it becomes apparent the team isn't just making strides, but building something worthwhile that will soon deliver results. The U.S. sure could use such a game. The credibility brought by competing well against a world power such as Italy would take away many of the questions surrounding Klinsmann and his disappointing, meek start as U.S. manager.
5. Win qualifiers
Beyond the tumult of restructuring federation-wide frameworks, implementing philosophies and scouring new lands for eligible players, it's important not to overlook some rather crucial games on the horizon.
The U.S. starts its road to Brazil 2014 this June, having been drawn into a group with Jamaica, Guatemala, and Antigua and Barbuda for the third round of CONCACAF qualifying -- the top two will advance after a double round-robin. On June 8, the U.S. should coast to a simple win over Antigua and Barbuda at home.
But in its next three games, it will face much stiffer challenges, traveling to Guatemala, hosting Jamaica and then playing Jamaica away. Although neither team is of the same caliber as the U.S., both are decidedly capable of an upset and could derail World Cup dreams far too early in the campaign. Consequently, all of the issues outlined above -- not to mention the lack of cutting edge in recent games -- must be squarely resolved by the time these qualifiers come around.

Contributing writer, ESPN.com
Leander Schaerlaeckens is a contributing writer for ESPN.com. He has previously written for The Guardian, The Washington Times and UPI.
Soccer on ESPN.com

Follow Soccer on ESPN: Twitter
Coverage on ESPN FC
Euro 2012 in Review