Commentary
Five challenges for U.S. women's team
Updated:
January 20, 2012, 5:06 PM ET
By
Lizzie Haldane
| ESPN.com
The United States women's national team embarks on its quest to secure an Olympic berth just three weeks into the New Year. Kicking off the CONCACAF Olympic qualifying tournament on Friday, the Americans will play in their first match of 2012 against the Dominican Republic -- a seemingly easy task at hand, but the U.S. knows better than to take any game for granted after last year's bumpy road to the FIFA Women's World Cup.
[+] Enlarge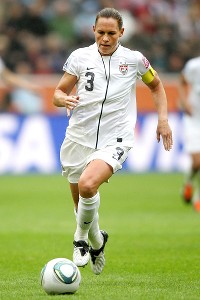 Scott Heavey/Getty ImagesThe U.S. is still trying to shake off the disappointment of the World Cup loss, says captain Christie Rampone. "That adrenaline and emotion is still here. … We're more focused and ready to go."
Heading into qualifying, the team faces five challenges in its search for gold next summer.
1. Putting the World Cup defeat behind it, while taking one game at a time
With two World Cup trophies and three Olympic gold medals, the traditionally dominant U.S. has a bitter pill to swallow after Japan's triumph in the Women's World Cup championship. No team had ever given up two leads in a final -- male or female -- so that upset will sting for more than six months. Last summer's defeat is still raw.
"It took a while to shake off the World Cup loss," U.S. captain Christie Rampone said. "That adrenaline and emotion is still here, and that disappointment of how it ended will translate coming into qualifying. We're more focused and ready to go."
"The team has done a great job to put the World Cup loss behind, all of us have," said coach Pia Sundhage. "It's important to look back and gain some confidence from what we accomplished last summer, but also to be humble enough not to take anything for granted. We're ready and excited for the next game."
"The encouraging thing as a player is that you get another shot the next year," ESPN analyst Julie Foudy said. "The good news is that you don't have to wait another four years to try and get back onto the top podium."
From speaking with Alex Morgan, Sundhage, Rampone and Foudy, a team manta emerges: Stay in the present and take each game one at a time. The team cannot afford to take any qualifying match for granted, no matter the opponent.
2. Identifying the new face and the new roles
Forward Sydney Leroux had a big week: The Vancouver native (she played in the Canadian youth national team system before deciding to officially become a U.S. international) was the first pick at the Women's Professional Soccer 2012 draft and the only new face named to the qualifying roster since the Women's World Cup. In her presence is the absence of defender Stephanie Cox and goalkeeper Jill Loyden.
U.S. Olympic schedule
Hope Solo & Co. start Olympic qualifying Jan. 20. Their three group-stage matches:
• Jan. 20: U.S-Dominican Rep., 10.30 ET
• Jan. 22: U.S.-Guatemala, 7:30 ET
• Jan. 24: U.S.-Mexico, 10:30 ET
Sundhage declared she was interested in having someone who did not participate in the World Cup make the team, and Leroux met that need and more: "Sydney's attitude on both sides of the ball is unique," Sundhage said. "I've never seen a kind of player like that before in all of my career. She has raw talent and a lot of years with the national team ahead. She has a chance to come off the bench and show us what she has to offer."
Aside from the obvious personnel change, some players have shifted positions. Former midfielder Kelley O'Hara drops back to defense, and former striker Amy Rodriguez slides into the midfield. At first glance these changes seems counterintuitive to aggressive forward thinking, but their offensive strength will only enhance their defensive presence.
"I really like Kelley as an outside back," Foudy said. "I think that's a position that's been an area of weakness for the U.S. They've constantly been trying to fill it. I like that Pia's giving Kelley more time there."
"As for Amy, she's popped into the midfield quite a bit, so I think that Pia likes her on the flank coming from a deeper position. With the new formation, Cheney will be in the midfield in that hole behind the forwards. Where Pia puts Cheney is going to be key."
3. Developing the new 4-2-3-1 formation
Sundhage first experimented with the 4-2-3-1 formation and offensive system during the Celebration Tour in the series against Canada this past fall. Veering from the standard 4-4-2 that three of the best teams in the world -- Japan, the U.S. and Sweden -- commonly use, Sundhage aims to enhance midfield possession and flank attack.
"I wanted to challenge myself, the coaching staff and the players with this new formation," Sundhage said. "The players have embraced that I want us to be a little different. The beauty of this formation is that we have Lauren Cheney, who can easily change us to a 4-4-2. Our goal is to play two systems and tweak between the two."
The reason for this change was not just a superficial challenge or to be unique, but to create more chances on offense. The team has a lot of diverse attacking personalities, but it does not create enough chances. The hope is that there will be strength in numbers by incorporating the backs and utilizing the flanks more. "We will not play with one forward -- that's just for the formation -- we'll be playing with four forwards and our attacking outside backs," Sundhage said. "That's the dream at least."
4. Adjusting to inconsistent starting lineups and substitutes
Sundhage will continue to play around with the lineups during the qualifying tournament to perfect the formation and find the right chemistry among her players. With a versatile and deep bench, the U.S. is not afraid to change and adapt as the game goes on.
ESPN FC on Twitter
Don't miss a moment of the latest soccer coverage from around the world. Follow us on Twitter and stay informed. Join »
"I will not be as consistent with the starting lineup and with people coming off the bench as I have been before," Sundhage said. "The reason why I dare to do that is because we're such a good team with different attacking personalities and I want to use that to our advantage."
5. Facing rivals Mexico and Canada
The U.S. has learned its lesson -- that Mexico and Canada are contenders and not to be taken lightly. Two factors ingrain those rivalries into each U.S. player's mind.
One: With a new head coach, Canada gained confidence heading into the Pan American Games to come out with gold and then defeat Sweden in a November friendly.
Two: Mexico stunned the Americans with a 2-1 victory last November in World Cup qualifying, relegating them to play in a second-chance playoff against Italy. The U.S. will distinctly remember that shock heading into Tuesday's match.
"Canada and Mexico are two of our biggest rivals" Morgan said. "Mexico has been doing really well lately. They always tend to play their best soccer against us. But also Canada has gained some confidence in the last few months. They will have a definite advantage and confidence boost that comes from being the host and playing in front of their own fans."
If the United States takes each game one at a time and focuses on the above five challenges, it can smoothly qualify for the 2012 London Olympics.
Sundhage had closing remarks as the team enters its next significant journey: "We took one path to the 2008 Olympics without any stars. 2011, we created the stars. In 2012, we will make sure that we create that atmosphere again, but it will be a different journey. Anyone can have a breakout season in 2012, and hopefully they can do special things to help the team win gold."
Lizzie Haldane is a researcher for ESPN The Magazine and a women's soccer activist. She can be reached on Twitter @lizziehaldane
Soccer on ESPN.com

Follow Soccer on ESPN: Twitter
Coverage on ESPN FC
Euro 2012 in Review