Commentary
Will DeMerit film inspire more movies?
Updated:
January 20, 2012, 7:19 AM ET
By
Michael Cox
| Special to ESPN.com
[+] Enlarge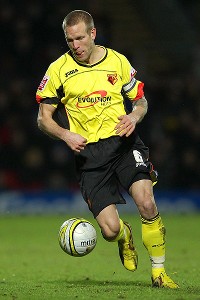 Julian Finney/Getty ImagesJay DeMerit's time at Watford was the turning point in his documentary, which is that rare bit of football filmmaking -- it's actually very good.
"I had an amazing sense of naivety," Jay DeMerit said, a fair summary of many things depicted in the film of his career path. It could refer to the way he arrived in England to play in the ninth division, still sure he'd played in the Premier League. Or it could be describing the way he cycled to the training grounds of random clubs in the Netherlands, knocked on the door and asked if he could have a trial.
But he's referring to something specific, the turning point in the film. He's on trial at Watford, having impressed against the team in a friendly for his club, non-league Northwood, a couple of weeks earlier. He was earning almost nothing for playing for Northwood, sleeping on a friend's floor and doing odd jobs, including working as a painter-decorator, to make ends meet. Expecting to get a few minutes at the end of the preseason match with Real Zaragoza at Vicarage Road, he's thrust into the starting lineup -- and his job, in his make-or-break game, is to mark future World Cup-winning striker David Villa.
"I didn't care who Villa was, or what he did," DeMerit told me. "I just knew that I was on trial at Watford and needed to perform in that game, or I had to go back to the lower leagues, and I didn't want to do that! So I didn't even look at the roster or the players I was up against."
Incredibly, DeMerit was to face Villa again, five years later in the famous Confederations Cup semifinal. He kept Villa and his teammates quiet for a historic victory. Villa wouldn't have remembered facing DeMerit before. And why would he? In that time, DeMerit had gone from playing in the seventh tier of English football (he'd already moved up two levels) to captaining his club in the Premier League, and representing his country. It is a remarkable, almost unprecedented rise, and explains the reason "Rise and Shine: The Jay DeMerit Story" exists.
"It's a bit weird when you get asked to make a documentary about you when you're still playing," DeMerit admitted. "In the beginning I was like 'No, I don't want to do it,' but then certain people convinced me." Ranko Tutulugdzija, one of the directors, went to school with DeMerit, and their relationship is a story itself, as Simon Burnton of the Guardian has written about.
Having already been shown across the U.S., this week the film was shown for the first time in Britain at Odeon cinemas, the largest chain in the country. DeMerit's home country was a natural place for the film to be shown, but its unveiling in Britain demonstrates the success of the marketing side of the independent-made production, and the appetite for good quality soccer documentaries.
To explain the plot in detail would ruin the viewing, but there are a couple of interesting specific footballing issues from the film I asked DeMerit to go into further depth on. First, the revelation that he played in midfield or in attack until relatively late in his development and owes his defensive qualities largely to his background in baseball.
[+] Enlarge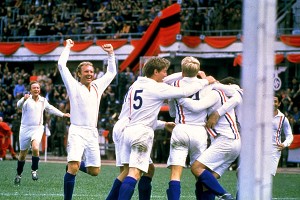 Getty Images"Escape to Victory" -- with Michael Caine and Bobby Moore -- is a cult classic ... for its silliness.
"I came to college as an 18-year-old as a forward, I'd never played defense in my life," he said. "But then when I was asked to play there, I was asked to go and man-mark somebody. And when I'd played basketball my whole life until I was 18 or 19, that was my job! Pick the best shooter, the biggest scorer, and run where he runs, mark him where he goes. And I was able to use those principles when told to do the same on the soccer field."
But relentless man-marking only works up to a point in soccer, of course. When DeMerit rose through the divisions, surely he had to change his game. "Once you get to that stage, defending is more of an art form," he said. "You have to adapt, know the forwards and their tendencies. You have to know if they're big and hold-up players, or small, quick players that want to get in behind. You get help from the coaches, the scouting, the video that you watch." DeMerit had become less naive -- but had the same attitude as when he was on trial at Watford. "People get overwhelmed by an occasion, or a player, or a reputation ... but that Zaragoza game really set my attitude for when I played in games like that," he said.
Another interesting part of the film is when Henry Weatherly, a former scout for Arsenal and Fulham and one of DeMerit's early fans, states that DeMerit's biggest problem finding a British club was the fact he was American.
"I couldn't tell you the number of times I got asked that. 'You're American, what are you doing here?' But over the years, guys like Brad Friedel, Kasey Keller, Brian McBride, Carlos Bocanegra, John Harkes -- they've paved the way for all of us to come over to England and at least get a chance," he said. "I suppose they give you a bit of a jibe, they give you a bit of banter about it, but ultimately if you're able to compete, it becomes respect fairly quickly. And the fans didn't care that I was American. I was trying to help their team out, and that's all that matters."
It's interesting he mentions Keller. In "Soccernomics," the math-based book by Simon Kuper and Stefan Szymanski, Keller is quoted in a chapter explaining why players of certain nationalities are under and overvalued in the transfer market. "Giovanni van Bronckhorst is the best example," Keller said. "He went from Rangers to Arsenal, failed there, and where did he go? To Barcelona! You have to be a Dutchman to do that. An American would have been sent straight back to D.C. United." DeMerit, happily, didn't have a similar experience at Watford -- and besides, he would have been returning to non-league, rather than to MLS, where he had yet to play until his move to the Vancouver Whitecaps for the 2011 season.
ESPN FC on Twitter
Don't miss a moment of the latest soccer coverage from around the world. Follow us on Twitter and stay informed. Join »
The success of the film is simple: It is a genuinely entertaining football film on general release. The history of football films is long but not particularly triumphant; relative classics like "The Goalkeeper's Fear of the Penalty" and "The Arsenal Stadium Mystery" use soccer for the base of the story, but aren't actually about soccer. Others, like "Fever Pitch" and "My Life As A Dog," were adaptations of books. Box office successes like "Bend It Like Beckham" rarely say much about the game itself, while "Escape To Victory" (aka "Victory in the U.S.") is a cult classic only for the pure silliness.
But there has recently been a rise in the football documentary -- a rise in the sports documentary as a whole, in fact. ESPN Films' 30 for 30 series has been a big success, while the documentary about Ayrton Senna, the three-time Formula One world champion who remains the last F1 driver to have been killed during a race, received critical acclaim and sold out cinemas.
Kicking and Screening, the football film festival which has visited New York and Houston, and more recently London and Amsterdam, picked up on "Rise and Shine" at an early stage. "It's rare enough to have an American soccer film, let alone one where the main protagonist is an American," said Rachel Markus, the festival's co-founder. "When we're choosing films, just being a soccer film is not enough. We look for films where it doesn't matter if someone doesn't know too much about the game, it can still appeal.
"'Rise and Shine' definitely met that criteria -- a lot of people came to the festival to see it and absolutely loved it," she added. "It was oversold for our New York festival. We had to add another screen in the bar area for the overflow."
The film owes much to being shot on a low budget, depending highly on the Internet for fundraising. "It was all based on social media," DeMerit said. "It makes it much easier, and it's also very humbling and rewarding when people you've never met before say 'Here's my hard-earned money, I want to back you.'"
"Ninety-five percent of it was edited on a laptop," co-producer and co-director Nick Lewis said. "We didn't have the professional production that comes with a big budget, but ultimately, that mirrors Jay's story quite well. We didn't have an ad budget. We really just reached out, and luckily the soccer community are really passionate, and really technologically advanced."
Technologically, neither the making of the film nor the fundraising would have been possible 15 years ago. "It is more possible, without a doubt," Lewis said. "There's an effort involved, but the tools are there. People that aren't part of a major production company, who aren't necessarily professional filmmakers, if they have the passion to get a story told, then it is possible."
DeMerit's journey provides plenty of interest in itself, but hopefully its legacy will be to inspire other budding filmmakers to explore soccer's untold stories.
Michael Cox is a freelance writer for ESPN.com. He runs zonalmarking.net.
Soccer on ESPN.com

Follow Soccer on ESPN: Twitter
Coverage on ESPN FC
Euro 2012 in Review