Opening day questions and answers

By Greg Garber
ESPN.com
Archive
PARIS -- The first balls were already in the air about five minutes past 11 on a glorious Sunday morning as the French Open began.
But before most of the big names hit the courts, ESPN.com has a few opening volleys of its own. We asked our experts to tackle some pressing questions:
1. Any reason to think Rafael Nadal can't win?
Bonnie D. Ford: Beware of overhyping. Let's not forget that Nadal came into last year's tournament having won Monte Carlo, Barcelona and Rome. Few thought his well-chronicled final loss to Roger Federer in Madrid was an indication he would lose early in Paris.
Greg Garber: No, not offhand. The King of Clay is in terrific form, having won the three big tournaments coming in -- without ever playing in back-to-back events. He's fresh and hungry. Nadal won four titles in a row at Roland Garros before getting bounced in the fourth round last year by Robin Soderling.
For comprehensive coverage of the French Open, check out Slam Central and stay informed about everything going on in Paris. More »
Kamakshi Tandon: Um … er … ahh … hmm … the law of averages? Nadal has never won more than three spring clay titles in a season, and this year he comes in having already won three with his unprecedented sweep of the European clay Masters events. His draw doesn't throw up too many reasons -- most of the big hitters who could perhaps barrel through him on a great day are in the other half. So as ever, injury is his most likely conqueror. For now, however, he reports that his knees are feeling surprisingly good.
Ravi Ubha: No. Nadal won all three Masters titles on clay in a single season, a feat that was never done before. In the process, he downed his biggest rival, Federer, at a tournament where conditions favor the Swiss. The prosperous time on dirt has boosted his confidence, and we know that a confident Nadal is hard to stop on any surface. The knees, so troubling in the past, appear to be holding up nicely. As difficult a decision as it was, pulling out of his beloved Barcelona Open was the right call.
Matt Wilansky: Sure, Rafa lost in the fourth round here last year. So can lighting strike the same person twice? According to the National Severe Storms Laboratory, it happens more than we think. Nonetheless, it is still a statistical anomaly. Unless you're concerned with the Fernandos, Gonzalez and Verdasco, Nadal's quarter of the draw is quite cushy. The French Open is Nadal's oasis, and we're all just happy to be part of it.
2. Will the winner of the prospective Serena Williams-Justine Henin quarter win the tournament?
Ford: I'd be surprised if she didn't. It's really too bad they're both in that quarter along with Samantha Stosur. A "virtual final" between Williams and Henin also would set some records for prematch hype and rehashing of their complicated history. It's all anticlimax from there.
Garber: Yes -- if Henin wins. Because of her low ranking (No. 22) as her comeback continues, the Belgian fell into Serena's top quarter. There are 19 Grand Slam singles titles between them and a bit of bad blood. If Henin gets by Serena, you have to like her chances. I'm not convinced Serena's famously cranky knee can hold up over seven matches here.
Tandon: If they don't beat each other up too badly, it's likely. Of course, Henin has to get there first, and her draw is a little tricky, with Maria Sharapova and Aussie Sam Stosur both in that section. Jelena Jankovic would be a tough test for either Serena or Henin in the semifinals, but given the carnage expected to take place in the other half of the draw, whoever comes through probably will be the favorite in the final.
[+] Enlarge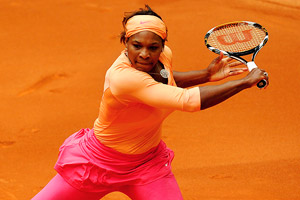 Jasper Juinen/Getty ImagesWould a win over Justine Henin guarantee Serena Williams a French Open title?
Ubha: Maybe. But although most focus on Serena and Henin, Stosur also appears in that section and has the potential to do what she did last year -- reach the semis. Don't forget, Justine probably has to go through Sharapova in the third round before meeting Stosur. Tough. However, Jankovic has played extremely well during the clay-court season and has a beautiful draw to the semis. If the Serb gets there, she'd need to beat only one of Williams, Henin, Stosur and Sharapova. Either way, the top half produces the champion.
Wilansky: Not by a long shot. The women's field is wide-open. Sharapova, who just won in Strasbourg, and Stosur, a French Open semifinalist last year, sit in their quarter of the draw. Assuming Serena or Henin makes the final four, a rejuvenated Jankovic, sizzling Venus Williams and a host of under-the-radar players such as Madrid winner Aravane Rezai and Nadia Petrova pose viable threats. Lest you forget, Henin hasn't played here since 2007, and Serena hasn't conquered Roland Garros since 2002.
3. Under what circumstances can Roger Federer win?
Ford: Simple: He'd have to face someone other than Rafael Nadal in the final, although his résumé always will lack a certain something if he isn't able to defeat Nadal at this major.
Garber: Another early out by Nadal, of course, would be the biggest thing. But, given his current form, that doesn't look as though it will happen. That means Federer will have to take matters into his own hands and beat Rafa in the final. Federer has lost all four of his matches here to Nadal (three finals and a semifinal), but his good showing in the Madrid final suggests he's not that far away. Federer is highly motivated to repeat here; he agreed to orchestrate the women's draw before the tournament -- something he rarely does.
Tandon: Federer is a bit inconsistent these days, so it's hard to say too much without seeing how his first couple of matches go. But essentially, he has to play well enough to reach the final, and then if he faces Nadal, he has to play the clay match of his life. He's showed he can win on clay. He hasn't showed he can beat Nadal in a best-of-five on clay.
Ubha: There are two scenarios, and I'll go with the most favorable first. Essentially, a repeat of 2009 would do Federer nicely -- hope someone else beats Nadal and take it from there. He's 0-for-4 versus Rafa at Roland Garros and 1-6 against the world No. 2 in their past seven matches overall. If they do clash in the finale, and that's likely, Federer has to stick to his attacking game plan (venture to the net and hit out from the baseline), serve huge and execute drop shots. Even then, Nadal must be off-form.
Wilansky: Here's what Federer has going for him: He desperately wants to hang on to his French Open trophy, and he'll be playing with the proverbial chip on his shoulder considering the asterisk rigmarole that manifested after he won Roland Garros -- without having to playing Nadal. Discounting what Federer did last year is ludicrous, but nonetheless there's added motivation. Here's the problem: Federer, if he even makes it to the final, will have to figure out the Nadal conundrum this time around, and we know how those encounters have turned out. Also not to be overlooked is that Federer's quarter of the draw is no cakewalk.
4. Which under-the-radar player has the best chance to steal a title?
Ford: Does Ana Ivanovic count as under the radar? You can never discount a previous winner, no matter what her recent history is. Ivanovic showed signs of awakening from her long competitive slumber this spring.
Garber: I'm not sure No. 15 seed Aravane Rezai qualifies as under-the-radar, but she is playing better than anyone right now. She took down three former No. 1s (Venus Williams, Justine Henin and Jelena Jankovic) on her way to the Madrid title. The only problem? She was born in St. Etienne and is trying to become the first French-born woman to win here in the Open era.
Tandon: On the women's side, there must be least a dozen. There are the dark horses with big games when they're on -- Lucie Safarova, Aravane Rezai, Nadia Petrova, Alisa Kleybanova -- though it's a lot easier to see them pulling off a big upset and reaching the semifinals than actually winning the whole thing. Then there are the "top" players who have been slumping or injured and could turn it around -- Dinara Safina, Caroline Wozniacki, Elena Dementieva and Svetlana Kuznetsova. On the men's side, it's slim pickings, but a few guys have posted a batch of good results during the warm-ups -- David Ferrer, Fernando Verdasco and Nicolas Almagro. And what about a little home inspiration from one of the home guys -- Gael Monfils or Jo-Wilfried Tsonga?
Tweet, tweet
Don't miss a moment of the latest tennis coverage from around the world. Follow us on Twitter and stay informed. Join »
Ubha: It's difficult to envision anyone really under the radar going all the way. After all, anyone who's done well in the prep tournaments isn't so under the radar. Fernando Gonzalez, the supremely talented Chilean, has played only one clay-court event in Europe this season because of a troublesome right knee. Further, he recently cut ties with his coach and physical trainer, and is now teaming up with Darren Cahill and the gang at Adidas. He can get on a roll at any time and ventured to the semis in 2009. Bad news: Rafa lies in his quarter.
Wilansky: If only Nadal and Federer chose to play futbol, rugby or cricket, Ferrer would be considered one of the French Open favorites. Alas, that didn't happen. Ferrer, though, has put together a superb clay season, reaching at least the semifinals in all four tournaments leading up to the French. Considering Andy Roddick hasn't played a lick of tennis on dirt and Novak Djokovic's health concerns, Ferrer has a good shot at reaching the final four.
5. Of John Isner, Sam Querrey and Andy Roddick, which American male is most likely to go the furthest in the draw?
Ford: If warm weather continues, the courts will be faster and all three will profit because of their big serves, but I'll pick Isner based on recent results. Also based on recent results, Quisner could do some damage in the doubles.
Garber: This is almost a trick question. Roddick reached the fourth round here a year ago, and Querrey and Isner are a combined 0-for-4. That said, the draw appears a little easier for the Twins of Tall. Roddick could see Argentines Eduardo Schwank in the second round and Juan Monaco in the third. Querrey and Isner could both win a couple of matches. Still, I'll go with Roddick.
Tandon: Querrey's draw presents some real opportunities -- neither Juan Carlos Ferrero nor Novak Djokovic has been setting the world on fire, and an in-form Querrey could get past them if they don't play their best. Roddick did quite well last year, but he doesn't have any matches on clay coming into the tournament this year. Given that Monaco has been struggling since getting injured, his draw is decent until the fourth round. But then it's hard to see Roddick beating Ferrer in the round of 16.
With Isner, it's all a bit of a lottery. He's in a very tough part of the draw. With his serve, you can't count out the possibility of him pulling out some tiebreakers against Tomas Berdych or Jo-Wilfried Tsonga or Mikhail Youzhny. But in between would be Andy Murray. The Scot's returns and point construction probably would mean the end of the road for Isner, unless Murray goes back to being as lackluster as he was in March.
Ubha: Roddick. If he's to reach the third round, Roddick must beat wily Finn Jarkko Nieminen, then probably the clay-loving Argentine duo of Schwank and Monaco. Schwank is struggling, and Monaco underachieved on dirt this season. Despite his inactivity, Roddick will get some cheap points on serve and remains a great competitor. Unfortunately, David Ferrer likely would await him in the fourth round. Isner has a smooth path to the third round, and probably would then tangle with a rejuvenated Berdych (60-40 odds for Berdych). Call it a hunch, but Mr. Unpredictable, Robby Ginepri, might take out Querrey in the first round.
Wilansky: You have to like Isner's draw. His first real test wouldn't come until the fourth round versus Marcos Baghdatis, if everything were to hold form. Don't put too much weight into Isner's French Open inexperience. He's learning the nuances of clay and gave Nadal a hard time in Madrid.
3 Things I KNOW I think
With apologies to Peter King of Sports Illustrated, here are a trio of observations from Day 1:
1. Victoria Azarenka is suddenly allergic to clay: She was a 19-year-old quarterfinalist here a year ago, but No. 10 seed Azarenka was thrashed by Gisela Dulko on Sunday, 6-1, 6-2.
"At the beginning I was trying to play a very good first serve and play on her forehand, because that's her soft spot," a candid Dulko said.
And that's pretty much what happened. Azarenka's too-forceful forehand never found the range (it was often long), and Dulko took care of her serve, only suffering a single break. Toward the end, Azarenka loosed a stream of angry Belarusian commentary that probably was better left untranslated. Azarenka is now 4-6 on clay this year and lost her first match for the third time in five events.
2. Hamstrings are an essential component of playing top-notch tennis against a world-class opponent in a Grand Slam event: As No. 23 seed Ernests Gulbis discovered. He was sliding for a wide ball in the fourth game of the second set and almost achieved a Kim Clijsters-like split.
"I stretched my leg, my hamstrings, and I heard two cracks," Gulbis reported later. "I hope it's nothing serious."
It was serious enough to cause Gulbis, who split matches with Roger Federer in Rome and Madrid, to retire against Julien Benneteau of France while trailing 4-6, 2-6, 0-1.
3. Robin Soderling will be a factor -- again: The Swede wrecked French wild card Laurent Recouderc, losing a total of only five games. You may remember Soderling's shocking fourth-round win last year over a certain four-time defending champion.
"I got to hit a few balls," Soderling mused. "We had a few rallies, so it was a good match. It's always nice to come back to a place you did well last year. Gives you good feelings."
Greg Garber is a senior writer for ESPN.com.
Another level for Rezai
Rezai
When analyst Mary Carillo walked on-site here for the first time on Friday -- after a brief (and possibly unprecedented) postflight nap -- she wanted to see only one player.
"Is she out there practicing?" Carillo asked of Aravane Rezai, pointing to Court Philippe Chatrier. "I can't wait to see her. She's hitting the ball huge right now and seems to have tons of confidence."
Two days later, on the first day of the French Open, Rezai was out on Chatrier hitting bombs against defenseless Heidi El Tabakh, who was born in Egypt and plays under the Canadian flag. The score was 6-1, 6-1 -- and it was over in 48 minutes.
Afterward, in her media interview, Rezai was almost speechless.
"I caught a cold after Madrid," she said. "You know, during practice I shout. I shout a lot. And I've lost my voice.
"I think I've talked too much."
But it can't be denied that she's also walked the walk.
Outside of Rafael Nadal -- who has won all 15 of his clay-court matches this year -- the hottest player coming into Roland Garros was Rezai, who ran the table recently in Madrid. She beat three former world No. 1s (Justine Henin, Jelena Jankovic and Venus Williams) and launched herself into the conversation regarding the favorites.
A little more than a year ago, Rezai was ranked outside the top 100. Now she's at a career-high No. 16 after the tournament of her life. And although she is projected to play dangerous Nadia Petrova in the third round and Venus in the fourth, she's proved she can play with them.
The real question? Can she handle the pressure that has mangled the form of so many fellow Frenchmen? Rezai is trying to become the first French-born woman to win the title here in the Open era; 2000 champion Mary Pierce, who represented France, was born in Canada.
"Nothing changed," Rezai said of her Madrid victory. "Well, things changed. I gained in confidence. There is nothing better than winning a big tournament like this one before a Grand Slam. That's the ideal situation.
"As for pressure, I have a strong character … so it's not a problem for me."
A strong Pulse
Can't afford the $1,500 fight to Paris -- even with the weakened euro? Is yard work making it difficult to get away for a few weeks? Having a tough time following Roland Garros while working in the close quarters of a 40-hours-a-week cubicle?
We have a solution: The Pulse, which will provide blanket coverage of the French Open.
This cutting-edge application features real-time scoring, Hawk-Eye technology, live statistical breakdowns of every match, a rolling Twitter feed, Cover It Live analysis and interactive poll questions.
Look for it on ESPN.com's home page and the tennis page as well.
Tweet of the Day (No. 1)
Murray
"Never seen a busier road than the Champs Elysees right now, totally rammed with flower and plant stalls down the road." -- Andy Murray, describing the unprecedented two-day ban of traffic on Paris' most famous street.
U.S. mettle count

Lepchenko
Day 1 American win total: 2
The first win of the tournament for America came courtesy of Varvara Lepchenko -- who was born 24 years ago in Tashkent, Uzbekistan.
Lepchenko handled Christina McHale, an 18-year-old from Englewood Cliffs, N.J., 7-5, 6-3. McHale won the USTA's wild-card playoff to earn her spot in the main draw. The victory ended Lepchenko's 0-for-7 streak in Grand Slam singles draws that extended nearly four years.
What was the difference?
"Experience, good rest before the match," Lepchenko said, smiling, "and fighting spirit, my fighting spirit."
It was worth repeating, for Lepchenko has shown uncommon resilience for the past decade. She has been living in the United States since defecting from Uzbekistan during a junior tournament in Florida. Her family asked for and received political asylum, citing prejudice against its Christian religion in a country that is overwhelmingly Muslim.
Lepchenko, a powerful left-hander, got her green card in the fall of 2007 but does not have a passport. She said she hopes to become a U.S. citizen sometime next year. By rule, because she hasn't represented any other country in Fed Cup play, she is permitted as a resident to represent the country of her choice -- in this case, the United States. She lives and trains in Allentown, Pa.
Does she feel thoroughly American?
"Of course, of course," she said. "I always miss it and love to come back. I'm proud to represent it here."
And now, Lepchenko has advanced to the second round of a major for only the second time in her career. Next up: No. 26 seed Dominika Cibulkova, a 6-2, 6-0 winner over Ekaterina Ivanova.
Venus Williams dispatched Patty Schnyder 6-3, 6-3 to run the U.S. total to two, with Ryan Sweeting playing a late match against Juan Ignacio Chela and qualifier Michael Yani engaged with Lukas Lacko.
Inspiring Performance: Serena Williams
Critic's Choice
Gasquet
Andy Murray versus Richard Gasquet: These two played a spectacular five-set match at Wimbledon two years ago. Murray won the fourth-round match that consumed two minutes shy of four hours. Gasquet is coming off a title run in Nice -- he ended a six-match streak of losses to top-10 players -- where he defeated Fernando Verdasco in the final. Gasquet, who said he was exhausted afterward, petitioned French Open referee Stefan Fransson to push back this match until Tuesday but was turned down. Too bad.
ESPN.com prediction: Murray in four.