French futility frustrates Venus

By Greg Garber
ESPN.com
Archive
PARIS -- Nadia Petrova flashed to the net and hungrily eyed an easy overhead as though it were low-hanging fruit.
For comprehensive coverage of the French Open, check out Slam Central and stay informed about everything going on in Paris. More »
The Russian was only two points from booting Venus Williams out of the French Open when … she took her eye off the ball and sent a megashank soaring skyward. Petrova, who has never been accused of intestinal fortitude, had to feel the doubts creeping in.
Before Sunday's fourth-round match, Petrova's record against top-10 players in Grand Slam events was 3-18. Make that 4-18 now.
Petrova gathered herself and on her first match point redirected a short floater with a crushing forehand winner and walked of Court Philippe Chatrier a 6-4, 6-3 winner. Williams was oddly listless throughout the match; she hit only 15 winners and, particularly down the stretch of the second set, centered the ball when she could have aimed closer to the line.
Maybe she caught the bug that left Serena dizzy during her third-round match.
[+] Enlarge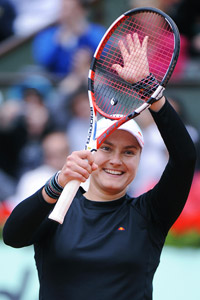 Betrand Guay/AFP/Getty ImagesNadia Petrova is one win from reaching her third French Open semifinal.
As a result, the American survivors have been reduced to two: Robby Ginepri and Serena.
Petrova, it turns out, is a survivor, too.
She'll turn 28 in a week and is playing as she did in 2005 and 2006, when she rose to No. 3 in the world. She's a two-time semifinalist here; seven years ago, she defeated Monica Seles and Jennifer Capriati on her way to the last four.
Now she has beaten both Williams sisters in the same month, going back to the fourth-round win over Serena in Madrid.
Petrova had lost to Venus in four previous matches, but there are signs that maturity is settling in on the Russian. She wrecked Kim Clijsters in the third round of the Australian Open, giving her all of one game, and she uncharacteristically saved three match points in a third-round win over Aravane Rezai here. In Sunday's match, both players had seven break-point opportunities. Petrova cashed four of them, but Venus only one.
And Petrova has some pop on her shots, too -- even on the sticky red clay. It might surprise you that Petrova leads the Sony Ericsson WTA Tour with 163 aces. (Venus is second with 147.)
Venus, the No. 2-ranked player in the world, will turn 30 in less than three weeks. She's having a terrific season, but her game is downsized on clay. She has reached the French Open final only once, in 2002, when she lost to her sister. Going forward, she will be among the favorites at Wimbledon, where she's won five titles and reached the final in eight of the past 10 years.
The Williams sisters are still alive in the doubles competition and advanced to the quarterfinals on Sunday. They are attempting to win their second major of the season, and a win would put them halfway to a calendar Grand Slam in doubles. The sisters have won Wimbledon four times and the U.S. Open twice.
Tweet, tweet
Don't miss a moment of the latest tennis coverage from around the world. Follow us on Twitter and stay informed. Join »
Venus' singles loss considerably opens up the bottom half of the draw. No. 3 seed Caroline Wozniacki plays Francesca Schiavone of Italy in one quarterfinal, and the other features two proud Russian campaigners in Petrova and Elena Dementieva. They have split 14 previous matches, and because this is the French Open, you have to wonder whether one of them could sneak into the final and escape with her first career major.
Petrova, meanwhile, has won here before. She was the girls' junior champion in 1998, defeating Jelena Dokic in the final.
Greg Garber is a senior writer for ESPN.com.
Same ol' Tsong
Injury again won out over talent when Jo-Wilfried Tsonga limped away from his fourth-round match against Mikhail Youzhny. He retired with what appeared to be a hip injury after Youzhny won the first set 6-2.
Tsonga, who is ranked No. 10, has missed 12 of the past 21 Grand Slam events; he sat out six consecutive majors in 2005 and '06 with back, shoulder and abdominal ailments. When he is healthy, the 25-year-old Frenchman is extremely dangerous -- especially in Australia, where he was a finalist in 2008 (beating Rafael Nadal and Andy Murray) and reached the semifinals this year (beating Novak Djokovic) before losing to Roger Federer.
And so, the French Open singles draw is devoid of French players. None of the 12 women in the draw made it past the third round.
3 things I KNOW I think
1. Roger Federer is really, really good: On an icky day on Court Philippe Chatrier, the world No. 1 survived a second-set tiebreaker and rolled to a 6-3, 7-6 (5), 6-2 win over fellow Swiss Stanislas Wawrinka. Federer, in case you haven't been following along at home, has won 31 of his past 32 Grand Slam singles matches.
2. Robin Soderling's run may be over; up next is Mr. Fed-tastic: Soderling methodically beat Marin Cilic 6-4, 6-4, 6-2 to set up a rematch of last year's final here. Federer won his first French Open title courtesy of Soderling, 6-1, 7-6 (1), 6-4.
3. Caroline Wozniacki is wise beyond her years: The three other quarterfinalists in the bottom half of the draw are all 8 years older than the 19-year-old Dane. Elena Dementieva, Francesca Schiavone and Nadia Petrova have won a total of 75 Grand Slam singles matches. Wozniacki has won eight -- and yet she is the No. 3 seed and most likely to emerge from that side.
Wozniacki's skills aren't evident just on the tennis court; she already has refined her blandness in news conferences, something rare for someone so young. As one writer grumbled, "She's mastered the art of the empty comment."
Greg Garber is a senior writer for ESPN.com.
Digging out
Henin
Five years is a long time. In tennis, it is an eternity.
For five years, Justine Henin did not lose a set at Roland Garros. She put together 39 straight frames, going back to the fourth round in 2005 -- an impressive figure even considering that retirement kept her out of the event in 2008 and 2009.
And then, in Saturday's gathering darkness, Henin was overpowered by Maria Sharapova, and their third-round match was suspended at a set apiece. The way things were going, that probably saved the Belgian's place in this damp and blustery French Open.
On Sunday, a nervous-looking Henin quickly dropped the first two games and trailed love-40 in the third, and it looked as though Sharapova -- who famously described her clay-court form as "a cow on ice" -- would advance to an anticipated quarterfinal match with Serena Williams.
But Henin dug in, saved four break points and rallied to win four straight games. She ultimately prevailed 6-2, 3-6, 6-3. The four-time Roland Garros champion will face Samantha Stosur on Monday; with all the rain, it will be the fifth straight day she'll be on the court.
A single point in the pivotal eighth game framed their awkward matchup. Sharapova, serving to level the match at 4-all, saved a break point to reach deuce for a second time. She unleashed a series of groundstrokes that drove Henin four or five feet behind the baseline as she scrambled from side to side to retrieve the heavy balls. Finally, after another splendid get, Sharapova sent a forehand into the net and shrieked in anguish.
Henin stepped in on a short ball and ripped a backhand winner to take the game and Sharapova's last breath of a chance. The telling statistic: Henin converted five of nine break points; Sharapova squandered 12 of 15.
Although Henin remains the favorite -- No. 1 seed Serena Williams has only one title here, in 2002 -- she said she doesn't see it that way.
"I'm in the round of 16, so it means there are 15 other girls who can make it 'til the end," she said. "And in tennis, everything can change very quickly. It's a lot of management. You have to be at the top of your shape. A Grand Slam is difficult because it's long. You can't afford not to be at the top at all times, and now I'll be playing very big players from now on.
"I'm one of the 16 players still running for the title. We'll know more about it later."
Scouting the Americans

V. Williams
U.S. mettle count: 18
Day 8 American win total: 0
Overall record: 18-19
United States singles wins
Serena Williams (3)
Robby Ginepri (3)
Venus Williams (3)
Andy Roddick (2)
John Isner (2)
Mardy Fish (1)
Jill Craybas (1)
Bethanie Mattek-Sands (1)
Varvara Lepchenko (1)
Taylor Dent (1)
Quote of the day

Henin
"She has beautiful qualities on clay because she plays kind of a man's tennis. I mean, she has very heavy balls. She is a very powerful girl." - - Justine Henin, talking about her fourth-round opponent, Samantha Stosur
Critic's choice

Verdasco
Fernando Verdasco versus Nicolas Almagro: This is what the French Open is all about. Two Spaniards going at it on the red clay, grinding through a slew of 20-shot rallies. The matchup guarantees another all-Spanish match in the quarters; the winner will face Rafael Nadal.
ESPN.com prediction: Verdasco in five