Yin-yang experience of Marin Cilic
Tennis might have the most extreme momentum swings in all of sport -- not merely within matches or sets, but even within single points. And what about a tennis life?
Consider the recent yin-yang experience of Marin Cilic.
After withdrawing abruptly from his second-round match at Wimbledon last year, he played all of two matches the rest of the season -- both in Paris in October. That came after he served a contentious and controversial four-month suspension for violating tennis' anti-doping program.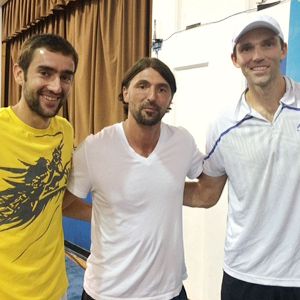 ATPWorldTour.comWith former Wimbledon champion Goran Ivanisevic by his side, Marin Cilic is playing stellar tennis.
Now, less than two months into the 2014 season, Cilic finds himself one of the hottest players in the game. Buoyed by the addition of a celebrated new coach, the inimitable Goran Ivanisevic, Cilic was one of only two ATP World Tour players to enter this week with 13 match victories. You could see
Fabio Fognini
coming, based on his best-ever No. 16 finish at year's end. But few saw Cilic, 25, making this kind of early run.
For in late October, because of enforced inactivity, his ranking had fallen to No. 47. He finished the season at No. 37, his lowest since 2007, when he was still a teenager. Then, in the span of two matches in Rotterdam last week, Cilic defeated two top-10 players -- Jo-Wilfried Tsonga and Andy Murray -- and reached his second straight final.
"That's a huge boost of confidence," Cilic said Tuesday from the Delray Beach Open, "knowing with my game I can beat the best."
Cilic is a marvelous athlete, but the spidery 6-foot-6, 180-pound Croatian somehow never quite seemed to play to the sum of his parts. He has always been a thinking man's player, sometimes to his own detriment.
Ivanisevic, who still finds time to play the Champions Tour, was ecstatic with Cilic's performance in Rotterdam.
"This is so great for Marin to beat two top-10 guys in the same week, especially Andy, because he is always struggling against him," Ivanisevic said after losing to Jan-Michael Gambill on Friday in Delray Beach. "It's great. I'm really happy for him."
The drug scandal was difficult to sort out. This much we know: On June 10, the International Tennis Federation informed Cilic that he had tested positive the month before at the BMW Open in Munich for the banned stimulant nikethamide. Cilic admitted ingesting an over-the-counter glucose supplement before the tournament, but argued that because it had happened five days before the tournament it was not technically illegal because nikethamide is banned during competition. Cilic was issued a nine-month suspension.
Subsequently, in September, the ITF amended its test finding to include only N-ethylnicotinamide, which is a byproduct of nikethamide -- and not a banned substance. The Court of Arbitration for Sport set aside the original suspension and replaced it with time served, four months.
When Cilic was asked what he wanted tennis fans to know about that episode, he responded with his longest answer of the interview.
"Well, what I want them to know is that I never tried to take something on purpose. It happened accidentally. What really happened was there was the substance in this glucose bottle and it was banned in competition. The last day I took the tablets was five days before my first match in Munich, so it was out of competition and perfectly legal to take these tablets. And then they say there was no banned substance -- it was just a satellite.
"So for me, I had already missed four months and nobody could bring that back. You can think of it as a gray area. What's most important is that I played again last year and I'm looking forward to the rest of this year."
Cilic was disappointing at the Australian Open, losing to Gilles Simon in the second round. But two weeks ago in his home country, playing at Zagreb, Croatia, he ran the table, defeating 12th-ranked Tommy Haas in the final. Then in Rotterdam, he wrecked Tsonga and Murray in straight sets before losing to Tomas Berdych, his third consecutive top-10 opponent, in the final.
It was reminiscent of his back-to-back defeats of top-10 players Andy Roddick and Juan Martin del Potro in the 2010 Australian Open. Those wins propelled him into the semifinals, where he eventually lost to Murray. That remains his best effort in a major.
In 2005, Cilic was ranked the world's No. 2 junior -- after American Donald Young. He worked his way up the rankings ladder relatively quickly; four years ago, Cilic blazed into the top 10 as a 21-year-old. With no points to defend starting with Wimbledon in late June, he could make another run toward the top.
Senior Writer
Greg Garber joined ESPN in 1991 and provides reports for NFL Countdown and SportsCenter. He is also a regular contributor to Outside the Lines and a senior writer for ESPN.com.
Five questions with Marin Cilic
ESPN.com caught up with Marin Cilic between practices on Tuesday, the day before his first match at Delray Beach, Fla.
ESPN.com: You played 10 matches in 14 days -- and won nine of them. How do you explain your recent success?
Cilic: For me, I think it always starts with Zagreb. I always play well at home. Usually when I play well, my form rises up. I have to say I worked a lot with Goran [Ivanisevic] in the offseason and I hoped it would click for me in Australia. It just happened to click for me these two weeks.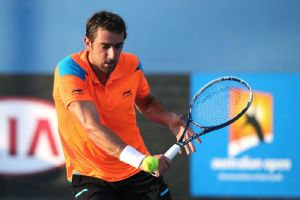 Chris Hyde/Getty ImagesMarin Cilic credits his recent success to a refined, simplified serve.
ESPN.com:
You beat two top-10 players back to back. What did that do for your confidence?
Cilic: [Laughing] It shows me how well I'm playing and that I'll be a big threat to these guys.
ESPN.com: What specifically are some of the things you've been working on with Goran Ivanisevic?
Cilic: We're working a lot on the serve. That's the biggest difference I can feel in my game. Goran is pushing me to be more aggressive and spend more time on the net. Those things are helping me to be better. Sometimes in the past, when I was in tough matches, I did not have that confidence. Now things are easier in difficult moments.
ESPN.com: What exactly has he done with your serve?
Cilic: He has simplified it a lot. I used to bend a lot in my knees and sometimes that made it difficult on my back. Now I don't bend as much and it's more simpler and easier for me. When I get out of the rhythm now, I can get back quicker. And because the serve is quicker -- I hit it earlier in the air -- it helps with aces and free points.
ESPN.com:How important is this year for you after last year's four-month suspension?
Marin Cilic: Extremely important. I'm really eager to play well. I was not sitting at home all that time. I was training a lot with Goran, because I was expecting to play soon. That time off was a big help to see what I needed to do. It was a very good moment to play in Paris. My goals are to be back, obviously, in the top 10. I want to win a Grand Slam and I am working on that. But I have to stay on the ground and take it set by set and tournament by tournament. It's definitely going to take some time, but I feel with Goran and my team around me, I can do it.
Rafa's ... uh, back
Nadal
No one does comebacks better than Rafael Nadal.
Last year, after a seven-month sabbatical forced on Nadal by tenuous knees, he returned at Vina del Mar, Chile, and reached the final. Then he won seven of his next eight tournaments, including his eighth title at Roland Garros. After exiting Wimbledon in the first round (those knees again), Nadal returned to win consecutive events in Montreal and Cincinnati, then the US Open.
Now he seems poised to produce another triumphant return.
The last time we saw him was in Melbourne, scuffling through the final against Stanislas Wawrinka with an ailing back. He was supposed to play last week in Buenos Aires, Argentina, but returned to the court this week in Rio de Janiero. But not before a visit, along with friend and fellow futbol aficionado Juan Monaco, to Maracana, one of the great soccer stadiums, which is set to be the flagship venue of World Cup 2014.
On Tuesday night, he met Daniel Gimeno-Traver in a first-round match of Spaniards. Nadal won unremarkably, 6-3, 7-5, in 101 minutes.
Nadal first played in South America at age 18 and won two titles (Costa do Sauipe and Acapulco). After that long layoff, he reached three straight finals, winning at Sao Paulo and Acapulco. He says he hopes to back again in 2016, at the very least, for the Olympics in Rio de Janiero.
Czechs and balances
Stephens
After losing to two-time defending champion Victoria Azarenka in Melbourne, 20-year-old American Sloane Stephens has had a tough couple of weeks.
She lost in her first match at Doha -- to qualifier Petra Cetkovska of the Czech Republic (ranked 134th) -- then to another Czech, Lucie Safarova, in this week's first round at Dubai.
Maybe it's just the time of the season. Last year, after knocking out Serena Williams in the quarterfinals of the Australian Open (losing to Azarenka in the semifinals), Stephens lost three of her four matches at Doha, Dubai and Indian Wells, before reaching the fourth round in Miami.
Most young players struggle in the Grand Slam events; not so for Stephens. She's made it to at least the fourth round of the past five majors -- a prime achievement for a player of any age. Now, she just has to find the fire to be more consistent in the lesser tournaments, something new coach Paul Annacone will undoubtedly help remedy.
Time off for Halep
Halep
Simona Halep won the biggest title of her young career on Sunday, but the effort cost her a 10-day cooling off period.
For the first time, Halep beat three top-10 players in succession -- Sara Errani (No. 7), Agnieszka Radwanska (No. 4) and Angelique Kerber (No. 9) last week at the Qatar Open in Doha, but suffered an inflamed Achilles in the process. After losing the first set Tuesday to Alize Cornet and splitting the next two games at the Dubai Championships, Halep retired.
Trainers told her a 10-day layoff should have her ready for Indian Wells.
Halep isn't as big as most of the other top-10 players -- she's listed at 5-foot-6, 132 pounds -- but her timing is terrific. So is her confidence after winning her seventh consecutive final dating back to June. And she's a top-10 player herself, at No. 9. That's the second-highest ever for a Romanian woman, after Irina Spirlea.
Top seeds prevail
Ferrer
On the men's side, anyway, there were few surprises in Buenos Aires and Memphis.
Top-seeded David Ferrer won his third straight title in Argentina, ending a seven-match losing streak in finals. In the championship match, he chilled out Fabio Fognini, who has now reached five straight clay-court finals.
Meanwhile, No. 1 Kei Nishikori of Japan won his second straight U.S. National Indoor Tennis Championships crown, defeating Ivo Karlovic in straight sets in the final. The 24-year-old has his ranking back up to No. 15.
Beasts from the Far East
Li
Predictions of China's world dominance are coming true -- at least in the arena of tennis.
Earlier this week, China's Li Na rose to a career-high No. 2 singles ranking among WTA players. At the same time, countrywoman Peng Shuai, who plays with Su-Wei Hsieh, captured the No. 1 doubles ranking -- both unprecedented achievements for Chinese players.
Li won the recent Australian Open single title, while Peng and Hsieh are the reigning Wimbledon doubles champions.
"As they have done throughout their careers, both players continue to set new milestones for Chinese tennis," said Stacey Allaster, WTA chairman and CEO. "Their accomplishments are truly inspirational, and the WTA is fortunate to have such ambassadors representing the sport around the world."
There's more glory in store for the Asia-Pacific when the year-end championships take place in Singapore.
New assignment for Martin

Martin
He is a cerebral former two-time Grand Slam finalist. And now Todd Martin is the CEO-designate of the International Tennis Hall of Fame and Museum. He succeeds Mark L. Stenning, who will step aside after 14 years in that position.
Stenning initially approached Martin for advice regarding potential candidates and discovered that Martin was interested in the job. Martin will oversee expansion and renovation projects to the Hall's facility in Newport, R.I.