Does Fed care about the Masters events?

By Greg Garber
ESPN.com
Archive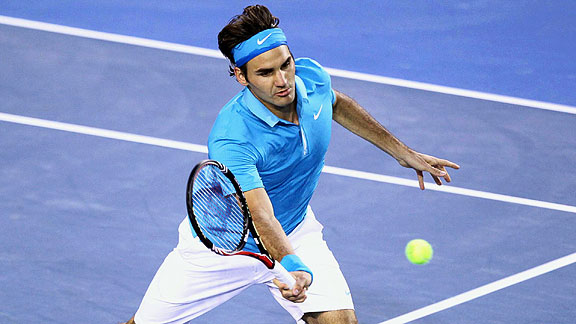 Nicolas Luttiau/US PresswireRoger Federer has won only two Masters 1000 titles in the past two years.
This much we know:
The two No. 1-ranked players in the world will not hoist the championship trophies at Indian Wells as they did at the Australian Open.
Serena Williams, of course, will again boycott this week's event as she has along with her sister Venus for nine consecutive years now. Roger Federer, returning from a curious lung infection, will be in the loaded field at the BNP Paribas Open -- the first of nine ATP World Tour Masters events in 2010.
But while Federer has mastered the majors, he has not majored in Masters tournaments in recent years.
In the three-plus seasons including 2007, Federer remarkably has won seven of the past 13 Grand Slam singles titles. That's good -- ridiculous, actually -- for a winning percentage of .538. In the same time frame, with similar draws that include most of the top contenders, Federer has won only four of his past 26 ATP Masters tournaments (.154).
Clearly, the 28-year-old father of twins has his priorities in order.
There was a time when Federer burned to win all of the important tournaments. From 2004-06, he won nine Masters events. But since reaching four finals in 2007 (and winning only in Cincinnati), Federer has taken only two titles -- last year, in Madrid and Cincinnati. He seems content to play into the quarters or semis (nine times), then put the hammer down in the Grand Slam events.
Meanwhile, the youngsters play these Masters events like Federer circa 2006. Rafael Nadal has won eight titles in the past three years, followed by Novak Djokovic (5) and Andy Murray (4).
And so, who will win at Indian Wells, the most-attended tennis tournament outside the four Grand Slams? Federer was the three-time champion from 2004-06, but last year Nadal won the title for the second time in three years. It is his last tournament victory on a hard court, and his body has started to show effects of the punishing, physical game he plays.
Usually, in the warm desert air of the early season, it comes down to who is hungriest. Right now, those players would seem to be Djokovic, Murray and Nikolay Davydenko, who won the ATP's year-end event in London.
On the women's side, missing three of the top five-ranked players takes some of the air out of this tournament. With the Williams sisters and No. 2-ranked Dinara Safina (back injury) absent, how about a Russian winner? Elena Dementieva, defending champion Vera Zvonareva, even Maria Sharapova -- who has already equaled last year's win total -- should all be in the mix.
Then again, maybe Kim Clijsters will win back-to-back titles. Seriously, this is the first time Clijsters will play at Indian Wells since she won in 2005 -- and she went on to win the championship at Miami two weeks later.
Five questions with …
… Gigi Fernandez and Owen Davidson
ESPN.com caught up with these doubles greats, two of the International Tennis Hall of Fame's recently announced Class of 2010, at the Billie Jean King Cup exhibition in New York.
Most cherished tennis moment?
[+] Enlarge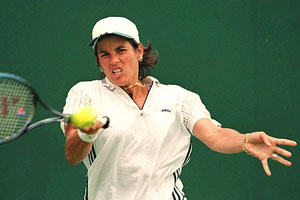 Frank Leonhardt/AFP/Getty ImagesGigi Fernandez says raising the net would blunt the ever-growing power in today's game.
Fernandez: Winning the 1992 Olympic gold medal with Mary Joe Fernandez in Barcelona. "No relation, by the way. We played the Spanish team of Conchita Martinez and Arantxa Sanchez-Vicario in their home country. The next biggest thrill was repeating four years later with Mary Joe in Atlanta."
Davidson: Winning the doubles title at the 1973 U.S. Open with John Newcombe. "Tony Roche was injured, so I got to play with my [Australian] boyhood friend. We were up against Mr. [Rod] Laver and Mr. [Ken] Rosewall -- guys we idolized and dreamed of beating growing up and hitting balls off the garage door."
What did you bring to the game?
Fernandez: "I think I brought passion -- intense passion. When fans came to watch me, they knew they were going to get an exciting match."
Davidson: "I think I brought a lot of honesty. I always had a great relationship with all of my partners through the years."
Women's player you most enjoy watching -- and why?
Fernandez: Serena Williams. "She never quits. She is the ultimate warrior."
Davidson: Justine Henin. "Because she has the most well-rounded and talented game, for a woman of smaller stature."
Men's player you most enjoy watching -- and why?
Fernandez: Rafa -- I was born in Puerto Rico, so I'm biased. I was coaching at Roland Garros when he won there for the first time [in 2005]. You knew he was going to be great."
Davidson: Roger Federer. "By far. Nobody can hit the ball like Roger."
What would you change in the game today?
Fernandez: "I would raise the nets to take some of the power out of the game. It measures 36 inches on the lines and maybe 32 in the middle. Make it 36 inches all the way across and that would make it harder to live on big serves and bring back the all-court game."
Davidson: "I would find a way to encourage all the top players to play doubles more. When you see Federer and Nadal playing doubles, they bring an incredible standard of tennis. They would win if the played consistently and it would add a dimension to their game."
A win is a win
Richard Dee, a 23-year-old Englishman, went 54 consecutive matches -- and an astonishing 108 sets -- over three years without a victory.
Now, he's trying for a breakthrough win in a high court in London.
Dee sued the Daily Telegraph for wrecking his professional career by calling him "the world's worst tennis pro" and noting that he had fashioned "an unrelieved catalogue of failure."
A number of other media organizations -- including the BBC, the Guardian, Sun and Daily Mail -- apologized or paid him tens of thousands of pounds in damages to avoid the lawsuit. The Telegraph declined and is planning to call several high-profile witnesses, including Boris Becker and Great Britain's Davis Cup Captain John Lloyd.
"The claimant has a serious and substantial complaint," said his lawyer, Andrew Caldecott.
Dee's argument: Since he did not have a world ranking in 2008, he cannot, technically speaking, be called the worst.
Greg Garber is a senior writer for ESPN.com.
Chat with Stosur
Stosur
The WTA Tour's Samantha Stosur stopped by to chat from the BNP Paribas Open in Indian Wells, Calif. where she will play this week. Here's what she had to say.
On the move
HOT

Williams
1. Venus Williams: Has won 14 or 15 WTA matches this year.
2. Mariana Duque Marino: Ranked No. 96 (up 95 spots from last year) for the 20-year-old Colombian.
3. John Isner: The 6-foot-10 Georgia Bulldog is now a career-high No. 20.
4. Sofia Arvidsson: Ranked No. 79 (up 45 spots from last year). The surprising Swede made the Memphis final.
5. Marcos Baghdatis: The 2006 Aussie finalist is climbing again, to No. 33.
NOT

Nalbandian
1. David Nalbandian: Once ranked No. 3, now 139. The hip is healed but slowed by a leg injury.
2. Sania Mirza: Started 2010 losing five of six matches. Her ranking is now down to No. 84.
3. Mardy Fish, Robby Ginepri: These U.S. men continue to slide. They are now down to No. 106 and No. 108, respectively.
4. Virginie Razzano: The Frenchwoman falls 19 spots to No. 38.
5. Frederico Gil: He falls out of the top 100, to No. 104 (down 35 spots in 2010).
Quote-a-licious
Roddick
"I didn't get the cover. It wasn't me, so I didn't get any phone calls. It's like the biggest guarded secret. For her, they masked it as another big casting for another company. She walked in and saw the SI cover and all the people she worked with. It was like an episode of "Punk'd." Later I got a text. She said, 'Casting went horribly. Call me.' I called her and after about three seconds she said, 'I got it.' She sort of passed the "Punk'd" along to me." -- Andy Roddick on wife Brooklyn Decker's appearance last month on the Sports Illustrated swimsuit issue cover.
Schwab previews Indian Wells
Etcetera
• When players banded together to raise money for Haitian relief before the Australian Open, it struck a chord that still resonates. On Friday night, the BNP Paribas Open in Indian Wells will offer another "Hit for Haiti" exhibition presented by Oracle. The first match of the evening features 50 Grand Slam titles -- Steffi Graf and Lindsay Davenport versus Martina Navratilova and Justine Henin. The second match: Roger Federer and Pete Sampras against Rafael Nadal and Andre Agassi -- representing only 44 major titles. Oracle has set a fundraising goal of $1 million. You can watch this rare treat live on ESPN360.com or Tennis Channel.
• Maybe Tommy Haas' body is trying to tell him something. The German, who turns 32 next month, has suffered two broken ankles and endured three shoulder surgeries. Now he is expected to be sidelined for as many as six months following right hip surgery.
• Ana Ivanovic, now ranked No. 28, continues to struggle. She lost in the second round of the Australian Open to Gisela Dulko and withdrew from Dubai after aggravating a shoulder injury in Fed Cup losses to Kuznetsova and Alisa Kleybanova. Ivanovic has left the protective umbrella of the Adidas Player Development Program (and coaches Darren Cahill and Sven Groeneveld) to work with Heinz Gunthardt, Steffi Graf's former coach. Ivanovic's confidence -- evidenced in her wildly wayward service tosses -- was shaky in an exhibition loss to Clijsters at Madison Square Garden. When she won the 2008 French Open, it looked like the first or numerous majors for the Serb. Ivanovic could fall out of the top 50 if she doesn't reach the fourth round at Indian Wells. Now we are left to wonder if her career will track like Anastasia Myskina's.
• Ivan Lendl, the eight-time Grand Slam champion, is taking his comeback with typical seriousness. He looked terrific hitting the ball before the New York exhibition and is noticeably leaner than last year. He'll play old foil Mats Wilander in the April 10 Caesar's Tennis Classic in Atlantic City, N.J., that also features Andy Roddick versus retired Marat Safin and Pete Sampras against James Blake. Lendl said he won't play the senior tour but is entertaining the idea of one-night exhibitions.
• How far has Nicole Vaidisova fallen? She recently lost to 17-year-old Heather Watson of Great Britain in a Louisiana event. Watson won two tiebreakers to score her victory over the WTA's No. 176-ranked player. In 2006, Vaidisova reached the semifinals at Roland Garros -- also at the age of 17 -- and beat No. 1 Amelie Maursemo twice. In 2007, she reached the semifinals of the Australian Open.
• The Bryan Brothers now stand alone in second place on the all-time doubles list. Bob and Mike won their 58th title in Delray Beach and are only three behind Australians Todd Woodbridge and Mark Woodforde, who are officially Hall of Fame bound.
• Rafael Nadal appears in Shakira's music video "Gypsy." The Colombian star survives a stint in the desert with a shirtless Rafa. "Shakira, as always, was spectacular," Nadal reports. "Working with a woman as charming as her, well, it makes it a lot easier to tell the truth. It was great, very easy, she's really sweet and that always makes the hours go by faster."
• David Nalbandian -- who won the deciding rubber with a Davis Cup singles victory against Sweden -- and Carlos Moya have accepted wild cards into the main draw of the Sony Ericsson Open in Miami. Men's first-round action starts March 24.
• It did not bode well for U.S. Davis Cup chances on the clay in Serbia when John Isner and Sam Querrey elected to play the ATP's 500-level event in Acapulco as a warm-up and both lost on the dirt in the first round. Isner redeemed himself with a great effort against Novak Djokovic on Sunday, pushing Djokovic to five sets in a match that went 4 hours, 16 minutes. The U.S. lost in the first round for the first time since 2005. The July Davis Cup quarterfinals look like this: Spain at France, Argentina at Russia, Serbia at Croatia and Czech Republic at Chile.
• This just in: Roger Federer is the greatest player in the history of tennis. John McEnroe, clearly impressed with his 16 Grand Slam titles, has our last word: "He is the most beautiful player I have ever seen. Rod Laver is my idol, Pete Sampras is the greatest grass-court player ever, but Roger is just the greatest player of all."