Slow conditions perfect for Big John Isner

By Greg Garber
ESPN.com
Archive
Three months before he shocked Roger Federer in Davis Cup -- on clay, in Switzerland -- John Isner already was starting to feel it.
Four months before taking down No. 1 Novak Djokovic in the semifinals at Indian Wells, five months before he stunned Jo-Wilfried Tsonga -- on clay, in France -- to thrust the United States into the Davis Cup semifinals, Isner had begun to build the foundation for a run to the top 10.
[+] Enlarge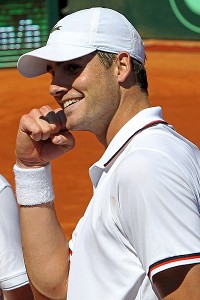 Sebastien Nogier/AFP/Getty ImagesJohn Isner needs to refocus for 2013.
It happened last November, in the final ATP World Tour Masters 1000 event of the 2011 season.
"John got really sick and pulled out of Beijing and Shanghai," his coach Craig Boynton said from Houston. "I first saw a glimpse in the second set against Feliciano Lopez. Then in the [quarterfinal] match vs. [David] Ferrer, and the first set against [Jo-Wilfried] Tsonga in the semifinals. He literally took the racket out of opponents' hands.
"That was really, really exciting for me to see. I knew that it just a matter of time before it became the norm for John."
Isner, preparing for the U.S. Men's Clay Court Championship, agreed with Boynton.
"I was pretty much down and out of my first match against [Stan] Wawrinka," Isner said. "A lot of times you see guys drop that first set in the last tournament of year and sort of go away. I fought back. It culminated when I beat Ferrer. I should have been in the final -- I had three match points in the semis [against Tsonga].
"I was able to end the year on a good note. During that event I just felt myself playing the right way, relaxing in break points, demoralizing opponents."
What has changed for 6-foot-9 Big John? The word that Djokovic offered after his surprising loss in the desert: confidence.
"He's realizing for himself all the potential that the tennis world knew he had," Boyton said. "You can see it not only in his results, but the confidence he exudes on court. He's playing better in those big moments. It's absolutely so much fun to watch him grow as a player."
Isner celebrates his 27th birthday later this month; he is a late bloomer by the standards of professional tennis, having turned pro five years ago after leading University of Georgia to NCAA title.
"I'm returning serve better, taking better cuts," Isner said. "I want guys thinking that when they're hitting a second serve to me, they're in a tough hole. I'm running around the backhand, hitting big forehands. Guys are trying to squeeze one out wide and they're double-faulting."
The victory over Federer, he said, changed his mindset.
"That match helped me out a lot," Isner said. "I knew I had to play my best to beat him -- and I did. From that I learned that if I really play the right way, I can beat anyone."
Few on the outside saw this coming -- and no one, even Isner, could have imagined a perfect 4-0 record on clay in Davis Cup. This could be a handy skillset heading into the Monte Carlo tournament, which begins Monday and signals the beginning of the European clay-court season.
Said Boynton, "Quite frankly, people are making such a big issue of the wins on clay because Americans haven't been very good on clay. Truth is, clay opens up a lot of things in John's game."
Let us count the ways:
The ball typically bounces higher on clay than a hard court, which puts it right in Isner's strike zone. Conversely, Isner gets a lot of high balls into his shorter opponents, which takes them out of their comfort zone. That means a lot of short balls come back to his forehand, which means he can be more aggressive earlier in points.
Isner's serve is his greatest weapon; his 305 aces are second only to Milos Raonic (324), with Tsonga and Nicolas Almagro tied for a distant third at 216. The clay slows down that serve, but it slows down opponents' weaker serves even more, relatively speaking, according to Boynton.
"My serve is my serve," Isner said, "and I feel like I'm going to hold it. That's freeing me up to take bigger cuts."
Perhaps the biggest advantage clay affords him is time.
"A natural clay-courter, they play further back on baseline," Boynton said. "In layman's terms, it's simple. If a guy is playing three feet further back than normal, that's six feet of time for the ball to travel across the baseline and back. And that's six feet of time that John has. Plus, the ball bouncing higher and checking up gives him more time to get set and implement his shot."
That tiny grace period also gives Isner -- not one of the ATP's best movers -- a chance to get into net where his wingspan cuts down the court substantially.
"Yes," Isner said. "Clay gives me more time to get to balls, so I'm playing better defense. That helps your offense."
Isner finds himself in the top 10 for the first time in his career and, it should be noted, is the first American man to beat the No. 1-ranked player in four years. By reaching the finals in Houston, he has a chance to pass Mardy Fish as the top-ranked American.
His clay schedule: Monte Carlo (depending on how deep he goes in Houston), followed by Madrid, Rome, Nice and Roland Garros. Casual tennis fans might not remember, but Isner took six-time French Open champion Rafael Nadal to five sets in last year's opening round in Paris.
Isner, for one, hasn't forgotten.
"I've got some huge events coming up," he said. "I believe I can make a deep run at the French Open."
On The Move
HOT

Azarenka
(2012 records among top 25)
1. Victoria Azarenka 26-1, .963
2. Novak Djokovic 20-2, .909
3. David Ferrer 24-3, .889
4. Roger Federer 23-3, .885
5. Serena Williams 15-2, .882
6. Agnieszka Radwanska 26-4, .867
T7. Rafael Nadal 17-3, .850
T7 Milos Raonic 17-3, .850
9. Maria Sharapova 18-4, .818
10. Andy Murray 17-4, .810

NOT

Pavlyuchenkova
1. Anastasia Pavlyuchenkova 3-8, .273
2. Marin Cilic 2-4, .333
3. Florian Mayer, 4-7, .364
4. Dominika Cibulkova 6-9, .400
5. Feliciano Lopez 5-7, .417
T6. Francesca Schiavone 7-8, .467
T6Peng Shuai 7-8, .467
8. Sabine Lisicki 10-9, .526
9. Radek Stepanek 9-8, .529
10. Vera Zvonareva 7-6, .538

Serena smokes 'em

Williams
There are two ways to look at Serena Williams' domination of the field last week in Charleston. She lost only 15 games in five matches (fewest of year on WTA), and three games in last two. That's not a typo. Serena defeated Lucie Safarova 6-0, 6-1 in final after thumping Samantha Stosur 6-1, 6-1 in the semifinals.
You could say, correctly, that those were woeful performances by Safarova and Stosur. This is professional tennis, after all. The other takeaway is that Serena is playing some terrific ball and seems motivated -- a dangerous combination.
"I have to say this is probably the best match I've played in my career either in a long time or it's up there in the top five," Serena said afterward.
She may be 30 years old, but at 15-2 she's proving she can still play with the best in the game -- right alongside No. 1 Victoria Azarenka, No. 2 Maria Sharapova and No. 4 Agnieszka Radwanska. In winning the Family Circle Cup, Serena collected her 40th career title, second among active players behind sister Venus (43) and Kim Clijsters (41). It was also the 55th time she's reached a final in 149 main-draw events, a remarkable 36.9 percent success rate.
It's been a decade since she won her only title at Roland Garros, but the way things are lining up, Serena can do some damage. She's made the quarterfinals in three of her past four appearances in Paris and her serve -- the coin of the realm in women's tennis -- is still potent.
Serena leads all women's in aces, with 108, but look at her aces per match compared to the other leaders: Williams 108, (7.2 per match), Marion Bartoli 84 (3.2), Agnieszka Radwanska 77 (2.6), Julia Goerges 75 (3.6), Ana Ivanovic 74 (3.7).