Plight of the small tournaments

By Greg Garber
ESPN.com
Archive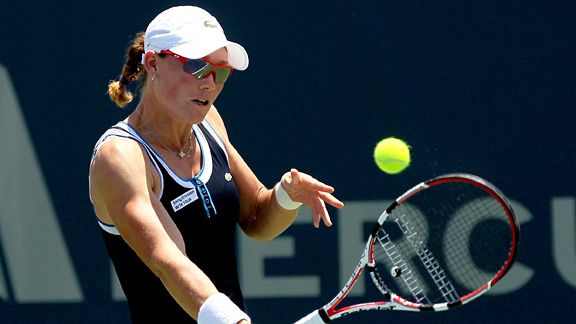 Stephen Dunn/Getty ImagesFrench Open finalist Samantha Stosur will be one of the main attractions at this year's Pilot Pen.
NEW HAVEN, Conn. -- Anne Worcester, sitting in her black Lexus SUV, is on the phone and waving her hands.
"I'm in wild-card hell," she yells, rolling down the window. "I've been sitting here for 35 minutes because I get a lot more done in the parking lot. When I go into the office, I get attacked."
That was last Tuesday, after her commute from Fairfield County, when the atmosphere surrounding the Pilot Pen Tennis at Yale was rising to something close to hysteria. When Worcester was the CEO of the WTA Tour in the 1990s, it couldn't possibly have been this crazy.
"You think [Fernando] Gonzalez is ready to play yet?" Worcester asks. "I'd hate to give him a wild card if he wasn't fully recovered [from a knee injury]. I'm going to e-mail [agent] Ken Meyerson and see. There's also a 15 percent possibility of [Andy] Roddick playing, depending on what happens today in Cincinnati. After the mono, he needs matches."
Her office, in the bowels of the 15,000-seat Connecticut Tennis Center, was an even more hectic venue. There were draw sheets taped all over the walls; Cincinnati and Montreal were of particular interest to the tournament that is the only event in play this week, the appetizer to the U.S. Open, which begins next week.
There's a lot to like about this $1.2 million tournament. It is owned by the USTA and leased to an ambitious group that includes Miami founder Butch Buchholz. This year, four of the eight top-ranked women are on hand (including No. 2 Caroline Wozniacki and French Open winner Francesca Schiavone). Former Australian Open finalists Gonzalez and Marcos Baghdatis are in the men's draw. And then there are the elegant grounds of Yale University's athletic complex, an average attendance of 90,000 over the past five years, and 16 hours of television coverage from CBS and that cable operation in nearby Bristol.
So why can't Worcester guarantee the event will return next summer?
Because after 15 years as title sponsor, Pilot Pen Corporation told tournament officials in November it was withdrawing its support. Come Sunday, the event will no longer have a name. The economy has hit professional sporting events especially hard.
"A tough environment right now," Worcester said. "Companies are acquiring fewer events and trying to leverage the ones they already have. The property looks great on paper -- plus a real history of top players -- but for the first time in 15 years, we have to sell a title sponsorship."
Pilot Pen is the only tournament on the ATP/WTA schedule looking for a new title sponsor, but tournaments in Los Angeles and San Diego signed on Farmers Insurance and Mercury Insurance, respectively, for the 2010 events.
With some help from Yale and a few outside consultants, the tournament brain trust began developing a proposal and researching the field for viable candidates. In 2009, media coverage of the tournament resulted in an estimated 295 million impressions for the title sponsor. And 100 hours of international broadcast exposure in more than 170 countries, combined with domestic broadcasts, produced the advertising equivalent of nearly $8.5 million. Thus, the best likely fit is a Connecticut-based company with an international position -- like Pilot Pen, Xerox, Schick or one of the Hartford insurance companies.
The effort began in December -- in retrospect, too early, according to Worcester, for companies to think about 2011 -- and eventually some 100 qualified companies were identified. Meetings, both in person and via teleconferencing, were held with about half of them. Today, after the many layers of authority have weighed in, there remain five or six serious prospects -- two of them emerging only two weeks ago. Those groups will be wined and dined this week at the tournament, and Worcester is hoping the tournament sells itself handsomely.
The goal is to begin negotiations during the U.S. Open and, if all goes well, announce the new title sponsor before it ends Sept. 12.
What will it cost? Worcester and her group are looking for a commitment of $10 million over five years.
"Based on the prospects, I'm cautiously optimistic," Worcester said. "They're asking all the right questions, and I'd like to think tennis will return to Connecticut in 2011 -- and beyond. There were times when I wasn't always so sure."
As you read this, the 62 main-draw singles players, men and women, have been determined and are working their way through the rain-drenched Pilot Pen draw. On Wednesday, with the imminent announcement of the last four wild cards, Worcester was scrambling, weighing the virtues of Gonzalez and Victoria Azarenka, among others. She found time to talk with 18-year-old Coco Vandeweghe and offer her a qualifying wild card, and later, to direct a staffer to put together a list of local spots of interest for former No. 1 Ana Ivanovic, who was arriving the next day.
"I'm the most popular tournament director in North America right now," Worcester said.
Next week, she'll be occupied with the quiet, boardroom discussions that could produce the next title sponsor.
5 Questions With ...
She crashed the ranks of the WTA elite two years ago, winning the French Open at the age of 20. Ivanovic's dashing good looks and stylish game captured the public's fancy, and the likeable Serb rose to the No. 1 ranking for a dozen weeks in 2008. And then she suffered a surprising decline. Her confidence waned, and she did not win a single tournament in 2009. She hired Steffi Graf's former coach, Heinz Gunthardt, but she says her crisper practices weren't translating into results in 2010. After winning a total of only one match in three Grand Slam events earlier this year, her ranking fell to No. 63. Ivanovic came to life a few weeks ago in Cincinnati, defeating Victoria Azarenka in the first round and advancing all the way to the semifinals, before retiring with an ankle injury after 12 minutes against Kim Clijsters. She sat down with ESPN.com last week in Connecticut before she withdrew from the Pilot Pen event but says she'll be ready to go for next week's U.S. Open.
ESPN.com: Looking back, what was the biggest reason that you fell from No. 1 to No. 63?
Ana Ivanovic: It was a variety of reasons, because I did have some injury issues -- the thumb was the worst one, just before the Olympics, so I had to withdraw, which was very, very hard for me. Then I played some tournaments when I wasn't ready. I started losing to lower-ranked players, and there is all this pressure because you are No. 1 and you are losing to these players. You start to lose confidence, and I do tend to overanalyze things. When you're young, you have nothing to lose and play with no fear. But when you have been successful and won a Grand Slam, and all of a sudden you're losing, it's very frustrating. It's a vicious circle -- you just don't know where the beginning is, or the end, either.
ESPN.com: You have said that you eventually needed to learn to break from the past, to forget what you had achieved in order to move forward. How did you do that?
Ivanovic: I was still kind of living it over and over again, and I needed to leave it behind. No one can help you. You have to realize it for yourself. It is very hard. I think it has to be a conscious effort to stop that train of thought. Shift your focus and attention into the future or to something in the moment that you're doing. Really, it's not thinking. I try to find things that make me really happy, maybe having a coffee in the park, visiting with friends, taking photographs. You need to have a balance. Tennis takes a lot of focus, but it's important to find a switch-off button. It was a process. I knew I was a stubborn person, but I never knew how much.
ESPN.com: The Montreal tournament -- which you won in 2006 -- initially declined to give you a wild-card berth. Then, when they reversed themselves, you refused to accept it. What happened there?
Ivanovic: I do believe a lot in principles. Honestly, it has been very hard. I have found many tournaments really happy to give me a wild card, like here in New Haven, where there is so much support. People you thought were your friends -- everyone is entitled to an opinion, and I respected their decision. I just made a different schedule and, accordingly, I had committed to Pilot Pen. I thought it would be too much to play both events.
ESPN.com: What, specifically, do you need to do to get back to the top of women's tennis?
Ivanovic: It starts with the confidence. I do know I have a game that can succeed. I am working hard, but I still think I have to work even harder, put my head down and dig deep. I was not doing it the proper way. I need to pay attention to my fitness and my recovery, areas that were neglected in the past. Those little things make a big difference. Now I feel I am in the right way. With the team I have around me, my fitness coach [Marija Lojanica] and tennis coach [Gunthardt], there are no communications problems.
ESPN.com: What did reaching the semifinals in Cincinnati do for your confidence?
Ivanovic: I came back to win against Azarenka, and it was a big step for me, because in those crucial moments, I did step up and made some shots that I'd made in the past but hadn't made in the last couple of years. It gave me confidence to know that the game is still there.
Latest Scribe
Andrea Petkovic opened the season with a flourish, reaching the semifinals in Brisbane, Australia (losing to Kim Clijsters). She scored two singles wins in April's Fed Cup play for Germany and played her way into the Hertogenbosch final in the Netherlands before falling to Justine Henin.
Still, there is much more to Petkovic, a charming 22-year-old born in Tuzla, Bosnia. She speaks German, French, English and Serbian, and lists Goethe and Wilde as her favorite authors. Starting Sunday, the No. 36-ranked player will be an author in her own right, blogging daily for ESPN.com's Open Book from New York.
Greg Garber is a senior writer for ESPN.com.
On The Move
HOT

Ivanovic
1. Ana Ivanovic: The former No. 1 soared 21 spots after reaching the semifinals in Cincinnati, to No. 41, but withdrew from New Haven (ankle).
2. Mardy Fish: Plus-15, to No. 21, after a brilliant summer. His 16-2 record is second in winning percentage to Roger Federer (9-1), ahead of David Nalbandian (11-2) and Andy Murray (10-2).
3. Akgul Amanmuradova: The 26-year-old from Uzbekistan stunned No. 2 Jelena Jankovic on the way to the quarterfinals at Cincinnati, jumping 38 spots, to No. 77.
4. Andy Roddick: Up four spots -- after beating Novak Djokovic and reaching the semifinals at Cincinnati -- and back into the top 10, at No. 9.
5. Taylor Dent: Qualified for Cincinnati, and defeated Jarkko Nieminen and Feliciano Lopez before falling to Rafael Nadal. He is up 13 spots, to No. 70.
NOT

Safina
1. Dinara Safina: Ten months ago, she was ranked No. 1. Now she's sitting at No. 59, down 24 slots after going 2-3 in summer tournaments.
2. Daniel Koellerer: The Austrian fell 24 spots, to No. 158, after failing to compensate for 2009 Trani (Italy) Challenger victory.
3. Gilles Simon: Down six spots, to No. 40, after two-and-out in ATP Masters events.
4. Kateryna Bondarenko: Falls to No. 62, down 19 spots, and is 0-4 going back to Roland Garros second round.
Etcetera

Del Potro
• It was a tough week for the U.S. Open -- before it has even begun. Defending champion Juan Martin del Potro (wrist) and three-time winner Serena Williams (foot) announced they would not be playing. Justine Henin, a two-time champion, also will be absent, along with Jo-Wilfried Tsonga. Meanwhile, three marquee women -- defending champion Kim Clijsters, Venus Williams and Maria Sharapova -- all have suffered recent injuries, and their status for next Monday's event is uncertain.
• A year ago, she was the 17-year-old darling of the U.S. Open, stroking her way into the quarterfinals before losing to Caroline Wozniacki. But based on Melanie Oudin's up-and-down 2010 season, a repeat performance would be even more surprising. Oudin is the third-ranked American woman, behind the Williams sisters at No. 44, but she lost to No. 83-ranked Bethanie Mattek-Sands last week in Montreal (in straight sets, for the second time this year). Oudin won her two Fed Cup singles matches in February, helping the United States beat France, and reached the semifinals in Paris and quarters in Memphis and Ponte Vedra, but she's 3-11 since May. The highest-ranked player she's beaten all year is Agnes Szavay (No. 34) back in February. At 5-foot-6, 130 pounds, she has a tough time matching weapons with the game's bigger hitters. The Williams sisters, for what it's worth at this early juncture, have committed to the Nov. 6-7 Fed Cup final against Italy.
• If Andy Murray wins the U.S. Open -- it would be his first major title -- he would take home an additional $1 million courtesy of the Olympus U.S. Open Series Bonus Challenge. Murray and Roger Federer each finished with 170 points, but Murray holds the tiebreaker.
Kim Clijsters leads on the women's side with 125 points, followed by a four-way tie for second: Caroline Wozniacki, Victoria Azarenka, Svetlana Kuznetsova and Maria Sharapova all have 115 points. Only Wozniacki is playing this week, in New Haven.
• There was a retro look last week in Algarve, Portugal, where the ATP Champions Tour put white tennis balls into play for the first time in 25 years. Tournament director Pedro Frazao placed a special order with Wilson for 10,000 balls for the event. Only 2,000 were required, but 10,000 was the minimum order, so the event found itself with 8,000 left.
• Congratulations to Jack Sock and Shelby Rogers, winners of the USTA Boys' and Girls' 18s National Hard Court Championship singles titles. Sock, 17, won his 18th USTA national title in Kalamazoo, Mich., and reached the doubles final with Matthew Kandath. Rogers defeated Nicole Gibbs in San Diego for her first national title; she reached her first professional final in May (Harbour Island, Fla.). Both Sock and Rogers will receive singles wild-card entries into the main draw of the U.S. Open.
• Happy 40th birthday to the Prince Company. It was born in the Princeton, N.J., garage of inventor Bob McClure, who produced the first tennis-ball machine and called it "Little Prince." Six years later, engineer Howard Head developed the first oversized racket (the head was 110 square inches) and called it "The Prince." Head later bought the company from McClure, and today the brand still thrives.
• Tennis, according to a Sporting Goods Manufacturers Association report, is the fastest-growing traditional sport in America. From 2000 to 2009, tennis has grown 43 percent -- bucking a widespread trend. The QuickStart Tennis format, which makes the sport more accessible (and fun) for kids, was among the initiatives credited with the surge.
• Venus Williams will host an interactive, virtual, one-hour tennis clinic on Thursday, sponsored by Polo Ralph Lauren. She will answer questions and demonstrate technique at New York's Sportime Tennis Center on Randall's Island at 2 p.m. ET.
• Beatrice Capra and Tim Smyczek emerged from the USTA's wild-card playoff last week and find themselves in the U.S. Open main singles draw. Capra, 18 and a quarterfinalist at last year's U.S. Open junior tournament, surprised No. 1 seed Madison Brengle 7-6 (4), 6-4. Top-seeded Smyczek, 22, beat Ryan Harrison 6-4, 6-4, 6-4. Smyczek is ranked among the top 200 after qualifying for two ATP World Tour Masters events.
• Dmitry Tursunov showed up 15 minutes late for his recent singles match at the Birmingham Challenger -- and was promptly defaulted. After accepting a wild card into the event, he thought the 5 p.m. match started half an hour later. Tursinov's subsequent tweet: "I think I got more press in one week than I got in the last two years of my career. I think I might start skipping matches more often!!"
• For all the yelping for a few weeks about no American men in the top 10 (Andy Roddick slipped back in on Monday), they haven't exactly had a terrible year so far. As the ATP World Tour's Greg Sharko points out, U.S. men have won nine titles, second behind Spain, which has a total of 16, and a good distance ahead of France and Croatia (three apiece). Sam Querrey is second in individual titles, with four, one behind Rafael Nadal. Teenager Ryan Harrison (18) is the youngest American in the top 250, and he reached his first ATP World Tour quarterfinal last month in Newport. He is one of only three 18-year-olds ranked in the top 250.
• Combustible Austrian Daniel Koellerer and his manager, Manfred Nareyka, have been disciplined following a Tennis Integrity Unit investigation for facilitating betting. The TIU probe found that Koellerer's personal website carried details of betting odds on tennis matches and provided links to allow users to place bets. Koellerer was fined $19,250 and suspended for three months. Nareyka will be banned from attending tournaments for a year.
• Monday marked the 37th anniversary of the first ATP rankings (Aug. 23, 1973) Here was the first top 10:
1. Nastase, Ilie (ROU), 2. Orantes, Manuel (ESP), 3. Smith, Stan (USA), 4. Ashe, Arthur (USA), 5. Laver, Rod (AUS), 6. Rosewall, Ken (AUS), 7. Newcombe, John (AUS), 8. Panatta, Adriano (ITA), 9. Okker, Tom (NED), 10. Connors, Jimmy (USA)