Major feat for major-less Caroline Wozniacki

By Greg Garber
ESPN.com
Archive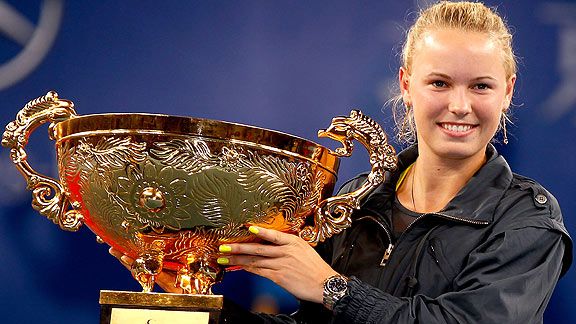 Matthew Stockman/Getty ImagesNew world No. 1 Caroline Wozniacki leads the WTA Tour with six titles this season.
Serena Williams, who won two more Grand Slam singles titles this year, is still the world's best tennis player. But Denmark's Caroline Wozniacki, who didn't reach a major final, is now the No. 1-ranked player.
Her third-round victory over Petra Kvitova on the way to the title in Beijing last week pushed her past Williams and marked her as the 20th woman to lead the rankings since their inception 35 years ago. At 20, Wozniacki is the seventh-youngest woman to reach the top ranking, which puts her in impressive company.
"I'm very proud of becoming No. 1 in the world," Wozniacki said. "It's always been a dream for me to achieve the No. 1 ranking, and today is a great day for me."
She's the fifth woman to reach No. 1 without winning a major. Kim Clijsters (three U.S. Open titles), Amelie Mauresmo (2006 Australian Open and Wimbledon) and Ana Ivanovic (2008 French Open) eventually broke through; Dinara Safina and Jelena Jankovic have yet to top the rankings.
Wozniacki's ascension is a tribute to perseverance and the exuberance of youth. The Dane leads the WTA with 59 matches won this season (against only 15 losses) and six titles, the most since Justine Henin won 10 in 2007. Wozniacki has won 23 of her past 24 matches. The China Open title is her biggest of the year, to go with $2 million tournament titles in Tokyo and Montreal as well as smaller championships in Ponte Vedra Beach, Fla., New Haven, Conn., and Copenhagen.
Her three-set victory Monday in Beijing over Vera Zvonareva was her first against a player ranked among the top five in 17 months.
This illustrates the flux at the top of the women's game.
Perhaps it wasn't a coincidence that Wozniacki's elevation came at a tournament where four former Grand Slam champions were missing with injuries: No. 2 Serena Williams (right foot), No. 4 Venus Williams (left knee), No. 5. Kim Clijsters (right foot) and No. 12 Justine Henin (right elbow).
Wozniacki has now played in 21 tournaments this year -- more than twice as many as any of those aging former champs, who were all essentially part-time performers this year. Serena, 29, has played only six and, following her celebrated injury in a German restaurant, may well be done for the year after withdrawing from this week's event in Linz, Austria. Venus, 30, played nine and has already declared her season over. Henin, 28, was finished after nine events, and Clijsters, 27, is scheduled to play her 11th at the season-ending event in Doha.
Although Roger Federer or Rafael Nadal have held the No. 1 position on the men's side for 350 consecutive weeks going back to February 2004, there have now been 10 different women at the top. The men's No. 1 spot has changed hands four times in that period, while there have been 24 changes among the women.
5 Questions With …
Coco Vandeweghe announced herself dramatically two years ago, winning the 2008 U.S. Open junior title -- at the age of 16. She lost in the main draw of this year's U.S. Open, managing to take only a single game from Sabine Lisicki. But two weeks ago, now 18, she qualified in Tokyo, then upset Klara Zakopalova (ranked No. 37), Aravane Rezai (No. 18) and Julia Goerges (No. 42) to reach the quarterfinals, where she lost to No. 11-ranked Victoria Azarenka. That bumped the 6-foot-1 Vandeweghe up 59 spots on the Sony Ericsson WTA ladder to a career-high No. 113. ESPN.com caught up with the New York-born rising star in Osaka, Japan (and a 13-hour time difference), where she had just learned she had "snuck" into the main draw and avoided qualifying. On Monday, Vandeweghe rocked No. 5 seed Alla Kudryavtseva 6-1, 6-2 in a first-round match.
ESPN.com: Did you surprise yourself in Tokyo?
Coco Vandeweghe: Not necessarily. I had a good tournament in San Diego [in August] making the quarters [beating Bethanie Mattek-Sands in qualifying and Wimbledon and U.S. Open finalist Vera Zvonareva in the second round]. It's great seeing the progression that I've achieved these last two years. I've beaten some top-ranked people and I've been doing it consistently, five, six matches in a row. I started the year out not being able to make it into qualifying for the Grand Slams. That was my first goal and now, coming into Asia, I achieved that. Now, with a few more good weeks, I hope to make it straight into the main draws of Slams. Right now, I'm very close to the cut. A couple of rounds here or there, and it'll be pretty awesome to make it into the Grand Slams on my own merit. Next year, I'd like to be inside the top 100 and qualify automatically for premier events.
ESPN.com: How seriously did you consider going to college before you turned professional in May 2008?
Vandeweghe: I actually thought about college basketball, not tennis. But I had a really tough year when I was 13 in basketball. I didn't really enjoy my time with my teammates. I remember I missed a couple practices for tennis and when I got back they wouldn't pass me the ball. It was frustrating for me. I told myself, "I'm going to play sport where I only have to rely on myself."
ESPN.com: How did winning the U.S. Open juniors change your career?
Vandeweghe: I didn't realize the importance of it until I heard that Lindsay Davenport had won it 16 years before [also at the age of 16]. Lindsay was my idol growing up and we have become good friends. It was pretty high stakes for juniors. It was great to put my game against my peers in that situation. It was a difficult transition for me from juniors to professional tennis, learning how to master the rhythm of traveling and stuff like that. That win told me I was on the right track.
ESPN.com: You come from an athletic family. What genetic gifts did you get from your uncle Kiki, a longtime NBA player?
Vandeweghe: Right now, he still has a winning record in tennis against me. He put me to shame when I was 12 years old on the tennis court. Really, everyone in my family has been a great support system for me. My mom [Tauna] played volleyball and swam in the Olympics. My grandfather also played in the NBA. My other uncle, Brook, was a professional beach volleyball player, who won the Goodwill Games.
ESPN.com: Usually, young players need to work on their serving power, but you're already hitting it harder than some top pros. What area do you need to improve on the most?
Vandeweghe: I'm definitely still working on my serve with my coach [Tom Gullikson], although it's a big weapon for me. I need to get up to 60, 70 percent for my first serves. The big thing for me is fitness. I'm hoping to work with Pat Etcheberry in the offseason, which could make a big difference.
Put It In The Bag
Remember when the Bryan Brothers were stuck on title No. 61, failing to set the all-time record for doubles titles at the French Open and Wimbledon? They finally came through in Los Angeles and one member of the team whose record they broke, Mark Woodforde, said something then that now looks prescient.
"That's the beauty of the sport," Woodforde said from Los Angeles back in early August. "You set the standard -- and we set it high. They've reached it, and now I feel so confident that the floodgates will open for them. They'll go on and win another 20-30 tournaments, however many they want. As long as they stay healthy, they'll win a bagful of titles."
On Sunday, the twins from California fashioned a 6-1, 7-6 (5) victory over Mariusz Fyrstenberg and Marcin Matkowski in the China Open in Beijing. Numerologists, no doubt, reveled in the details: Bob and Mike won their 10th title of the season, in their 10th final, on Oct. 10 -- 10/10/2010.
"The numbers have BEEN great for us this year," Bob said. "To win our 10th title on 10/10/10 is pretty crazy, too. Hopefully, we can keep the momentum going through the rest of the year."
The Bryans, who now own 66 titles, are unbeaten in their past 18 matches, going back to titles in Toronto, Cincinnati and the U.S. Open. They will play four more tournaments this year, including this week in Shanghai.
The next milestones for the Bryans? They need three more major titles to pass Todd Woodbridge and Woodforde and 14 tournament wins to pass Martina Navratilova and Pam Shriver's record total of 79 doubles titles.
Congratulations to Bob, who recently announced his engagement to Michelle Alvarez, who like the Bryans, grew up in Camarillo and took lessons from mother Kathy Bryan. Alvarez, a lawyer in Miami, and Bob have been dating for 18 months and are planning a wedding for next spring or summer.
Greg Garber is a senior writer for ESPN.com.
Work In Progress

Del Potro
The good news for Juan Martin del Potro: He's back on the courts after an eight-month sabbatical forced by wrist surgery.
The bad news? It could be another four or five months before he's back to full strength, moving well, competing deep into matches and firing that huge, flat forehand that won last year's U.S. Open.
"His wrist is very good," reported his manager, Ugo Colombini, from Italy last week. "Of course, with not practicing and not competing he's a little behind in conditioning. He's hitting the ball well. It's just a matter of time."
Based on the early returns, it may take more time than was originally thought. Del Potro lost his first-round matches in Bangkok and Tokyo, failing to win a set against Olivier Rochus and Feliciano Lopez. He was scheduled to play this week in Shanghai, but withdrew (for the second straight year) because he was "not feeling 100 percent," according to Colombini. "It's understandable. We are seeing that it's going to be a process."
Colombini said del Potro, who turned 22 last month, did not swing a racket for more than four months with his right wrist in a cast. Before the U.S. Open, del Potro started hitting balls and late last month he played his first match since losing to Marin Cilic in the fourth round of the Australian Open. He served 16 aces against Rochus but lost 7-6 (7), 6-4. Del Potro created 12 break chances against Lopez but converted only one, falling 6-3, 6-0.
"It is difficult to come back and play against these players, especially Feliciano on such a fast court," del Potro said afterward. "I need time. I need to work on a few things to get back to my best level. If I work in a good way, I will be in good shape in a month or so."
That seems optimistic. After missing Shanghai, he is scheduled to play three more tournaments in 2010 -- Vienna (Oct. 25), Valencia (Nov. 1) and Paris (Nov. 8). Del Potro will return in 2011, using Sydney as a warm-up for the Australian Open. At that point, he could find himself ranked somewhere in the 200s among ATP World Tour players. However, he will have a protected ranking of No. 5 that he can use for nine months or nine tournaments.
"I'm confident he'll be back to his normal standards -- this is absolutely my judgment," Colombini said. "When will he get back to that level? It's a question of time. Remember, he's basically starting from scratch.
"As far as Australia goes, the only question mark is how many matches he can get under his belt. This has been very tough for him, mentally and physically."
On The Move
HOT

Vesnina
1. Elena Vesnina: Russian up nine spots to No. 54 after beating Maria Sharapova in Bejing.
2. Guillermo Garcia-Lopez: Spaniard up 14 spots a week ago, to No. 39, after winning second career ATP title in Bangkok.
3. Adrian Mannarino: Vaulted 34 spots this week, to No. 108, after winning Belgian Challenger.
4. Lourdes Dominguez Lino: The 29-year-old Spaniard, up 16 spots to No. 88.
NOT

Hewitt
1. Lleyton Hewitt: Two-time major champion down 11 spots, to No. 49.
2. Svetlana Kuznetsova: Another two-time Grand Slam champion, falls eight spots, to No. 20.
3. James Blake: Once as high as No. 4, falls 11 spots to No. 120.
Race is On
Djokovic
Novak Djokovic has joined Rafael Nadal and Roger Federer in qualifying for the ATP World Tour's year-end event, the Barclays finals, in London from Nov. 21-28.
It's the fourth straight year that the 23-year-old Serb has qualified for the championships; he reached the quarterfinals of all four Grand Slam events this year and won his 17th title in Doha back in February.
Who are the five other players who will join them at The O2? Andy Murray (4,135 points) and Robin Soderling (4,020) are all but in, but the last three spots are open to suggestion with ATP Masters 1000 events yet to play in Shanghai (this week) and Paris (beginning Nov. 8).
Next in line are Tomas Berydch (3,575 points), Andy Roddick (3,260), David Ferrer (3,235), Fernando Verdasco (3,140) and Mikhail Youzhny (2,795), but, technically it's still possible for even No. 15 Mardy Fish (1,991) to qualify by winning a 500 event such as Beijing and going deep in a 1000.
On the women's side, the eight-player field for the season-ending WTA Championships-Doha 2010 is complete. Last week Jelena Jankovic and Elena Dementieva were the last two singles players to qualify, joining Caroline Wozniacki, Serena Williams, Vera Zvonareva, Kim Clijsters, Samantha Stosur and Francesca Schiavione.
Venus Williams qualified fifth, but is out for the rest of the year with a knee injury. Victoria Azarenka is the first alternate.
Etcetera
Tsonga
Like Juan Martin del Potro, Jo-Wilfried Tsonga is coming back from a serious injury. On Monday, Tsonga won his first match in three months following a tear in his left knee, defeating Feliciano Lopez 7-6 (4), 6-3.
Spanish men have won an ATP-high 16 tournaments this year, but it's not all Rafael Nadal. Eight different players have combined for that achievement, which represents the most for any country since the United States won 20 tournaments in 1996.
Meanwhile, Russians have won 13 titles on the WTA Tour, the most for any country. There are a WTA-high 27 Russians ranked among the top 200 players; the United States is second with 16.
Is there another Serb star on the horizon? Last week in Beijing, 18-year-old qualifier Bojana Jovanovski defeated former No. 1 Jelena Jankovic in a second-round match. Jovanovski, like Jankovic, Ana Ivanovic and Novak Djokovic, learned the game in Belgrade. She had three semifinals appearances in ITF events and won her first-round match at Wimbledon.
Anna Kournikova was featured in an episode of NBC's "The Biggest Loser" last week, working with contestants engaged in Cardio Tennis. Kournikova suggested using Cardio Tennis to producers as a tool to inspire fitness.
Hilary Barte became only the third player in the 26-year history of the Riviera/ITA All-American Championships to win both the singles and doubles title Sunday. The Stanford senior defeated top-seeded Jana Juricova 7-6 (4), 6-3.
Baseball has offered fantasy camps with former stars for years -- why not tennis? From Nov. 5-7, fans can mingle on the court and off with Stefan Edberg, Jim Courier, Marat Safin and Michael Chang, among others, during the Grand Cayman Legends Championships. Details can be found at the Champions Series website.