Breaking down the elite eight women
Another long season has come and almost gone. But before we get too wrapped up writing the obligatory season reviews, the WTA Championships, which is comprised of only the top eight players, must be played first. Here's a breakdown of the field:
Williams
Why she will win: Where should we start? Her 10 titles, the most in a season since Justine Henin six years ago? How about the fact that she'll have more match wins then anyone in a decade? What about her 13,260 rankings points, nearly 5,000 more than the WTA's No. 2 player, Victoria Azarenka? Actually it comes down to this, the "C"- and "O"-words: confidence and obviousness. Since fizzling in the first round of the 2012 French Open, Serena has been near unstoppable. She avenged that loss quite nicely by picking up her first tournament win at Roland Garros since 2002. Then Serena capped off her Slam season in the grandest of ways with a US Open title. Considering the Internet bandwidth doesn't have the capacity to plug in her complete résumé, one overflowing with awards and accolades, we'll leave it at that.
Why she won't: Well, there is a 1-in-115,300 chance you could go to the ER with a pogo-stick injury. And the odds of dating a supermodel? 88,000 to 1. As an aside, good luck with that. Though we think Serena's odds of not winning the year-enders aren't quite as outlandish as those, we wouldn't bet against it. Perhaps a more accurate handicap would be 1 in 12,500, the same odds as death by an asteroid apocalypse.
Azarenka
2. Victoria Azarenka
Why she will win: Does anyone emanate a more pugilistic, bring-it-on aura than Azarenka? She might not be better than Serena, but she doesn't believe that. In Cincinnati, Azarenka showed some serious backbone with a third-set tiebreaker win over the world No. 1 in the final, and at the US Open, playing less-than-stellar tennis down the stretch, Azarenka came back from two breaks down (4-1) in the second set to push the championship match to a third. Serena won the wind-racked finale, but Azarenka is the only player on the planet who has consistently shown she is not going to back down from Williams. That's a good thing.
Why she won't: For the next seven players, we could start their why-she-won't-win assessment the same way: because of Serena. Duh. But we'll dig a little deeper. Azarenka has never won the year-enders and has made only one final -- in 2011 when Petra Kvitova beat her in three sets. If there is one overarching weakness to Azarenka's game, it's that she doesn't win seamlessly if the match isn't being played on her terms. In other words, most of the time Azarenka can dictate points, but when someone à la Kvitova two years ago is playing a power brand of tennis, Vika doesn't have the requisite defensive arsenal to dig out. So you can imagine what it will be like playing a more forceful player in Serena, and on a fast indoor hard court to boot.
Radwanska
Why she will win: By all measures, Agnieszka Radwanska has strung together a decent season. She won a tournament in Seoul, Korea, a few weeks ago, and aside from a disappointing fourth-round knockout at the US Open, Radwanska reached at least the quarters of the other three majors. With Maria Sharapova out of commission for the rest of the season, Radwanska, thanks in large part to her vexing counterpunching game, is the third best player in the game at the moment. Last year, she was a semifinalist at the year-end championships, the first time she ever reached the final four at the year-enders.
Why she won't: Sure, Radwanska was a semifinalist a year ago, until she ran into Serena Williams, who crushed her 6-2, 6-1. This season, Radwanska has played Serena three times and, you guessed it, lost all three matches in straight sets. In seven career encounters, Radwanska owns a total of one set. The reality is that she has a pretty tricky game, as we saw last year in Miami, where Radwanska won the Sony Open, the biggest title of her career. But that win only heightened expectations that she has not come close to meeting. Sure, Radwanska might be the de facto 3-seed at the WTA round-robin event, but it's a distant third seed.
Li
Why she will win: More than any other player in this field, Li Na might be the hardest to figure out. She has a diverse, all-court game, one that carried her to prominence two years ago when she won the French Open on clay. But this season, Li foundered in France, losing in the second round to Bethanie Mattek-Sands, but then played well on grass and had a terrific hard-court season. Li was a semifinalist in Toronto and Cincinnati, both Tier 1 events, and then reached the semifinals of the US Open before she ran into the barricade known as Serena Williams. And back in January, Li wended her way to the Aussie Open final. The bottom line is this: Li can play and win on any surface.
Why she won't: It just so happens she can play and lose on any surface, too. A player with that much talent should have more than one title in a season. But what we fail to realize is that Li might play this game with more pressure than any top-tier player. She is a rebel of sorts in China. For a player as ebullient and even humorous as Li, her home county hasn't always endeared her. Li has admonished the Chinese Tennis Federation in the past, which has created some animosity between the two sides . Li is the country's most popular athlete and earns upwards of five times as much money from endorsements as she does on the court. Li has a tendency to go through long stretches of shoddy tennis, as she showed during the clay season.
Errani
Why she will win: No hornswoggling here. Little Sara Errani has spunk, but good luck trying to figure out how she is going to compete with much bigger and harder-hitting players on a fast indoor court. Let's just say this: Obviously, Errani has overcome her stature to make a sweet little living in the upper crust of the tennis world. She had a stellar run throughout the clay-court season, reaching the semis at Madrid, Rome and the French Open but has done virtually nothing since. But look, things happen. In 1982, little known Sylvia Hanika stunned Martina Navratilova (who was 90-3 that year) in the year-end championships, so there's always hope.
Why she won't: Let's just get to it, shall we? We could delineate Errani's tournament-by-tournament results, but the bottom line is this: She hasn't done squat since reaching the French Open semis. She reached the final of one lowly event in Palermo, Italy, in early July but hasn't reached a single semifinal since. Her blunders include losses to Roberta Vinci, Ekaterina Makarova, Flavia Pennetta and Svetlana Kuznetsova, who are all good players, but certainly not elite. It goes without saying that Errani is probably the best choice out of the eight players to go 0-3 in the round-robin.
Kvitova
6. Petra Kvitova
Why she will win: Without question, Kvitova is the biggest enigma in the field. She has the game to beat anyone, even Serena. Two years ago, Kvitova played immaculate tennis down the stretch of the season en route to winning the year-enders. It was the kind of performance, coupled with her Fed Cup championship, that had the tennis community abuzz. The WTA Tour had been in a long state of anarchy. Wozniacki was the top player in the world, yet she wasn't winning anything meaningful. For a few years, no one seemed determined to grab the ball bull by the horns and lead the charge. And then came Kvitova. But she was never comfortable with her newfound exalted status, failing to win another tournament until August 2012. Make no mistake, this tournament is perfectly suited to Kvitova's big lefty serve and penetrating groundstrokes. And with the spotlight a little dimmer at the year-enders, and the expectations lower, she just might show us that 2011 was no fluke.
Why she won't: Or she might not. Granted, Kvitova has been playing well this fall, with a title in Tokyo and a semifinal appearance the following week in Beijing, but she can play loose tennis. She takes big hacks at the ball and when she's not in a rhythm, her game can go awry. She is perhaps the streakiest of all players in Istanbul. Even in the final of the Japan Open, Kvitova dropped a goose egg in the second set against Angelique Kerber before winning the third. For Kvitova, it's just a matter of what side of the streak she is on.
Jankovic
Why she will win: Which is harder to believe? The fact that last season Jankovic finished the season outside the top 20 for the first time since 2005, or that she is actually a top-eight player again? Jankovic went two full seasons without a solitary title (2011-2012) and has only one this season. To show you how far Jankovic has come, she admitted during the China Open (where she made the final) that she didn't think making the WTA Championships was a realistic goal. But, as she said, "I worked very hard and I really gave the best on my training sessions and in my matches just to get my confidence back and that belief that I can be the top player again and do well again." There's no question Jankovic isn't one of the favorites in Istanbul, but she has momentum coming off a run in the aforementioned China Open final.
Why she won't: Aside from Errani, Jankovic is probably the weakest hitter in the field. But her biggest problem might be her penchant for histrionics, a practice that can get under her opponents' skin, but even more so, it's something that distracts her as well. Twice this season, Jankovic and Serena Williams have had some tense, terse moments. At the Family Circle Cup, they had a brief spat on the court -- and then Williams won 12 of the next 14 games. In China, Jankovic called a confounding medical timeout (with Williams ailing, by the way) and never recovered. There is no player on tour who can pair her pure athleticism and ballstriking skills with such momentum-stopping outbursts quite like Jankovic.
Kerber
8. Angelique Kerber
Why she will win: Truthfully, it hasn't be a great year for Kerber, but she has one thing going for her heading into the year-enders: momentum. She is coming off a title in Linz, Austria, her only championship of the season. As a matter of fact, since the US Open, Kerber has been a finalist, quarterfinalist and winner. If you've studied closely, that's three finals for Kerber -- with two in the past month. Kerber, historically, plays better on hard courts and she can produce good power. Despite being the last player in, she is definitely a player capable of pulling off upsets.
Why she won't: It's how you finish, right? In most circles, yes, but in the world of tennis, not so much. Kerber, who has been earmarked as one of the potential stars on tour, lost in the fourth round in Melbourne, Paris and Flushing, and in Wimbledon, she flamed out against Kaia Kanepi in the second round. Not a grand showing by any stretch for a player with her raw talent. And last year, in her one appearance at the year-end championships, Kerber was swept away in all three round-robin matches.
ESPN.com
ESPN Tennis Editor
Joined ESPN in 1998
Center Court: Istanbul Preview
Group Breakdown
Red Group
(1) Serena Williams (USA)
2013 Titles: 10 (Brisbane, Miami, Charleston, Madrid, Rome, Roland Garros, Bastad, Toronto, US Open, Beijing)
2013 Record: 73-4

(3) Agnieszka Radwanska (POL)
2013 Titles: 3 (Auckland, Sydney, Seoul)
2013 Record: 56-16 (11-2 fall record)

(5) Petra Kvitova (CZE)
2013 Titles: 2 (Dubai, Tokyo)
2013 Record: 49-21 (8-1 fall record)

(8) Angelique Kerber (GER)
2013 Titles: 1 (Linz)
2013 Record: 44-21 (11-2 fall record)


White Group
(2) Victoria Azarenka (BLR)
2013 Titles: 3 (Australian Open, Doha, Cincinnati)
2013 Record: 42-7 (0-2 fall record)

(4) Li Na (CHN)
2013 Titles: 1 (Shenzhen)
2013 Record: 40-13 (3-1 fall record)

(6) Sara Errani (ITA)
2013 Titles: 1 (Acapulco)
2013 Record: 46-22 (2-2 fall record)

(7) Jelena Jankovic (SRB)
2013 Titles: 1 (Bogotá)
2013 Record: 45-18 (6-2 fall record)


--Stats courtesy of WTA Tour
The One To Beat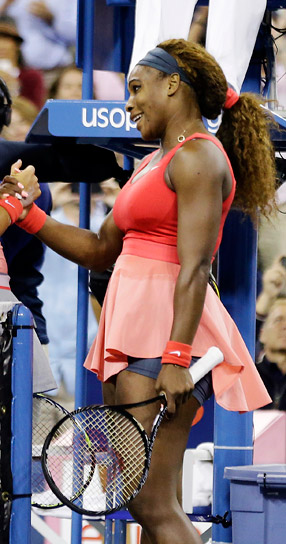 AP Photo/David GoldmanHere is your top seed, Serena Williams. What's it going to take to stop her at the year-enders?
Year-End Winners Since 2000
Year
Winner
Opponent
2012:
Serena Williams
Maria Sharapova
2011:
Petra Kvitova
Victoria Azarenka
2010:
Kim Clijsters
Caroline Wozniacki
2009:
Serena Williams
Venus Williams
2008:
Venus Williams
Vera Zvonareva
2007:
Justine Henin
Maria Sharapova
2006:
Justine Henin
Amelie Mauresmo
2005:
Amelie Mauresmo
Mary Pierce
2004:
Maria Sharapova
Serena Williams
2003:
Kim Clijsters
Amelie Mauresmo
2002:
Kim Clijsters
Serena Williams
2001:
Serena Williams
Lindsay Davenport
2000:
Martina Hingis
Monica Seles
WTA Championships on ESPN3
Date
Round
Time
Tuesday, Oct. 22
Round-robin
10 a.m. ET
Wednesday, Oct. 23
Round-robin
10 a.m. ET
Thursday, Oct. 24
Round-robin
10 a.m. ET
Friday, Oct. 25
Round-robin
10 a.m. ET
Saturday, Oct. 26
Semifinals
8 a.m. ET
Sunday, Oct. 27
Final
8 a.m. ET<<
>>Will re-air on ESPN2 at 5 p.m. ET