Wimbledon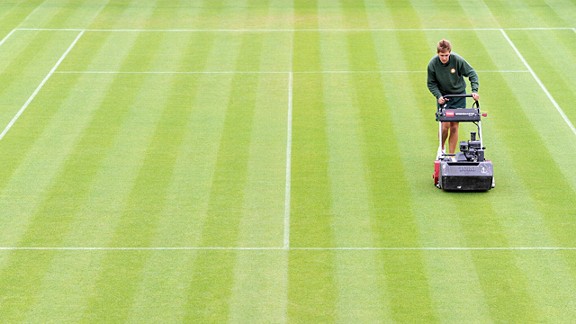 The Championships, Wimbledon, is an annual tennis tournament held each year in London. Wimbledon is the oldest tennis championship in the world and is considered by many the most prestigious, as well. It is one of the four Grand Slam tournaments -- the third in the calendar year -- and the only Grand Slam event held on grass.
Wimbledon takes place each summer in June and July at the All England Club in Wimbledon, London. The tournament has garnered fame both for its exceptional tennis and its well-known traditions, such as the serving of strawberries and cream and Pimm's and lemonade.
Wimbledon hosts championships for men's and women's singles and doubles, as well as mixed doubles. The tournament also has junior and invitational events during its two-week span.
The Wimbledon Championships began in 1877, when the All England Club, founded solely as a croquet club, embraced the fast-growing sport of lawn tennis. The club decided to host a championship and, before it could do so, put together a set of rules and regulations for the sport (which are very similar to those used today).
In 1877, the first year of the Lawn Tennis Championship, the club hosted only a gentlemen's singles competition. The first winner was Spencer Gore, who beat out a 22-man field. About 200 spectators attended the tournament. The tournament was considered a success, and it became an annual event. From the formation of the event until 1922, the previous year's champion received a bye into the final round, resulting in multiple repeat winners in the tournament's first few decades.
Seven years after the first tournament, women were invited to play for the first time. Maud Watson was the first champion of that 1884 ladies' singles competition, winning out of a field of 13. Gentlemen's doubles were introduced in the same year, after the Oxford University club ended its doubles championship in 1883.
Tennis was beginning to grow in popularity as a spectator sport. The growth of the sport and of the Wimbledon Championships was owed partly to the success of William and Ernest Renshaw, British twins who combined for 13 singles and doubles titles in eight years between 1881 and 1889. That period of surging interest among London spectators became known as the "Renshaw Rush."
By 1900, Wimbledon was of international interest. In 1905, the Championships had its first overseas titleholder: American May Sutton, who won the ladies' singles. Two years later (as Sutton won her second title), Australian Norman Brookes won the men's singles competition, becoming the first men's international winner. Since that year, only two British men have won the men's singles event.
After play was interrupted during World War I, the tournament moved into a new home when the club built much larger grounds on Church Road across town in Wimbledon. The centerpiece of that stadium, the current Centre Court, held 14,000 spectators and did wonders in expanding the tournament's prestige and popularity.
Wimbledon continued to thrive after its move and hosted some of the world's best tennis players until it was put on hold once again during World War II. Soldiers nearby used the grounds for training and military functions, and Centre Court was hit by a bomb and suffered huge losses of seats. Some tennis was hosted in 1945, on No. 1 Court, but the Championships did not return until 1946.
As Wimbledon became more and more international, the tournament was overrun by talented players from overseas: Rod Laver for the men, Maureen Connolly and Althea Gibson -- the first African-American winner -- for the women. But by the late 1950s, the amateurism of Wimbledon was failing the system. Amateur players were receiving far more money than was allowed by the ITF, and the Wimbledon board set out to reform the rules.
Chairman Herman David attempted in 1959 to "open" the Championships, allowing all players to compete. The ITF denied the move a year later, and the Wimbledon board members continued to push for open play for years. In 1967, Wimbledon hosted a professional tournament one month after the Championships that allowed players no longer eligible to play in July a chance to take a title at Wimbledon.
Later that year, the Lawn Tennis Association voted to admit all players to the Championships (and other tournaments in Britain). The ITF had little choice but to react, allowing all tournaments to decide whether to become "open." In the 1968 Championships, Rod Laver and Billie Jean King became the first Open champions.
Since the beginning of the Open era, Wimbledon has seen some truly great champions come through its grounds. In 1980, Bjorn Borg became the first man to win five titles at Wimbledon, a mark Pete Sampras (seven) and Roger Federer (six) later would beat. In 1987, Martina Navratilova became the first player to win six women's singles titles -- all in a row -- and she set the all-time mark with nine titles in 1990.
In 2010, a Wimbledon first-round match between John Isner and Nicolas Mahut set a mark for the longest tennis match in history, spanning 11 hours and five minutes over three days. In the same year, Queen Elizabeth II made her first visit to Wimbledon in 33 years, watching Brit Andy Murray in the second round. Three years later, Murray ended a 77-year drought for a native Wimbledon champion, defeating Novak Djokovic in the final.
Wimbledon is held each year at the All England Lawn Tennis and Croquet Club in London. The club contains 19 tournament courts, 16 other grass courts and numerous shale or clay courts. It also hosts a museum on the grounds. The club's colors, purple and green, have become as well-known as its famous tournament and remain an important tradition, as is the club's all-white dress code. Centre Court houses a Royal Box for attendance by the royal family, a representative of which attends the Championships most years.
The All England Club was founded in 1868, solely as a croquet club. Seven years later, the club added lawn tennis -- having been developed only a year prior -- to its résumé, setting aside one lawn for tennis. The game was a success and, in 1877, the club changed its name to the All England Croquet and Lawn Tennis Club.
The change in name brought about another first for the club, as it hosted the first Lawn Tennis Championship in 1877. That event was held by the club to raise money for a horse-drawn roller for its croquet lawns. By 1882, lawn tennis was by far the more popular sport at the club, and "Croquet" was dropped from its name (it was added back in 1899, mostly for sentimental reasons, forming the name it goes by today).
Wimbledon was a popular ground for tennis as the sport became more popular, and the court hosted the tennis events at the 1908 Olympic Summer Games. In 1922, the game had become so popular that Wimbledon was forced to move to bigger grounds, and the club chose its current site at Church Road, Wimbledon. The current Centre Court was built during the move. The club has been expanded several times, most notably in 1967, when it purchased 11 acres to add more courts.
Centre Court remains the largest court at the club and is used for the finals of each event at Wimbledon. It currently sits 15,000, expanded most recently in 2008, and is the fourth-largest court in the world. In 2009, a retractable roof was installed over Centre Court to help appease Wimbledon's famous rain delays. The other show court at All England is No. 1 Court, which holds 11,500, and a third large-scale court, No. 2 Court, was built for the 2009 competition. It holds 4,000.
The All England Club uses grass courts for its tournament, which are in use from May to September. The courts use 100 percent rye grass since 2001 and are cut to 8 mm. Wimbledon is the only Grand Slam event still played on grass.
The Wimbledon Lawn Tennis Museum is housed on the club's grounds, having been built in 1977. It was renovated and expanded (it is the largest tennis museum in the world) in 2006 and now is open to the public year round, except during Wimbledon. One croquet lawn remains at the club (though it is too small for high-level competition).
Year-by-Year Wimbledon Singles Champions
Year
Men's Singles
Women's Singles
2013
Andy Murray
Marion Bartoli
2012
Roger Federer
Serena Williams
2011
Novak Djokovic
Petra Kvitova
2010
Rafael Nadal
Serena Williams
2009
Roger Federer
Serena Williams
2008
Rafael Nadal
Venus Williams
2007
Roger Federer
Venus Williams
2006
Roger Federer
Amelie Mauresmo
2005
Roger Federer
Venus Williams
2004
Roger Federer
Maria Sharapova
2003
Roger Federer
Serena Williams
2002
Lleyton Hewitt
Serena Williams
2001
G.S. Ivanisevic
Venus Williams
2000
Pete Sampras
Venus Williams
1999
Pete Sampras
Lindsay Davenport
1998
Pete Sampras
Jana Novotna
1997
Pete Sampras
Martina Ingis
1996
Richard Krajicek
Steffi Graf
1995
Pete Sampras
Steffi Graf
1994
Pete Sampras
Conchita Martinez
1993
Pete Sampras
Steffi Graf
1992
Andre Agassi
Steffi Graf
1991
Michael Stich
Steffi Graf
1990
Stefan Edberg
Martina Navratilova
1989
Boris Becker
Steffi Graf
1988
Stefan Edberg
Steffi Graf
1987
Pat Cash
Martina Navratilova
1986
Boris Becker
Martina Navratilova
1985
Boris Becker
Martina Navratilova
1984
John McEnroe
Martina Navratilova
1983
John McEnroe
Martina Navratilova
1982
Jimmy Connors
Martina Navratilova
1981
John McEnroe
Chris Evert
1980
Bjorn Borg
Evonne Goolagong
1979
Bjorn Borg
Martina Navratilova
1978
Bjorn Borg
Martina Navratilova
1977
Bjorn Borg
Virginia Wade
1976
Bjorn Borg
Chris Evert
1975
Arthur Ashe
Billie Jean King
1974
Jimmy Connors
Chris Evert
1973
Jan Kodes
Billie Jean King
1972
Stan Smith
Billie Jean King
1971
John Newcombe
Evonne Goolagong Cawley
1970
John Newcombe
Margaret Court
1969
Rod Laver
Ann Haydon Jones
1968
Rod Laver
Billie Jean King
1967
John Newcombe
Billie Jean King
1966
Manuel Santana
Billie Jean King
1965
Roy Emerson
Margaret Court
1964
Roy Emerson
Maria Bueno
1963
Chuck McKinley
Margaret Court
1962
Rod Laver
Karen Hantze Susman
1961
Rod Laver
Angela Mortimer Barrett
1960
Neale Fraser
Maria Bueno
1959
Alex Olmedo
Maria Bueno
1958
Ashley Cooper
Althea Gibson
1957
Lew Hoad
Althea Gibson
1956
Lew Hoad
Shirley Fry Irvin
1955
Tony Trabert
Louise Brough Clapp
1954
Jaroslav Drobny
Maureen Connolly Brinker
1953
Vic Seixas
Maureen Connolly Brinker
1952
Frank Sedgman
Maureen Connolly Brinker
1951
Dick Savitt
Doris Hart
1950
Budge Patty
Louise Brough Clapp
1949
Ted Schroeder
Louise Brough Clapp
1948
Bob Falkenburg
Louise Brough Clapp
1947
Jack Kramer
Margaret Osborne duPont
1946
Yvon Petra
Pauline Betz Addie
1939
Bobby Riggs
Alice Marble
1938
Don Budge
Helen Wills Moody
1937
Don Budge
Dorothy Round Little
1936
Fred Perry
Helen Jacobs
1935
Fred Perry
Helen Wills Moody
1934
Fred Perry
Dorothy Round Little
1933
Jack Crawford
Helen Wills Moody
1932
Ellsworth Vines
Helen Wills Moody
1931
Sidney Wood
Cilly Aussern
1930
Bill Tilden
Helen Wills Moody
1929
Henri Cochet
Helen Wills Moody
1928
Rene Lacoste
Helen Wills Moody
1927
Henri Cochet
Helen Wills Moody
1926
Jean Borotra
Kitty McKane Godfree
1925
Rene Lacoste
Suzanne Lenglen
1924
Jean Borotra
Kitty McKane Godfree
1923
Bill Johnston
Suzanne Lenglen
1922
Gerald Patterson
Suzanne Lenglen
1921
Bill Tilden
Suzanne Lenglen
1920
Bill Tilden
Suzanne Lenglen
1919
Gerald Patterson
Suzanne Lenglen
1914
Norman Brookes
Dorothea Douglass Lambert Chambers
1913
Anthony Wilding
Dorothea Douglass Lambert Chambers
1912
Anthony Wilding
Ethel Thomson Larcombe
1911
Anthony Wilding
Dorothea Douglass Lambert Chambers
1910
Anthony Wilding
Dorothea Douglass Lambert Chambers
1909
Arthur Gore
Dora Boothby
1908
Arthur Gore
Charlotte Cooper Sterry
1907
Norman Brookes
May Sutton Bundy
1906
Lawrence Doherty
Dorothea Douglass Lambert Chambers
1905
Lawrence Doherty
May Sutton Bundy
1904
Lawrence Doherty
Dorothea Douglass Lambert Chambers
1903
Lawrence Doherty
Dorothea Douglass Lambert Chambers
1902
Lawrence Doherty
Muriel Robb
1901
Arthur Gore
Charlotte Cooper Sterry
1900
Reginald Doherty
Blanche Bingley Hillyard
1899
Reginald Doherty
Blanche Bingley Hillyard
1898
Reginald Doherty
Charlotte Cooper Sterry
1897
Reginald Doherty
Blanche Bingley Hillyard
1896
Harold Mahony
Charlotte Cooper Sterry
1895
Wilfred Baddeley
Charlotte Cooper Sterry
1894
Joshua Pim
Blanche Bingley Hillyard
1893
Joshua Pim
Lottie Dod
1892
Wilfred Baddeley
Lottie Dod
1891
Wilfred Baddeley
Lottie Dod
1890
Willoughby Hamilton
Lena Rice
1889
William Renshaw
Blanche Bingley Hillyard
1888
Ernest Renshaw
Lottie Dod
1887
Herbert Lawford
Lottie Dod
1886
William Renshaw
Blanche Bingley Hillyard
1885
William Renshaw
Maud Watson
1884
William Renshaw
Maud Watson
1883
William Renshaw
1882
William Renshaw
1881
William Renshaw
1880
John Hartley
1879
John Hartley
1878
Frank Hadow
1877
Spencer Gore
Due to World War II, there was no tournament held between 1940 and 1945
Due to World War I, there was no tournament held between 1915 and 1918
TOP STORY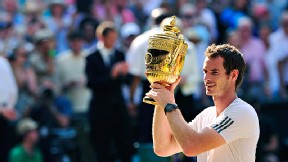 WIMBLEDON QUICK FACTS

First Played: 1877
Open Era Began: 1968
Venue: All England Club, London
Surface: Grass
Category: Grand Slam
2013 Dates: June 24-July 7, 2012
Purse: $25.3M
RELATED TOPICS
ESPN.com Topics brings you full coverage of the biggest events in tennis throughout the year.
2013 WIMBLEDON WINNERS
Andy Murray
Men's singles champion

Marion Bartoli
Women's singles champion
Bob and Mike Bryan
Men's doubles champions

Su-Wei Hsieh and Peng Shuai
Women's doubles champions

Daniel Nestor and Kristina Mladenovic
Mixed doubles champions