Dancing with the Stars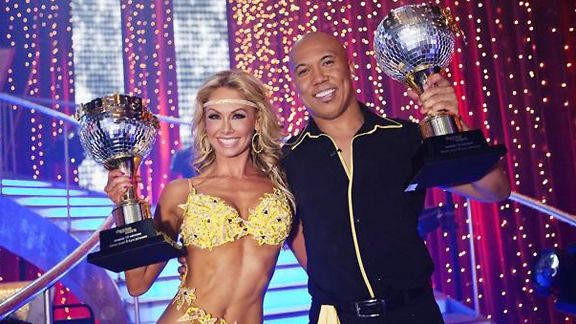 "Dancing with the Stars" is a competition-based reality program that currently airs on ABC. The show -- based on a British television program -- has completed 14 seasons. "Dancing with the Stars" pairs celebrity contestants with professional dancers in a ballroom dancing competition. The competitors perform dances that are scored by a panel of three judges, then voting is opened up for viewers at home. The judges scores are combined with the viewers votes to determine which pair of dancers is eliminated each week.
The show -- hosted by Tom Bergeron and Brooke Burke -- airs on Monday nights at 8 p.m. Eastern and Pacific time (7 p.m. Central and Mountain time) with a results show airing every Tuesday at 9 p.m. In Season 14, Packers WR Donald Driver became the latest athlete to win the competition.
Since the first season of "Dancing with the Stars," professional athletes have played a key role in the contestant lineup. Boxer Evander Holyfield was the first athlete to compete on the show, finishing fifth out of six contestants in Season 1. The following season, ESPN anchor Kenny Mayne was the first contestant eliminated, but former WWE wrestler Stacy Keibler finished third and former NFL wide receiver Jerry Rice was the runner up, losing to Drew Lachey. The next season, former NFL running back Emmitt Smith became the first professional athlete to win the competition, beating out actor and TV host Mario Lopez.
Season Four saw a trio of athletes compete. Former NBA player Clyde Drexler finished 8 out of 11 contestants, boxer Laila Ali was third and Apolo Anton Ohno, an Olympic speedskater, became the second consecutive athlete to win the competition. Indy Car driver Helio Castroneves kept the streak going the following season, while Mark Cuban finished 8th and boxer Floyd Mayweather Jr. finished 9th.
In Season Six, active NFL player Jason Taylor was among the contestants, causing some friction between him and Miami Dolphins management. Taylor, who skipped the Dolphins offseason workouts that year, finished second to former Olympic figure skater Kristi Yamaguchi, while former tennis player Monica Seles came in 11th. The run of athlete champions came to an end the next season, when Brooke Burke, who would go on to become a "Dancing With the Stars" co-host in Season 10, defeated former NFL player Warren Sapp in the finale. Sprinter Maurice Green finished in 5th.
Gymnast Shawn Johnson became the fifth athlete to win the competition when she defeated Gilles Marini in Season 8, the same season that former NFL player Lawrence Taylor finished 7th. The show expanded to 16 celebrities in Season 9, four of whom were athletes. None of the athletes finished in the top 3, with former NFL wide receiver Michael Irvin coming in 7th, snowboarder Louie Vito coming in 8th, Olympic swimmer Natalie Coughlin finishing 10th and MMA fighter Chuck Liddell coming in 11th. Athletes fared better in Season 10, the most recently completed season, with Olympic figure skater Evan Lysacek finishing as the runner-up to singer Nicole Scherzinger. NFL wide receiver Chad Ochocinco finished fourth, and ESPN sideline reporter Erin Andrews reached the final show before finishing third.
The 12-member cast for Season 11 included two professional athletes: former NBA player Rick Fox and former NFL player Kurt Warner. Fox and partner Cheryl Burke were eliminated in Week 7, finishing 6th overall. Warner and partner Anna Trebunskaya were eliminated the following week, marking the second time in three seasons that no athletes reached the final three.
In Season 12, multiple cast members with sports connections were included. Steelers WR Hines Ward joined a growing list of NFL players to participate while still active in the league, while retired boxer Sugar Ray Leonard was also in the cast. In addition, pro wrestler Chris Jericho and "Karate Kid" star Ralph Macchio added to the show's sports roots, as did former college basketball player Romeo Miller, the son of rap star Master P. Leonard was the first of that group eliminated, bowing out in Week 4. Jericho dropped out two weeks later. Miller was knocked out just before the semifinals. Ward went on to win the title, becoming the second NFL player to take home the mirrorball trophy, following Emmitt Smith. Packers WR Donald Driver joined the group in Season 14.
Through 14 seasons, there have been 31 contestants known primarily as athletes, and seven of them -- Emmitt Smith, Apolo Ohno, Helio Castroneves, Kristi Yamaguchi, Shawn Johnson, Hines Ward and Donald Driver -- have gone on to win the competition.
VIDEO RESULTS FOR DANCING WITH THE STARS
NEWS RESULTS FOR DANCING WITH THE STARS
AUDIO RESULTS FOR DANCING WITH THE STARS
TOP STORY
Donald Driver wins DWTS
He already has a Super Bowl ring, and now football star Donald Driver can add the "Dancing With the Stars" mirrorball trophy to his awards collection. Story »