Talk X-Fighters with Nate Adams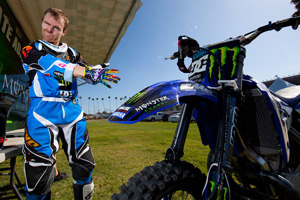 The second-to-last stop on the Red Bull X-Fighters tour is this Saturday at London's Battersea Power Station, and perennial contender Nate Adams sits at third on the tour ranking.
He's coming off a two-medal performance at X Games 16 and already has three X-Fighters podiums this season, but is still looking for the year's first big win. Could it come in London? Ask him!
Send your questions now and join Adams Thursday at 2 p.m. ET!
More Action Sports: Index | X Games | Previous chats
Lawrence (Atlanta)
How come you weren't at Madrid?
Ryan Leyba
(2:06 PM)
Hey guys, Ryan Leyba here. Nate Adams is running a bit late, but we'll get him on here as soon as possible. Until then I'll go ahead and answer some of the more general questions for you. Like this one. Nate wasn't at X-Fighters Madrid because he was focusing on his X Games 16 preparation.
Dre (UT)
What is the next "big trick" that will lock in a contest win?
Ryan Leyba
(2:10 PM)
Yo Dre, so as for what the next big trick will be to lock down a contest win, it's hard to say. Contest win's aren't based on just one trick, but having a big new trick definitely helps. I think the next round of big tricks you're going to start seeing will be 360 combinations, front flip combos and a variety of varials.
Aaron (rochester ny)
Hey Leyba! Did Nate get hurt or something practicing for this weekend?
Ryan Leyba
(2:13 PM)
Hey Aaron. Nate did not get hurt in practice. Everything's actually been going smooth and he's killing it. We'll be posting some photos from the last practice session in our preview later tonight.
Billy (Riverside, CA)
What does the London course look like and how does it compare to the other stops?
Ryan Leyba
(2:16 PM)
Billy from Riverside. What's up loco? This year's London course is a lot bigger than last year's course and it's been relocated to the north side of the property as opposed to last year's south side. Ex FMXer Jesse Olsen designed and built the course. The riders seem to love his work since he's an ex rider.
Eric (Evanston, IL)
Do you guys party and check out the city when you're at tour stops, or is it all business?
Ryan Leyba
(2:24 PM)
Hey Eric, the boys are all business when they show up to these events, but as soon as it's over they get loose. Red Bull always throws the best after parties.
JEN (VT)
Nate, do you have a girlfriend???
Ryan Leyba
(2:25 PM)
Hey Jen, I can definitely answer this one for you. Yes, Nate does have a girlfriend and they're happily in love. Sorry to burst your bubble!
Richard (Kansas City)
Seems like Maddison's on a roll. What's it gonna take to beat him?
Ryan Leyba
(2:27 PM)
Hey Richard. Yeah, Maddison is on a huge roll and it's going to take a lot to beat him. His tricks aren't as precise or stylish as some of the other riders, but his energy and willingness to learn new tricks like the Volt make him a favorite of the judges. I think it'll take a solid run littered with a few new and innovative tricks to beat Maddo.
christopher hunt (Maidstone ,Kent)
what is the crowd capacity at battersea
Ryan Leyba
(2:30 PM)
Yo Christopher or Chris for short. I'm not exactly how many people the Battersea Power Station will house this year, but last year there were 18,000 screaming English fans and the riders agree that besides Madrid, it's one of the best events fan wise. The Britts get crazy!
Ryan Leyba
(2:32 PM)
So, I just talked to Tes Sewell of Red Bull and it turns out the Nate is MIA. Practice starts right now in London, but he seems to have taken a break for some tea and crumpets. Unfortunately his phone is spotty, so we're doing what we can to find him! Hold tight!
Ryan Leyba
(2:38 PM)
Alright guys, so here's the deal. Nate is running around London right now and since the cars drive on the wrong side of the street, he couldn't figure out how to use a phone. You have to dial the numbers backwards ... yeah, think about that one for a minute. But in all seriousness, we'll continue to reach out to him and as soon as we make contact with "The Destroyer," we'll have him answer all of your questions ... and we'll make him apologize for missing the chat. Thanks for the questions and keep it locked into our FMX blog! --Ryan Leyba