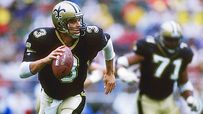 Bobby Hebert was a Pro Bowler in 1993 with the Falcons.
Welcome to SportsNation! On Wednesday, former NFL quarterback Bobby Hebert stops by to break down Week 12 in the NFL as well as the New Orleans Saints-New England Patriots game on Monday night.
Hebert played seven years for the Saints and four with the Falcons, following three seasons in the USFL. In 1987, he helped lead the Saints to their first playoff appearance in team history. Hebert threw for over 21,000 yards in the NFL and 135 TDs.
Send your questions now and join Hebert Wednesday at 12:30 p.m. ET!
More Special Guests: Previous chats | SportsNation
Buzzmaster
(12:28 PM)
Former NFL QB Bobby Hebert will be here in minutes to take your questions!
Buzzmaster
(12:30 PM)
Bobby is here!
Munchkin (Metairie,La)
Do u think the Saints have what it takes 2 beat the Patriots?
Bobby Hebert
(12:31 PM)
Without a doubt. It's going to come down to the turnover battle. If you look right now the Saints are 12 and the Pats are 10. That's why you saw the victories the Pats had and Saints had last week, they're winning the turnover battle. With the Saints, the thing that worries me is that they lead in takeaways and giveaways. If they can be even or on the plus side, that they can beat the Patriots. How they close out games, they are confident. Drew Brees handed out t-shirts this year that say "Finish."
Bobby Hebert
(12:33 PM)
They're just more balanced. If you look in the running game, Pierre Thomas, Reggie Bush, Mike Bell. They're all around 5.0 yards per rush average or above. Any time you're around 4.0, that's getting it done. They're not one-dimensional. After 10 games, the Saints have 322 runs to 320 passes. You can't get more balanced than that. That's why they're the No. 1 offense and the No. 1 scoring team. You can say what the Patriots have done and the mystique that they have. They're the model of being in the hunt every year. I like the Saints chances.
Kevin (Colorado)
Where can I purchase the "Who Dat Nation T-shirt" you wore on today's broadcast?
Bobby Hebert
(12:35 PM)
Go to NewOrleansSaints.com. There's a lot of history. The Saints have been rumored that they got the idea from an old beer sponsor Fallstaff. They don't even have Fallstaff beer anymore, but that's where they got the figurine on there. I'm sure Reebok has it on their website also. It's the official Who Dat shirt.
Wayne (Atlanta)
Hi Bobby,Who Dat Nation diaspora living in the ATL. Welker looks like the key matchup to me, how do you see it?
Bobby Hebert
(12:37 PM)
You look at Wes Welker and the relationship he has with Tom Brady, it reminds me of Drew Brees and Lance Moore. Both Tom and Drew with guys with Wes and Lance, you can anticipate throws. That's going to be a tough matchup. Playing a team like the Patriots, you wish you had all hands on deck. But Tracy Porter, you wish didn't get hurt. It's going to be a big challenge for Malcolm Jenkins, being a No. 1 draft pick. To see if he can justify them taking him in the first round. He looked good last week. You always try to exploit the weakest link in the secondary. I think both offenses will have success, but I like the Saints chances. We can score in the 30s, but it truly will come down to that turnover ratio. If I had to guess, the Saints won't stop the Patriots and the Pats won't stop the Saints.
Kevin Kolb (New Orleans, Louisiana)
Do you think there really is such a thing as a home field advantage anymore? Can a rocking Superdome actually help the Saints Monday night or is crowd noise helping the home team a fallacy?
Bobby Hebert
(12:40 PM)
No, it's not a fallacy. The players aren't intimidated playing on the road, but what it does is interupt communication. It's hard to scream and rant and rave for three hours. If you need to rest, rest when the Saints have the ball. If you really want to have influence on the game, when Tom Brady is in the huddle, that's when you want to be as loud as can be. I remember being in the huddle and you had to literally scream to be heard. And if you can get one or two guys to get the wrong play call, you can disrupt the offense. And, on at the line you have to worry about false starts. As far as intimidation, I know players on the road looked at it as us against the world. It's more about the communication and causing penalties that could be at a crucial time.
Mike S (CT)
Bobby, the recent mini-documentary on the USFL brought to light the fact that the league was much more popular than I think most young fans would realize. Were there any aspects of playing in the USFL that you preferred to the NFL?
Bobby Hebert
(12:43 PM)
It gave me an opportunity to get experience right away in the pro level. Back in those days, they were holding QBs back for 4-5 even 6 years before playing. It gave me an opportunity to play right away. We won the USFL championship right away. I was MVP in the championship game. It was pretty cool. It gave me an exposure and experience. Some people might say that the USFL wasn't the NFL, but if you look at each position, there was a Pro Bowl NFL player. I look at us, there were 28 NFL teams then and we had more support for our Michigan team than the Lions. I feel that if we had played the Lions back then, we would have beaten then. I think our championship team could have been 13 or 14th in the NFL. But we didn't have much depth. It was night versus day with the player coming in to play behind the first string guy. Donald Trump coming in was the worst thing, trying to get the league into the fall and expanding it.
bruce (mandeville, la)
How much should the Saints be concerned with a banged up secondary even with the latest additions? Will that be the difference?
Bobby Hebert
(12:44 PM)
Yeah, potentially could be a huge difference. The old cliche is the best pass coverage is a good pass rush. If those guys can come up big against Tom Brady and help the secondary. In the Patriots undefeated season, the reason the Giants won the Super Bowl was they got after Tom Brady. The secondary could be vulnerable, because with Tom Brady, Drew Brees, Peyton Manning, I don't care who the secondary is, he's going to exploit it.
steve (lakeport,ca)
Happy Turkey Day Bobby. What was a bigger thrill, taking the Saints to the playoffs, or the Championships with the Stars of the old USFL?
Bobby Hebert
(12:47 PM)
I've said this..whenever you win a championship, no matter what the level is, it's one of the happiest moments of your lives. The high school state championship, I was just as happy winning the USFL championship. As a human, you can only be so happy. But being from Louisiana, winning those games. We were 3-3 to win 9 games in a row. We lost to the Vikings in the playoffs, but for that year and being raised 50 miles south of New Orleans to have the first playoff game, first winning season. But to say it was as much as winning a championship, not quite. If I ever had the chance to win a championship with the Saints, that would have been unbelievable. Drew Brees, Sean Payton, they could run for mayor and everyone would vote for them.
Jonathan (New York)
Bobby - where does the Who Dat chant come from? It's one of my favorite chants in the NFL.
Bobby Hebert
(12:50 PM)
I don't know exactly. They had some Who Dat song, dealing with some jazz musician. As far as the Saints, there was a fan in the stands in 1984. They had a big game and he was chanting. It really didn't get big until 1987 when we went into the playoffs. That's when it really took off as universal in 1987. The Who Dat nation, that was something I started, the birthday of it is Dec. 10, 2006 when the Saints crushed the Cowboys and I am doing a postgame show until 3 a.m. on WWL 870 AM. At night, the show went out to 37 states. We got calls from Virginia, Illinois, everywhere. We had callers saying the Saints are the working man's team. It's not the Cowboys. The Saints are the new America's team. That's where that came from. Now it's gotten international We have people calling from England, Australia. In this day and age, it's truly a global society. They follow the Saints from all over the globe.
Alex (Topeka)
What kind of game do you expect Drew Brees to have?
Bobby Hebert
(12:53 PM)
I'm hoping for a mistake free game. That's easier said than done. He got off to such a hot start. The first five games, the Saints never trailed. Then he went into a mini slump, but they still won. He had 6 TDs and 7 INTs during a stretch. I think he'll rise to the occasion. If you look since the 2006 season, Drew Brees' numbers are ahead of Manning and Brady. It's going to be a QB duel. The QB position is a wash, so who else steps up to make a play? Cause a turnover? 105-24 they've outscored opponents in the 4th quarter.
Bobby Hebert
(12:55 PM)
This game, when you look at history and the best of the best, there has only been 5 QBs in the NFL that have passed for over 4,800 yards. Dan Fouts in 1981, then in 1984 Dan Marino. Then you had Kurt Warner in 2001 and then you had Tom Brady in 2007. Drew Brees last year almost breaking Dan Marino's record. In the history of the NFL, only once has the elite QB faced each other. Dan Fouts and Marino played each other in the 1986 season. This will be the second time when Brady and Brees facing off. I think fans will really appreciate that matchup. As a player, you always reflect on positive moments when things went your way and positive moments. Drew Brees is 2-0 against Tom Brady. That's encouraging. As a player, I was always confident when I reflected on those moments and you were facing teams again.
Buzzmaster
(12:59 PM)
Thanks for chatting Bobby!