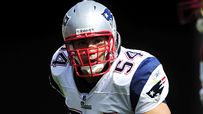 Bruschi won three Super Bowls with New England.
Welcome to SportsNation! On Wednesday, former New England Patriot linebacker, and current ESPNBoston.com NFL analyst, Tedy Bruschi makes a stop in SportsNation.
Bruschi retired in August, after 13 seasons and three Super Bowl wins with the Patriots. He started 189 games with New England, the most for any LB in team history. For his career, he had over 1,100 tackles, 30.5 sacks and 12 INTs.
Shortly after his retirement, Bruschi joined ESPN's stable of NFL analysts. In addition to being a regular NFL anaylst on ESPNBoston.com, Bruschi will also appear on "NFL Live," "SportsCenter," ESPN Radio and other ESPN platforms.
Send your questions now and join Bruschi Wednesday at 2:30 p.m. ET!
More Special Guests: Previous chats | SportsNation
Buzzmaster
(2:31 PM)
We're getting Tedy now!
Tedy Bruschi
(2:32 PM)
Let's close the division this week everybody. Let's talk Jags-Pats.
Mike (Houston)
Could you break down the defense that the Pats used last week against Buffalo?
Tedy Bruschi
(2:33 PM)
When you have multiple people at the line of scrimmage, mostly LBs, four are designated to rush, the others are dropped. They can vary the rushing and dropping guys pre-snap. As long as they communicate, it can be effective.
Rick (Hartford)
Tedy, what do you think is wrong with the Pats offense? Seems to me like they really miss a solid No. 3 WR?
Tedy Bruschi
(2:33 PM)
That is really one of the main problems. When you have just two receivers, defenses can game plan to shut them down.
Paul (Cinnaminson NJ)
Do you foresee the Colts losing a game before the end of regular season?
Tedy Bruschi
(2:34 PM)
I don't like how they talk about resting players. If they go into the game with the goal of trying to win while resting players at the same time, they won't go 16-0.
Zach (Kalamazoo, MI)
What do the Jags have to do to win this game?
Tedy Bruschi
(2:35 PM)
If Wilfork and Warren don't play again, they'll be running it up the gut, guaranteed. If they establish that running game, they have the advantage.
Alvin (Boston)
Hi Tedy, I enjoy your weekly chats. I feel I'm learning a lot about the game because of them. Do you think the Pats will play all of their players if they have a shot at the number 2 AFC playoff slot the Chargers currently own?
Tedy Bruschi
(2:36 PM)
If there's a chance for it, they'll go for it. But I think they play hard this week, get the victory and Week 17 can be a bye for them.
Alex (Durham, NC)
Hey Tedy,Thanks for all the football memories.Do you think Brady has abandoned the "my favortie receiver is the open one" philosophy? He seems too focused on Welker and Moss (not bad options, by the way). Be honest; is it the play calling, Tom's new perspective, or other receivers not getting open?
Tedy Bruschi
(2:37 PM)
I think they miss Josh McDaniels' creativity. And Brady has searched all year for a third WR but that search has been unsuccessful. So I don't blame him for focusing on Moss and Welker.
Zach (Kalamazoo, MI)
How do the Jags cover Randy Moss without letting Wes Welker run everywhere on them?
Tedy Bruschi
(2:38 PM)
You can't. If you decide to double Moss, Welker's going to have room underneath, because more than likely a LB will try to take on the double team duties. Brady will see that and go to it every time.
Ivan (Chapel Hill)
Tedy, recently Mike Reiss suggested that the Pats would rather play the Colts than San Diego in the AFC Divisional Round. Do you agree?
Tedy Bruschi
(2:39 PM)
I don't think they care because all they want to do is win in the playoffs. It's important right now to just get the win in the wild card round. That win would be huge in development for all of those young players.
Anthony Powell (Boynton Beach, Florida)
Tedy do you think the Patriots are still hurting from the loss to the Colts because that was a really disheartening loss and seems like they have not recovered from it?
Tedy Bruschi
(2:40 PM)
I say they've recovered mentally from it, but the issues are still there, like why coach Belichick didn't want to put them on the field against Peyton Manning to win the game. They're young, inexperienced and still need a lot of development.
Sweet Daddy (Seattle)
Tedy, could the Pats possibly be playing possum a bit? In other words, trying to win by purposely minimizing the multidimensional factors in their offense in particular, in order to spring a more well-rounded O in the playoffs to include possibly more passes to Watson
Tedy Bruschi
(2:41 PM)
I don't think they're that good of a team to do that yet. They have so many issues on the team where they need to improve. They need to worry about winning a game any way they can, rather than throwing smoke screens out there.
Sully (Boston)
Tedy, When watching the Patriots, too me anyway it looks as if the way they set up offense is so predictable, shotgun = pass, tight and brady under center = run... it seems as which theyve abandoned the screens and draws. Do you see this as well?
Tedy Bruschi
(2:42 PM)
I do. I love the screens to Watson. Any type of offensive creativity is welcome.
Tom (Waltham MA)
Do you think Coach will look for new coordinators in the off-season?
Tedy Bruschi
(2:43 PM)
A guy they might look at is Charlie Weis. He doesn't have a job out there. Offensively, they could benefit greatly from another great coach on the offensive side of the ball.
jamie (allentown, Pa)
Teddy, after reading the comments about the pressure of going undefeated do you think there is an advantage now that the saints have that monkey off their back
Tedy Bruschi
(2:44 PM)
I think it is better for them. That undefeated pressure can be like a gorilla on your back. I know. I think the Colts are more equipped for it. They've already won a Super Bowl and overcome the Super Bowl pressure.
Dylan (Kingsville, MD)
Tedy, do you think Tom Brady will have a big day against the Jag's and will have a good connection with Moss after the poor performance 2 weeks ago? How will the Patriots penetrate through the Jag's defense like the Colts did?
Tedy Bruschi
(2:45 PM)
Last week, the Patriot offense made a great effort to get Randy Moss the ball. I think they continue to do that.
Matt (Western Mass)
What are your thoughts on Jerod Mayo? He's been solid all year but we haven't seen the huge plays from him that we all thought we were going to see. Is he in a bit of a rough patch taking on alot more responsibility than he had last year? He had you, Vrabes, and Junior directing traffic last season. It seems as soon as he gets some experience, he'll become one of the best playmakers in the NFL.
Tedy Bruschi
(2:45 PM)
There is a lot of responsibility on his shoulders. He's been very solid this year, but I think we all want to see more. I think it will come in time.
Alex (California)
Would you rather have Moss and Welker (i.e. more one-dimensional receivers), or three Troy Browns out there catching balls?
Tedy Bruschi
(2:46 PM)
That's a good question. You've got to have a deep threat. Moss is one of the best deep threats in NFL history. I love Troy, but I'd go with Moss and Welker.
amar (laplace)
What do my Saints need to do to get back on track ?
Tedy Bruschi
(2:47 PM)
Get over your disappointment of losing a game. And get over it quickly. Now, just focus on resting your players and being at full strength for the playoff push. You've wrapped up the No. 1 seed. On to the playoffs.
Olivia (Chicago)
Hey Tedy, What do you think the Pats have to improve on most?
Tedy Bruschi
(2:48 PM)
The run defensive linemen must get better and get better fast, because here comes MJD.
Dennis (Denver)
Do you think the Pats would rather face the Ravens or Broncos in the playoffs?
Tedy Bruschi
(2:49 PM)
I think they'd rather play the Ravens. Josh McDaniels gave them huge matchup problems to the Patriots defense. They were lost at times going up against that Brocos offense. They don't want that again.
Andrew (Westborough, MA)
Tedy, as a LB, how do you prepare for a RB like Jones-Drew who given his size, is often times hard to see and therefore react to?
Tedy Bruschi
(2:50 PM)
You're absolutely right. I've played against him and some times you can't even see the guy, he's so short. When you finally see him, bring your lunch, because he's hard to tackle. Play disciplined and focus on your job only. Don't try to do too much.
Ian (Boston)
Tedy - your thoughts on Maroney's future w/ the Pats? I can't think of a more polarizing player (at least amongst the fans) in recent history. He seems to be at least "meeting expectations" here now in the second half of this season . . .
Tedy Bruschi
(2:51 PM)
I think it's bright. He's been running hard lately and he's still young. Management loves youth.
Tedy Bruschi
(2:51 PM)
He will continue to be the guy in the future.
Alvin (Boston)
Tedy, I remember earlier in the year you said the Pats most concerning problem was tackling by the young corners. Do you still feel this is more of a concern than the pass rush?
Tedy Bruschi
(2:52 PM)
I think the pass rush is more of a concern now. Banta-Cain eased those concerns with three sacks last week. Let's see if they can continue that.
Ben (Baltimore)
How does Ray Rice create so many problems for an opposing defense?
Tedy Bruschi
(2:53 PM)
He's so good in space. Once he gets the ball, if you're not within five yards, your chances of tackling him are slim. He's good out of the back field catching passes too. They find a way of getting him the ball.
Bert (Minnesota)
How serious is the whole "Heated Converstation" in Minnesota really? Do you think that ESPN and the Star Tribune have taken the arguement out of context? Do you think that the team moral has weakend? Souldnt we focus our attention towards AP rather than why brett favre should of been benched? I think its getting ridiculous!!! Whats your thoughts?\
Tedy Bruschi
(2:54 PM)
I think it was real. Childress wanted him out. Favre wanted to stay in. You don't want drama between your QB and your head coach. They need to squash this fast.
Michael (Charlotte)
Do you think Mike Wright is a long-term solution to the Patriots pass rush after his performance on Sunday?
Tedy Bruschi
(2:55 PM)
Mike Wright has always shown flashes of brilliance. To be a player they count on for the future, he needs to show more consistency and do that every week. That's what he hasn't shown.
Steve (Boston)
Do we see Fred Taylor this weekend?
Tedy Bruschi
(2:55 PM)
There's a high possibility of it. They worked him out before the game last week. When the Patriots do that, that means the player is very close to playing.
Ivan (Chapel Hill, NC)
Tedy, building on Alvin's question: Do you think the Pats make a free-agency bid for Julius Peppers or a premier pass-rusher? Banta-Cain was impressive last week, but I see him as somewhat forced into that role.
Tedy Bruschi
(2:56 PM)
They do need another guy. But Julius Peppers might want more money than the Patriots are willing to pay.
Dylan (Kingsville, MD)
Tedy, This game is a must win for the Jags and if they lose they will be surely out of the playoff hunt. The Jags, I think , will have major intensity and will power run the ball. Do you think the Patriots line will be able to stop MJD and will they match the Jags intensity?
Tedy Bruschi
(2:57 PM)
I think they will. Because if they clinch the division with a win this week, it's very possible that they will approach Week 17 as a bye week and rest up the starters that are hurt. Players play hard for a week's rest.
Mike (NC)
Tedy,What was it like during your days with the Patriots to be on the verge on the playoffs? How do you prepare? What is the feeling in the locker room?
Tedy Bruschi
(2:58 PM)
Finish the job. When playoff spots aren't clinched, you want to get the job done. Last year's team learned that 11-5 wasn't good enough. You need to take advantage of clinching your playoff appearances.
Tedy Bruschi
(2:59 PM)
We'll see if the Patriots clinch the division everybody. Talk to you next week.