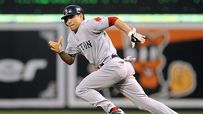 Who will be the next Red Sox minor leaguer to make an impact on the team?
Welcome to SportsNation! On Friday, Mike Andrews, the president and founder SoxProspects.com, stops by to chat some minor league baseball.
Andrews founded SoxProspects.com in September 2003 and he is the site programmer, executive editor and a columnist. He authors all of the scouting reports with input from the staff, and maintains the prospect rankings. He is also a special contributor to ESPNBoston.com.
Send your questions now and join Andrews Friday at 3 p.m. ET!
More Special Guests: Previous chats | SportsNation
Mike Andrews
(3:00 PM)
Hi everybody. Thanks for joining in the chat, I appreciate all the great questions that are already in the queue. I'll try to get to as many as I can in the next hour or so.
jeff (andover)
Hi Mike. I love the site. It appears that the relief corps will be the weakest area of the major league team. Do you see anyone on PAW/PORT that can help before the Sept callups?
Chris (Westwood)
Mike, what prospects impressed you most during spring training? Anyone catch you by surprise?
Mike Andrews
(3:09 PM)
I was relly impressed with Yamaico Navarro's bat, he was showing a lot of power - a lot of balls jumping off of his bat in BP and in games
Josh (Boston, Ma)
Theo Epstein has been quoted referencing a "bridge year" for the Red Sox in regards to the readiness of minor leaguers for the big leagues. Could you comment some on why there is a gap of major-league ready prospects?
ESPNBoston.com
(3:11 PM)
Having a couple of technical difficulties, we'll be back online very soon. Hang tight.
Mike Andrews
(3:12 PM)
Ten of the top twenty prospects in the system right now are in Double-A Portland. While the Sox have had some new blood at the major league level in recent years in Ellsbury, Pedroia, MAsterson, Bard, Buchholz, and Lowrie, this year just happens to b a down year for players ready to contribute at the top levels. But watch out next year, when that crew in Portland (Casey Kelly, Jose Iglesias, Ryan Kalish) start becomng close to major league ready.
Phur (CT)
Can you give us a couple names that might be around for the Sox for their early picks in the draft?
Mike Andrews
(3:17 PM)
Here are 4: (1) Brandon Workman, a big right-hander out of Texas with a mid-90s fastball, a plus cutter, and an above-average curveball; (2) Yasmani Grandal, a catcher out of Miami with above average all-around tools, who the Sox previously drafted out of high school in 2007 but were unable to sign; (3) Josh Sale, a power-hitting outfielder out of Bishop Blanchet High School in Seattle; and (4) Matt Harvey, a righty with a high-90s fastball that has had an up-and-down career with North Carolina.
jim ed (boston)
Mike - thanks for doing this. great, great website. any further news on ryan westmoreland? we are all hoping for a complete recovery -- one that includes baseball in his future -- but most of all for a complete return to health and the prospects for a normal life.
Mike Andrews
(3:21 PM)
I have kept in touch wth Ryan and his family in recent weeks and they are understandably guarded with details, and they've had great things to say about the response from Red Sox Nation. At ths point, I don't think baseball is in the discussion in terms of a timetable, and I don't even really want to speculate. All I can say is that Ryan promises that he will play again, and I think his best hope is that he might be able to take the field again next year.
Phur (CT)
Ryan Lavarnway looks to be continuing right where he left off last year. Obviously, his value is highest if he can stick behind the plate, but does his bat project enough for a switch to 1B or OF?
Mike Andrews
(3:23 PM)
I think his bat could definitely play up at those positions, but the concern is that he likely does not have the range to play corner OF or the agility to play 1B - so defense is actually the concern there.
Thomas (Quincy)
Tell us who some of the under the radar prospects we should be following who get make a big push up the ranks?
Mike Andrews
(3:25 PM)
My three under-the-radar prospects are Roman Mendez, Drake Britton, and Madison Younginer. All are young pitchers that can get their fastballs up to the high-90s. All three could break out this season and skyrocket up the prospect rankings if they can refine their control and make some advancements with their secondary offerings.
Tim (Maryland)
What do you think of Jose Iglesias? Does he have a chance to be a solid bat or is he destined to be just a solid glove?
Mike Andrews
(3:29 PM)
I think we received about ten different versions of this question. Iglesias has ridiculous bat speed - probably the second highest in the system after Dustin Pedroia. The ball comes off his bat well and he has solid swing mechanics. The issue his his approach - he likes to swing at everything and hasn't demonstrated a lot of plate patience. But I think the Sox instructors can fix that. If they do, Iglesias will be a legit bat at the major league level. (Note that he's hitting .333/.407/.458 through 7 games with Portland).
Ray (Louisiana)
Are there any catchers in the system that can be strong contributors at the major league level?
Mike Andrews
(3:34 PM)
At the higher levels, Mark Wagner certainly is close to major league ready and may ultimately be the backup for the Sox in 2011. He is excellent at throwing runners out, and we should see him with the big club by September. He has struggled to remain consistant offensively though. Luis Exposito is another name to watch - he is above average defensively and has 25 HR power potential. However, he needs to work on his game-calling and his plate discpline. Tim Federowicz and Ryan Lavarnway are two other names. Check out this link for more info on them. http://espn.go.com/blog/boston/red-sox/post/_/id/2031/soxprospects-com-future-catching-options
JAG (Ft. Myers)
Lightning Round: Reddick or Kalish?
Mike Andrews
(3:35 PM)
Lighting answer: If you ask me today, Reddick. But I have admittedly flip-flopped on this one several times over the last year.
Mike Andrews
(3:38 PM)
My answer to Jeff from Andover's question about relief help got lost in a glitch. Alan Embree and Joe Nelson are the next in line, but they're not realy prospects. In the prospect department, Michael Bowden certainly could be an option in the bullpen later in the year, as could left-hander Dustin Richardson. One darkhorse is Jason Rice, who has been closing for Portland.
Steve (Rhode Island)
What do you make of Josh Reddick's slow start?
Mike Andrews
(3:39 PM)
Nothing more than he's pressing a little bit too much, trying to prove that he belongs in the majors. He'll come around.
Brian (Richmond, Ky.)
Any knuckleballers in the system to take the torch from Wakefield when his arm finally falls off in five years?
Mike Andrews
(3:41 PM)
No knucklers in the system right now. Charlie Zink signed with St. Louis over the off-season, got caught, and I don't believe he's caught on with another affiliated club.
Nolan (Whitman)
How long until Casey Kelly is ready to play in the majors?
Mike Andrews
(3:43 PM)
Kelly may get a September call-up this year just to get a feel for what it's like to be in a major league clubhouse during a playoff chase (crossed fingers). I expect him to start geting serious consideration for major league playing time in mid-2011, where he'll likely break in in a bullpen or a spot starter role. I think he'll get a shot at cracking the rotation full time in 2012.
Jim (Beantown)
Lars Anderson has been one of the most talked about prospects for the past few years, but Anthony Rizzo seems to be ahead in the 'what have you done for me lately' department. Which is more likely to be a productive major leaguer?
Mike Andrews
(3:50 PM)
Another question that I think that was submitted 10-15 times. Lars pressed a little bit last year after getting a ton of hype as the top prospect in the system, and battled through some injuries in the process. Expectations have come back down to earth, and he's hitting okay in Portland early on (.267 with a .746 OPS). Meanwhile, Anthony Rizzo is getting a lot of hype this year coming off of a solid 2009 season with High-A Salem after returning from treatment for Hodgkin's Lymphoma. He's hit two home runs early on in 2010 but he's also hitting .200. Right now, I like Lars better from an offensive standpoint and Rizzo better on defense. Keep in mind that both are still very young for their respective levels, so expect both to go through the roller coaster that most players go through on their way up the ladder.
Ryan (CMass)
Yeiper Castillo has been flat out filthy in his two Low-A starts this year, but is 21.6 years old. Could you seem him get a quick bump up to Salem if he is still pitching well in May or early June?
Mike Andrews
(3:54 PM)
Castillo is probably the player that has surprised the most early on in 2010. After coming out as Greenville's opening dy starter, he has gone 1-0 with a 2.53 ERA, and struck out 15 batters in 10.2 innings. We've also received some reports that he's hitting mid-90s on the radar gun with his fastball, but those reports are not all that reliable. He could be in line for a mid-season promotion if he keeps putting up those numbers, I'm just not sure that's going to happen.
Fred (Brookline)
Felix Doubront: Bullpen arm or likely trade fodder?
Mike Andrews
(3:57 PM)
I like Doubront as a back-of-the-rotation starter. The problem is that there's not a lot of room in the Sox rotation over the next few years, and he'll be out of options after 2011. He could end up as a long-man with the Sox, but may just have more value to another team. So I suppose my guess would be trade fodder.
Matt (Boston)
Do you see Fabian Williamson as someone who could be considered a serious prospect by the end of the year? 2-0 with a 0.90 ERA in 10 innings while only giving up 5 hits so far this season.
Mike Andrews
(4:00 PM)
Williamson is a really interesting prospect. His secondary pitches - his curveball and his changeup - are really advanced, but his fastball is fringy, sitting around 89-90 mph. I think he'll continue to put up great numbers in the Carolina League, but I don't think that will do a whole lot for his prospect status. He's going to need to demonstrate tht he can get advanced hitters out without a great fastball, and that really can't happen until he hits Double-A.
Jason (Atlanta)
How about a recent prospect question. Are the Sox souring on Clay Buchholz's potential?
Mike Andrews
(4:02 PM)
No, I really don't think so - his potential is off the charts. Maybe they are frustrated with his mental makeup, but I think they can deal with that. Once he gets on a roll, his confidence should come shine through and that will build on itself. I honestly see Buchholz as a future Cy Young contender.
Jake (NH)
Why did Richie Lentz quit baseball? I know a few people thought he had potential to be called up to the big leagues if he could ever learn to just throw strikes.
Mike Andrews
(4:04 PM)
Lentz had a nagging shoulder injury that he just couldn't kick. It caused him a lot of pain just to play long toss, so he decided to hang it up.
GhostofScaff (Miami)
Mike, it seems like there are some positions, like 2B and RP, where the Sox don't have many prospects, while others like SS and SP have tons of talent. Any reason for that? Thanks. Love the site!
Mike Andrews
(4:08 PM)
Thanks for the question. The Sox draft and develop their best athletes at SS, CF, and SP. Thoughout the later stages of the develoment process, you might see shortstops become second baseman, center fielders moved to corner outfield, and starters moved to the bullpen. That's standard protocol in most organizations. Recent examples are Dustin Pedroia - who came up as a shortstop, and Jonathan Papelbon, who came up as a starter.
Ulrik (Viborg, Denmark)
Alex Wilson future starter or reliever?
Mike Andrews
(4:08 PM)
Reliever. And a good one.
peter (kingston)
who is the next all-star player to come out of our minor league system?
Mike Andrews
(4:10 PM)
Shot in the dark: Jose Iglesias in 2012. Maybe 2013.
Sam (Braintree)
Hey anyone down in Pawtucket that's off to a great start?
Mike Andrews
(4:13 PM)
Darnell McDonald looked great on opening night, the ball really jumps off his bat. He's hitting .393/.433/.750 in 7 games. The former first-rounder could be the short-term solution if Ellsbury or Cameron need to go on the DL.
Tripp (Atlanta)
Best guy in the system no one has ever heard of?
Mike Andrews
(4:15 PM)
Daniel Nava, of course. Check out my recent Q
manny (ny)
do you think will middlebrooks is going to be more consistent this year and what do you think about his future as a big leaguer?
Mike Andrews
(4:20 PM)
Middlebrooks has a major leage body at 3B, and I think he can be a plus defender at the hot corner. He's looked good offensively early on this season, but I'm still worried about his pitch recognition. He's struck out 9 times in 21 ABs this season after fanning 123 times in 374 ABs in 2009. To me, those numbers cause some concern as to whether he'll be able to stay consistent or whether he can carry over success to the next levels. Something to keep an eye on.
Joe (Rockland)
How many minor league games do you get to in a season? Do you make it to all the affiliates?
Mike Andrews
(4:22 PM)
As a staff I want to say that we make it to about 75 games per season. This year we should expand on that with our scoutting director Chris Mellen taking a weeklong trip down to Salem and Greenville. Ultimately, we should be able to see every affiliate numerous times this year.
Hillary (Walpole)
How are the Spinners gong to look this season?
Mike Andrews
(4:25 PM)
It's hard to tell before the draft, but some prospects to watch for in Lowell are 3B David Renfroe, RHP Madison Younginer, LF Brandon Jacobs, and SS Jason Thomspon. All are highly-regarded 2009 draft picks presently playing in extended sring training.
J.J. (CT)
Love the site, I go to it daily. Anyway my question is which Sox prospect has been your favorite to cover in the years since you opened the site? Also which former Sox prospect were you really high up on that either never made it to the MLB or who did but his career just never took off like you expected it would? Thanks again for the site and keep up the great work!
Mike Andrews
(4:27 PM)
Thanks for the kind words, JJ. My favorite prospect to cover was probably Justin Masterson, one of the nicest guys I've ever met. Second question - Abe Alvarez. I had him as the top-ranked pitcher in the system for a while back in 2005 and his career never panned out. Last I heard he was pitching in Italy.
Mike Andrews
(4:28 PM)
I'm going to take a couple more questions and then call it a day.
wiffleballhero (Los Angeles)
What do you think (especially at this rate): does Michael Bowden get the call by mid-season?
Mike Andrews
(4:32 PM)
I think that Bowden will remain in Pawtucket's rotation for most of the season to serve as the primary depth option for Boston's rotation, and he'll probably get some spot starts with the big league club here or there. The team will probably bring him up permanently in a middle relef roll in mid-to-late August. He'll end up in that role for the forseeable future.
Matt (Boston, MA)
Could you give us a couple names of prospects that are not talked about in the mainstream media much, but that you think will be by the end of the season? Thanks, love the site and your work for ESPNBoston so far.
Mike Andrews
(4:38 PM)
Thanks Matt. Three names that have not been covered a lot by the mainstream press are C Luis Exposito, SS Yamaico Navarro, and CF Che-Hsuan Lin. All are playing in Portland right now, and all likely will be playing for Boston one day. If you get a chance to head up to Portland for a game this year, don't pass it up - this team is going to be produce a lot of major league talent. I'm currently working on an article for ESPN comparing the 2005 Sea Dogs to this year's version. The 2005 Portland squad produced FIFTEEN major leaguers, including Hanley Ramirez, Jon Lester, Jonathan Papelbon, Dustin Pedroia, and Manny Delcarmen. This year's squad may not be that far behind.
Mike Andrews
(4:39 PM)
Thanks to everyone who submitted questions, I wish I could get to them all! Feel free to get in touch with me through SoxProspects.com if you want to follow up with any other questions. Thanks again!