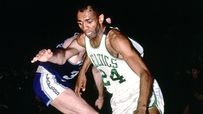 Jones is a five-time NBA All-Star.
Welcome to SportsNation! On Thursday, we'll be talking NBA playoffs when former Boston Celtic shooting guard Sam Jones stops by to chat.
Nicknamed "The Shooter," Jones spent his entire NBA playing career with the Boston Celtics helping them win 10 NBA championships (1959-66 and 1968-69) in 12 seasons. For his career, he averaged 17.7 points and is a member of the NBA 25th Anniversary Team, the Basketball Hall of Fame and was named one of the NBA's 50 Greatest Players.
Send your questions now and join Jones Thursday at 2:30 p.m. ET!
More Special Guests: Previous chats | SportsNation
Buzzmater
(2:29 PM)
NBA Hall of Famer Sam Jones will be here at the bottom of the hour to chat about the Lakers-Celtics NBA Finals matchup.
Sam Jones
(2:31 PM)
I'm a glad that the Celtics are playing the Lakers because I think they are the best two teams to meet each other. I know the league wanted to see the Cavs and Lakers, LeBron and Kobe but I feel the best two teams made it. Not taking anything away from LeBron.
Chris Fiegler (Latham,NY)
Do you think that the 2009-2010 Boston Celtics will be NBA Champions?
Sam Jones
(2:33 PM)
Yes I do. They will win because of the matchups. We have the best and most experienced players in the Finals. With Allen, Rondo, Garnett, Pierce and our bench, the Celtics can go at least nine deep. I think they can win it in six.
Ryan (Boston, MA)
Hello Sam and thanks for taking my question. I was wondering what your thoughts are on how the game has changed, with more three pointers and dunks and less focus on defense (excluding our Celtics!) and almost no mid-range game?
Sam Jones
(2:35 PM)
(Laughing) The game hasn't changed much. A lot of teams are playing team ball. I do think individual players are much better now than they were in my day. In 1970, Magic came in the league at 6'9 playing the guard position and we never thought we see another guard that big play the position that well. As far a defense, the rules have changed on what you can do but they toughness of defense is still there.
Josh (florida)
Do you think tempers will play a factor. referring to artest and garnet?
Sam Jones
(2:37 PM)
(Laughing) I don't know. Ron Artest is a great ball player that likes to get into people's head. Kevin will look into your eyes and dear you to play. Both teams are experienced and they won't allow their tempers to get the best of them. This series means a lot to California and New England and I do think these players will do their best to have a good, clean, competitive series.
paul (akron)
do you think game 1 will be very crucial for boston???
Sam Jones
(2:39 PM)
Game 1 is very critical for any team especially the home team. Hopefully Boston can win the first game and then with the 3-2-3 format, all they have to do is win at home. If Boston wins Game 1, all the pressure would be on Los Angeles to win on the road.
John (Atlanta, GA)
Where would you rank Kobe among NBA all-time greats? top 5? top 10? please tell everyone that Bill Russell is the greatest ever!
Sam Jones
(2:40 PM)
(Laughing) I rank Kobe as one of the greatest players to step on the court. I rank ball players by the way they get to championship ball games and Kobe has done that for that team. Right now, I would say he's my No. 3 of all-time and No. 1 player currently playing. Yes, Bill is the greatest. He's won 11 championships in 13 seasons. I'm honored to have played on 10 championship teams with him in 12 years. For my all-time rankings, Bill is No. 1, Jordan is No. 2 and Kobe is No. 3.
Sam Jones
(2:42 PM)
Yes, Bill is that greatest. He won 11 championships in 13 seasons. I'm honored to have played on 10 championship teams with him in 12 years. In my ranking, Bill is No. 1, Jordan is No. 2 and Kobe is No. 3.
Tom (Phoenix)
Sam, I'm honored to have a chance to ask you a question:If you were playing a starting shooting guard role today in the NBA, and had a chance to pick your 4 teammate starters, who would they be?
Sam Jones
(2:44 PM)
Kobe without a doubt, LeBron James, Dwight Howard (love the way he rebounds and his enthusiasm) and finally Steve Nash. I would love to play for this team.
Omar (Houston)
Can you name 5 greatest players to play in LA and BOS uniform in your mind.
Sam Jones
(2:47 PM)
Los Angeles - Jerry West, Elgin Baylor, Magic Johnson, Wilt Chamberlain and Kareem Abdul-Jabber. Boston - Bill Russell, Bob Cousy, John Havlicek, Larry Bird and Paul Pierce.
Hondo (Boston, MA)
Does Rondo's style remind you at all of Cousy?
Sam Jones
(2:48 PM)
By no means, Rondo is much quicker. Cousy is a better passer but Rondo can get to the basket much better. Neither one of them can shoot but there job is to get to the basket and pass the ball. Two things these guys to pretty well.
Joel (Washington)
If Pierce is pulling defensive duty on Kobe, do you think that will negatively impact his offensive output - similarly to the way it did during the Cleveland series when he was defending Lebron?
Sam Jones
(2:49 PM)
Good question, you really don't want Pierce playing Kobe. Kobe is going to get his points but I would like to see somebody else dogging Kobe and making him work for what he gets.
Satch (NYC)
Do any of the current players on the 2 teams remind you of ... you? Maybe Ray Allen?
Sam Jones
(2:51 PM)
(Laughing) Ray has a great three pointer and I'm upset we didn't have that. Ray has a quick trigger and can get his shot up so I would say you're pretty close in saying Ray Allen.
Jim (Boston`)
What do you think the most important matchup is going to be for this series? Pierce-Artest? Gasol-Garnett?
Sam Jones
(2:52 PM)
I'm going to say Gasol-Garnett. Gasol is a tremendous ball player and I love the way he plays.
Pat (Dallas, TX.)
Where do you think is the most beneficial place for Lebron to go?
Sam Jones
(2:53 PM)
I think LeBron should stay in Cleveland. If he wants to get the a championship he has to stay, they already has the best winning percentage in the NBA. So if he wants to get to a championship, STAY IN CLEVELAND LEBRON!
jon (Rocklin, Ca.)
Shouldn't Kobe be on your Laker All time Best List if he is the 3rd Greatest Player of All Time?
Sam Jones
(2:55 PM)
He's still playing and that's why I didn't name him. All the players I named for the Lakers are no longer playing.
Hondo (Boston, MA)
How, exactly, did Don Nelson's shot manage to go in, Game 7, '69?
Sam Jones
(2:56 PM)
(Laughing) How knows, it was a miracle. That shot hit the back of the backboard and came right back through the net. That shot meant a lot to the Boston Celtics in winning the championship game.
EJ (San Diego)
Did you guys consider the Lakers your major rivals? Or was it the Philadelphia Warriors and later 76ers with Wilt? I mean, at least the 76ers beat you guys. Once.
Sam Jones
(2:58 PM)
Nice question. Philly had a great team in those days so they were the greatest rivalry in our own division. We knew if we could beat them or the Hawks then we would meet the Lakers. I personally, liked the matchup with Philadelphia better.
Mr.Harris (ATL)
Pierce will do find against kobe.Kobe will have problems if he has to guard rondo and pirece.
Sam Jones
(3:00 PM)
Kobe isn't guarding Rondo. I think Rondo will get him in foul trouble. I think Kobe would be better off guarding Pierce. Fisher will do a better job guarding Rondo than Kobe can.
Bill Fitch (exile)
I am glad that Dennis Johnson FINALLY got elected to the Hall of Fame. He could have played on those '60's Celtics teams, yes?
Sam Jones
(3:01 PM)
I'm sure Dennis could have played on our teams in the 60s. He was a big guard that would have fit well on our teams.
EJ (San Diego)
Aside from Russell, who was your favorite teammate? Who's a guy that we maybe haven't respected enough or heard enough about from your great teams?
Sam Jones
(3:02 PM)
Besides Russell, their were two. Bob Cousy and KC Jones two point guards that passed me the ball.
Satch (NYC)
Since Larry Bird and Magic Johnson wrote a book together, I'm wondering: when will Sam Jones and Jerry West write one?
Sam Jones
(3:02 PM)
Jerry West has already written one. I'm just waiting for the right author and I'll be ready.
Sam Jones
(3:05 PM)
I'm looking for a tremendous series between the Lakers and Celtics. I see a six game series and if it goes seven I'm sure the fans will enjoy it. As far as Sam Jones goes, I bleed Celtic Green! Thanks for the chat and enjoy the NBA Finals.