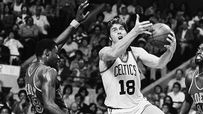 Cowens was the 4th overall pick by the Celtics in the 1970 NBA Draft.
Welcome to SportsNation! On Monday, we'll be talking NBA Finals when former Boston Celtics center/forward and NBA coach Dave Cowens stops by to chat.
Cowens played with the Boston Celtics for 10 seasons (1970-80) winning two NBA championships. In his rookie campaign, he averaged 17.0 points and 15.0 rebounds and for his career 17.6 points and 13.6 rebounds while being selected to seven All-Star Games.
As a testament to his all-out intensity at both ends of the court, Cowens is only of only four players (Scottie Pippen, Kevin Garnett, and LeBron James being the others) to lead his team in all five statistical categories for a season; points, rebounds, assists, blocks and steals.
Send your questions now and join Cowens Monday at 2:45 p.m. ET!
More Special Guests: Previous chats | SportsNation
Buzzmaster
(2:41 PM)
Former Celtic Dave Cowens will be here in a few minutes to take your questions!
Buzzmaster
(2:47 PM)
Dave is here!
Phil (Boston)
Dave, what do you make of this series being so different in certain parts? After the first 3 games, it seemed like a certainty that the Lakers would win the series, but now the Celtics are playing like champs and the Lakers look lost.
Dave Cowens
(2:48 PM)
I think the tide of momentum is swung back to Boston, because they got back to how they played. They're more familiar and comfortable with what the Lakers are doing and can exploit different matchups. It seems like Boston's reserves are making more of a contribution than L.A.'s. With Bynum being limited, it has forced L.A. to be more of a perimeter shooting team. Which is not their strength. Boston knows that.
Jack (C-Ville)
Best player in teh game today?
Dave Cowens
(2:49 PM)
I would have to say Kobe Bryant.
Fred (Miami)
Dave, how hard is it to go on the road and win a game in the NBA? How much harder is it when it's in the playoffs?
Dave Cowens
(2:50 PM)
I'm not a big proponent of worrying about where I play. The road to me is sometimes a better place to play when you have a need game. You eliminate the distractions you might have at home and just bond together. You get a little more focused as a group. You get that bunker mentality.
Nic Barth (Fredonia, WI)
Do you think that the Celtics stick together and try to win a championship next year?
Dave Cowens
(2:51 PM)
You have to win one this year first. Let's not get too far ahead of ourselves. But I don't think they'll mess with a good thing. I don't think if they keep this team together for a little while longer that it will be a bad thing for this team. I think they have quite a few people signed up.
Greg (Chicago)
What do the Celtics need to do to go out to L.A. and steal a win?
Dave Cowens
(2:52 PM)
I think they'll have to play, as Garnett said, with a great resolve. The Lakers are a prideful organization. I would be surprised if the Lakers didn't come out real strong early in the ball game. I think the Celtics have to be able to withstand that. It behooves Boston to do that, because they fair better when they get off to a good start.
Josh (Brentwood)
Thanks for all the great memories. Do you think the refs and league coming down on players' emotions/in-game adrenaline has made the game better or worse since the 'anything goes' playoff intensity of the 80's?
Dave Cowens
(2:54 PM)
It seems, to me, that the players are just as emotional or more as they used to be. The changes that they made really addressed the hand checking on the perimeter, although it's not called as much in the playoffs. They put in the block and charge circle to help the refs make that difficult call, but I think the ferocity if competition is just as great as it has been. Guys are taking shots out there.
Joe (Tahoe)
Best Larry Bird memory or story?
Dave Cowens
(2:55 PM)
I kind of liked when he won the 3-point shooting contest, asking everyone who was going to finish second. And then sticking his crooked finger up in the air when he won it. He had so many great moments, they just all blend together in a guy that was a phenomenal athlete.
Eric (Portland, Maine)
Saw you in Portland at the first game of the Maine Red Claws, the Celtics D-League team. What did you think of the experience?
Dave Cowens
(2:56 PM)
I think ownership and the Celtics and the coaches there have put together a nice product. They revitalized the building into something that the team likes to play in. That's been good for the community and where that arena is in that town. They have a good product. It's a D-League team, so hopefully it's a team that the Portland fans follow.
Don (DC)
If the C's winn, who do you think should be named MVP of the Finals? Thanks!
Dave Cowens
(2:57 PM)
That probably depends on what happens in the next game or two when it's decided. Garnett and Pierce have been spotty. I would say Rondo would be the leading candidate right now, as he's been the most consistent through the playoffs this year.
TJ (Arizona)
Say the Lakers win game 6 does the momentum shift back to LA to win the Championship?
Dave Cowens
(2:58 PM)
Obviously, they have two games to win and the Celtics only have to win one. I know the Celtics don't want it to go to a 7th game. But the Lakers need to make it go to a 7th game. THat's the difference.
B (NY)
You mention Bynum being limited but I think one of the biggest reasons LA is losing is because of Lamar Odom who is having the same type of terrible finals like he did in 2008.
Dave Cowens
(3:00 PM)
It is a big key. Bynum is a different character than Odom is. Odom is not that large target like Bynum. They're two different players. How they run the triangle is different. Now it makes them become more of a dribble penetrating, perimeter shooting offense instead of a power offense, where Bynum and Gasol can use their size and dominate inside. They end up looking more like the Celtics look than the Lakers really are. The Celtics are better at that.
BIll (LA)
Your opinion of Ron Artest?
Dave Cowens
(3:02 PM)
Ron Artest needs to match some of the offensive output that Pierce puts on him. You can't rely on just being a stopper. He has to put some points on the board as well and take the game to Pierce. In basketball, there is one team against the other and then there are other matchups going on. He needs to be more aggressive and score more points for his team.
bmathews (New York)
Win or Lose the NBA finals, what kind of changes if anything do you see the Celtics making for next season? Resign Ray Allen and Nate Robinson?
Dave Cowens
(3:03 PM)
I believe that Ray Allen will continue to be a Celtic. I'm not sure about Nate. I think he sort of found a home in Boston. I think he likes the situation there. He gives them a weapon that they didn't have when he got there. But he wasn't there for a whole season. He came in and had to make some adjustments on the fly. I don't know what the management's thoughts are on Robinson. And in one way or the other, I think the Lakers might retool.
Dave Cowens
(3:04 PM)
Be humble. Keep the faith. Life is good.
Buzzmaster
(3:07 PM)
Thanks Dave!