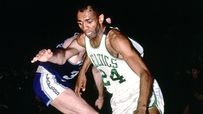 Jones is a five-time NBA All-Star.
Welcome to SportsNation! On Monday, we'll be talking NBA playoffs when former Boston Celtic shooting guard Sam Jones stops by to chat.
Nicknamed "The Shooter," Jones spent his entire NBA playing career with the Boston Celtics helping them win 10 NBA championships (1959-66 and 1968-69) in 12 seasons. For his career, he averaged 17.7 points and is a member of the NBA 25th Anniversary Team, the Basketball Hall of Fame and was named one of the NBA's
50 Greatest Players.
Send your questions now and join Jones Monday at 3 p.m. ET!
More: NBA playoff index | Previous chats | SportsNation
Buzzmaster
(3:05 PM)
Hey everyone. Sam's at a charity golf event today and we're waiting for him to join us here shortly.
Buzzmaster
(3:17 PM)
Sam is here!
Dub (mesa,AZ baby!)
What was it like playing with Cousy and Russell?
Sam Jones
(3:18 PM)
You talk about those guys and Cousy was ahead of his time. John Stockton was an exact clone of Bob. Bob knew exactly where his guys wanted their shots. Bill Russell was the greatest player.
mike (Ct)
Sam when you played,the 3 pt shot was not in effect.How do you think you would have done with that option?....and...do you feel sorry for all the times Zeek from Cabin Creek lost to the Celts in the finals?
Sam Jones
(3:19 PM)
Mike, actually, I could shoot the two-hand set shot. That's how I was taught in high school. I could shoot that or the two-hand shot from that range. I'm enjoying watching the guys shoot that jumpshot.
Pistol Pete (Holden, MA)
Who were some of the toughest guys for you to guard and why?
Sam Jones
(3:20 PM)
Oh my gosh Pete! There were two guys that gave me nightmares. Oscar Robertson, from the KC Royals, who had a triple double for an entire season. And the other was Jerry West. Those guys could play in the NBA right now and score 20 points per game.
Tim (Red Bank, NJ)
What current player has a game similar to yours?
Sam Jones
(3:21 PM)
These guys are so much further advanced than I am. I try to find a guy with a similar game to mine. It's hard to say because I was known for shooting off the backboard. The only guy that's known for that now is Tim Duncan. The other guy I really like is Ray Allen, but his shot is much quicker than mine. And he has more depth than I did.
Jeremy (Chicago, IL)
What is the one thing that you had to do before every game?
Sam Jones
(3:22 PM)
The one thing I had to do is I made sure I got to the arena early so I could go out on the floor to shoot baskets by myself to see how my shot was going. I did that in all of the gyms.
Byron (Cleveland)
Mr. Jones. I really respect all that you have done for the Celtics organization. Thank You. My question is where would you rank the accomplishments of this group among those of past Celtics title winners?
Sam Jones
(3:23 PM)
Certainly I would rank them very very high, because they came in later. If you think of the Celtics that played, DJ, Parrish, Bird, McHale, Russell, KC Jones, etc. they all played together a long time. If these current guys had played together for 7-8 years, they could have won 3 championships.
Ian (CT)
Sam if you were Doc would you have second guessed re-upping with the aging celtics?
Sam Jones
(3:25 PM)
Doc Rivers, if I were him, maybe two years on a contract. Five years might be too much. He's done a great job with the Celtics. Hopefully he will continue to do a great job. There's a time when you might want to leave. Two years would have been good then go enjoy time with the wife and kids.
mike (westport,ct)
Do you remember the incident when Wilt chased you down the court and you picked up a stool as self defense against the giant?...Tell us what precipitated this?
Sam Jones
(3:26 PM)
Thanks a lot Mike! I'll let you know right now that Wilt and I were the best of friends, but on the court, if you're not wearing the same uniform, you're the enemy. I hit Wilt harder than I expected and he turned around to reach for me, so I had to grab a stool and he told me he was going to make me eat that stool. But I apologized to him.
Chris Fiegler (Latham,NY)
Who do you think will be in the NBA Finals?
Sam Jones
(3:27 PM)
In the East, I do like Chicago. I love LeBron, Wade and Bosh. But I think the best defensive team in the league is Chicago. They have the MVP in Rose. On the other hand, Dallas looks tough to me. So I think Chicago and Dallas in the NBA Finals.
Cheesehead Sports Nut (Chicago, IL)
In order to win an NBA Championship you need a Top-10 player, but I would argue that role players are just as important because quality bench players (i.e. Jason Terry or Robert Horry) help win playoff series just as much as superstars. Who are some of those quality bench players that you think will make the difference in helping a team win it all?
Sam Jones
(3:29 PM)
We had Larry Sigfried, who just passed away. He played with John Havlicek at Ohio State. Don Nelson played a part in our success. He was traded to us from the Lakers. Claude Lavell was a starter in St. Louis and came off the bench for us. All of the role players that we had played an important part in the success of the Celtics.
Cheesehead Sports Nut (Chicago, IL)
Dwight Howard is clearly a talented player but he seems to restrict the type of offense the Magic can play. In a weird way I think Howard might need to change the way he plays if he wants to ever win an NBA Championship. Do you agree or am I crazy?
Sam Jones
(3:30 PM)
I've seen Dwight Howard played a number of games. He's certainly a tremendous dynamic player. I think he needs a little more help at the forward positions. Jameer Nelson is a playmaker. What we have to find out is to see what's going to happen this year. We don't know what Dwight is going to do this year. We'll have to wait and see.
Jeremy (Chicago, IL)
What player during your time annoyed you the most?
Sam Jones
(3:31 PM)
I think the best player that I had play defense against me was Jerry West. He had long arms and you knew he was going to have a lot of points. When you played against him, you had to bring it offensively and defensively.
Sam Jones
(3:32 PM)
I really enjoyed this! We're going to see a tremendous playoff series. It's not the Celtics or the Lakers this year. Chicago has done great. Nowitzki with Dallas. We are in for a great finish to the playoffs.