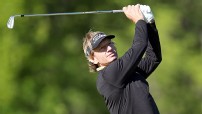 Faxon, who calls Rhode Island home, won the 1979 and 1980 Rhode Island Amateur.
Welcome to SportsNation! On Monday, PGA Tour pro Brad Faxon stops by to chat about the U.S. Open and the golf season, including the tournament Faxon co-hosts in June, the CVS Caremark Charity Classic.
Faxon, an eight-time Tour winner, along with fellow Tour pro Billy Andrade co-host the CVS Caremark Charity Classic which has raised more than $16 million dollars for hundreds of charities throughout Southern New England.
The CVS Caremark Charity Classic runs in a different format than other golf tournaments. Held at Rhode Island Country Club in Barrington, R.I., the tournament features 20 professionals from the PGA, LPGA and Champions Tours, who are all paired into 10 two-person teams, playing a best ball format.
Send your questions now and join Faxon Monday at 10 a.m. ET!
More Special Guests: Previous chats | SportsNation
Buzzmaster
(9:54 AM)
Brad is here!
JT (Boston)
Do you think Phil will ever win a US Open? Just seems like he's probably running out of chances?
Brad Faxon
(9:56 AM)
That's a great question. I would say he's getting older where it's going to be hard to keep missing like yesterday. But not many players have bounced back from adversity like Phil Mickelson has.
Carl (RI)
How long do you think you and Billy will keep doing the CVS Classic for? As a RI native, I think it's just great what you guys have done.
Brad Faxon
(9:57 AM)
Thank you. We're very fortunate to have a company as great as CVS based out of RI. The CEO Larry Merlo loves golf and the event gives money back to charity. As long as people like the event and keep coming out, we'll keep doing it.
Nate (Texas)
Have you ever shanked a shot in a tournament the way Stricker did Sunday? How hard is it to hit that next shot? That was tough to watch, I was pulling for him.
Brad Faxon
(9:58 AM)
I've hit a shank, yes. But the next shot is really hard to do. I can't remember the last time I saw a top player do that in competition to win a major.
Rick (Hartford)
Hey Brad, what did you think of Merion as a US Open venue?
Brad Faxon
(9:59 AM)
Like everybody else, I was a little skeptical if it would be long enough. I played there recently. What the USGA liked was there were a great variety of holes. With the slopes and greens and the thick rough, it held its own. Hopefully the U.S. Open will come back to some of these great, older courses rather than putting them out to pasture.
BillJ (Florida)
Who are you the most excited about having at the CVS tournament this year?
Brad Faxon
(10:01 AM)
We have so many great players. Most of the people will come out to watch Watson and Fowler, two of the great American draws today. Stricker, you can ask him about his shot. We have two women coming to play, Julie Inkster, Morgan Pressel, the same week of their U.S. Open. Fuzzy Zoeller is playing for the first time and everyone loves Fuzzy.
Jimmy (Chicago)
What's your take on the state of Tiger's game? Seems to me like when he's on, he's still the best player in the world, but that's he's just not as consistent with his game as he used to be. Some weeks he's good and some he's not?
Brad Faxon
(10:02 AM)
I agree. It's hard to understand his game right now, especially since he won four events already and hasn't looked the same in the majors. I don't know if I can criticize his game, but it seems like his game is more one dimensional playing these cut shots.
Brian K. (hingham, mass)
Over all the years, who's been your favorite player at the CVS tournament?
Brad Faxon
(10:03 AM)
Good question. We've had Nicklaus, Palmer, Gary Player. I think the most excited I was in doing the CVS, Gary Player was my partner and he hold a 15 foot putt for a birdie to go to a playoff. He was 67 years old and it was one of the biggest roars I've heard.
JJ T. (Philly)
Do you think Merion deserves to have another US Open? I thought it looked great on TV, but it has to be hard for the USGA to go to a place where they know they have to cut the # of spectators by 10-20k per day?
Brad Faxon
(10:04 AM)
That's a good point. The other thing they had to cut down and they sacrificed in their pocket books is the sponsors on the fairways and the tees. They couldn't put in the pavilions. There is a rumor that they lost $10 million. I don't think they'll go back there a lot, but I think they will go back there and to other courses like it. Merion has a second 18 where they put a driving range and temporary locker room. That's how they made it work.
Otis (Chicago)
I know Ricky Fowler is playing in the CVS. Do you think he's going to start having a legit shot at majors in the next few years? It would be great for golf.
Brad Faxon
(10:05 AM)
Absolutely. I see him as someone who is going to be a factor for sure. He's steadily getting better. He's in contention at big important tournaments. He's only going to keep getting better.
Vern (Charleston)
With two first-time major winners this year, who's your pick for next player to win their first major?
Brad Faxon
(10:06 AM)
I think a guy like Luke Donald could win at Muirfield. He's good in foul weather. I will pick Westwood and Luke Donald. And I'll throw in Fowler too.
JB (Springfield)
Do you think Tiger gets to Jack's record for majors? A couple of years ago I still thoughts it was a slam dunk, but now I'm just not sure -- for one thing I don't know if his body is going to hold up, but now I'm not sure his game will either.
Brad Faxon
(10:07 AM)
I'll join your club. I would have said the samething a few years ago that for sure he'd break the record. Even at the start of this year, I'd say he still has a chance. I say he's the best player to ever play the game. I think he can play for a long time. He's relentless in his pursuit. I think he can do it.
Tim (Boston)
What can we expect out of the CvS course?
Brad Faxon
(10:09 AM)
It's Rhode Island Country Club. It's one of my favorite courses to play in the world. R.I. lacks in modern day yardage. It's a great course, it's a great members course. There is rough and when there is wind it can be tough. But that's not what we're all about. You want to see low scores and you will see them.
Tim (California)
Do you think Justin Rose will end up winning multiple majors now? He seems to have the type of game that's suited to winning more -- and the type that can win at different venues?
Brad Faxon
(10:10 AM)
I would agree 100%. He's a very steady player. He's got all parts of the game firing right now. He's added length, significant length. He's improved his short game, which is where he needed to improve the most. He's a very smart kid. I'm impressed with him all around, as a human being and a golfer.
Nick (MN)
Flags or Wicker?
Brad Faxon
(10:10 AM)
I prefer flags on every single course I play other than Merion. They're the coolest looking things, but it makes figuring out the wind very hard.
Brad Faxon
(10:12 AM)
I'm actually very impressed with how many people from all over the country asked very intelligent questions. I know in the wake of the U.S. Open, everyone has questions on if Phil can win, will Justin Rose win another major. I'm as big a golf fan as anyone out there. I love answering the questions, and I have some of them myself.
Buzzmaster
(10:12 AM)
Thanks for chatting Brad!