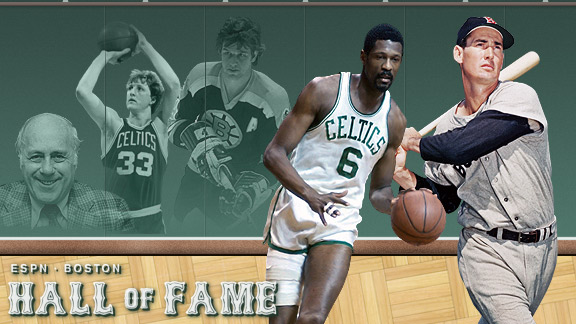 ESPN.com Illustration
Who's worthy? Who isn't? Mike Reiss moderates a series debates: Watch

Now we know how The Bachelorette felt.
When ESPN Boston decided to create a Hall of Fame this summer, our editors essentially gave us five roses and sent us into a virtual mansion filled with the region's greatest non-active sports stars. We were told to mingle with the legends and reacquaint ourselves with their careers, then pick five we'd like to stay.
It didn't take long to realize you never have enough roses. Someone who probably deserves a spot is getting left behind. My roses went to Bill Russell, Ted Williams, Red Auerbach, Bobby Orr and Carl Yastrzemski.
If this actually were a TV show, the producers would have told me to announce Yaz last (all while teasing it as "the most shocking rose ceremony yet.") Then, as Yastrzemski was getting a rose pinned on his lapel, the camera would pan to shots of a stunned Larry Bird or a downtrodden Bob Cousy.
Video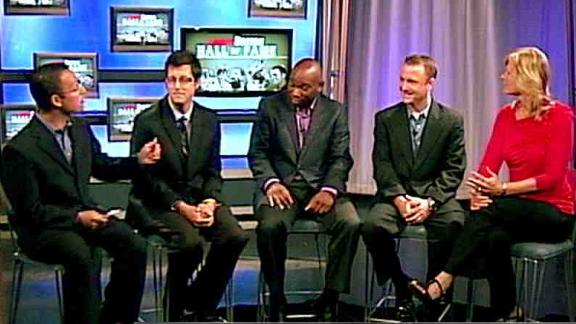 So, who DIDN'T make our list of top 20 candidates, and why? Watch

Photo gallery
Check out the 20 candidates for the
ESPN Boston Hall of Fame: Gallery

Now it's your turn to take on this thorny assignment. ESPN Boston and its five panelists have narrowed the field of hundreds to 20 deserving candidates. We're asking our readers to decide the inaugural class of the ESPN Boston Hall of Fame. Voting ends at midnight Aug. 17.
Don't worry; there is no right or wrong answer. As you'll realize, however, there is plenty of room for hot debate.
During our panel's meeting, we discussed (OK, argued about) who should make the final cut of nominees and made the case for people we had right and everyone else had wrong.
We each revealed our inaugural class and had three minutes to defend it.
And we touched on plenty of other topics: What active players would have changed the conversation? Who is Boston's favorite Dirt Dog? How does Roger Clemens fit in? What is Boston's lowest sports moment? Who's the top athlete in Boston history?
We'll have columns, features and videos on all these questions and more over the next two weeks.
And we'll reveal the final tally and your Hall of Fame Class of 2011 on Aug. 18.
And, yes, we know what you're thinking about my picks: Yaz? Yaz?! Yaz?!?!
Yaz.
Let's start with the negative. The biggest strike against Yastrzemski is that he never won a title. But neither did Ted Williams, and no one is kicking him out of their Boston top five. (Williams was a unanimous selection among ESPN Boston writers.)
We put such an emphasis on rings when describing someone's career, especially in Boston, but here are a few of the individual accomplishments that allowed me to look beyond that with Yaz:
The last Triple Crown: Yastrzemski didn't just put together an MVP-caliber season in 1967, he put together a season no one has matched since. Yastrzemski's Triple Crown saw him bat .326 with 44 home runs and 121 RBIs. It might take another half century before someone accomplishes the feat again.
Longevity and loyalty: It's almost unimaginable in today's era of free agency, but Yastrzemski played his entire 23-year career in Boston. Think of all the greats who have worn a Red Sox uniform and remember that Yastrzemski is the franchise's all-time leader in games played (3,308), hits (3,419), runs (1,816) and RBIs (1,844). And it's not just a product of longevity; Yaz was an 18-time All-Star in that span.
Big shoes to fill: What sold me most on Yaz is that he had to follow Ted Williams. That's like a rock 'n' roll act trying to close a show opened by The Beatles. It's a bar that's set so high it seems impossible to reach. Sure, Yaz wasn't quite as splendid a splinter (although his .285 career average, 452 career home runs and three AL batting titles are nothing to sneeze at). But he wrote the manuscript on how to play the Green Monster and emerged a seven-time Gold Glove winner.
Expectations should have forced him to wilt; instead, as we so rarely see in that situation, Yaz thrived, and, for that, is part of my inaugural picks for the Boston Hall of Fame.
I doubt many of you reading this will disagree with my other inaugural selections. Russell and Auerbach were top picks among the writers and have literal handfuls of championship rings to prove it. Orr revolutionized the game at his position and is the region's greatest hockey star.
You can make the case that Bird and Cousy deserve to be on this list. Alas, you get only five roses.