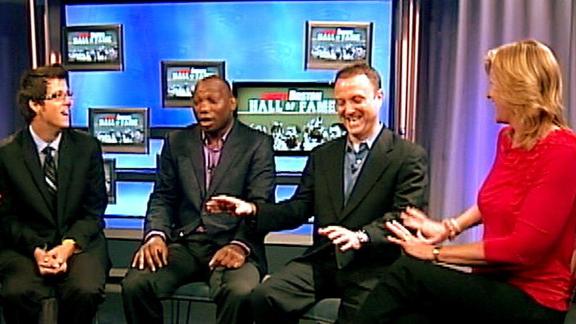 ESPNBoston.com
Our panel debates who should be No. 1? Watch

In creating an ESPN Boston Hall of Fame this summer, we're asking readers to help induct five non-active athletes. And while many could make a good case for having at least four Celtics on their final list, our inaugural class isn't likely to be composed entirely of hardwood heroes.
Nonetheless, here's a look at the five non-active legends who would make up our first class of a Celtics wing of the Hall ... if there were to be such a tribute:
Bill Russell
The iconic image of Russell, chin in hands, with seven of his 11 championship rings decorating his digits, doesn't reveal the whole story. But it tells you pretty much all you need to know to land him here. Russell was the greatest Celtic to grace the court, and he did so much more off it for the city of Boston.
Video
Cast your votes now! Watch

Photo gallery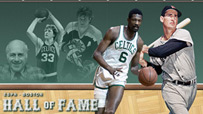 Check out the 20 candidates for the
ESPN Boston Hall of Fame: Gallery

Red Auerbach
Nine other coaches have more career wins, but here's what those others don't have: Nine championship rings. (OK, Phil Jackson has 11, but he switched teams. The other seven have eight titles combined, five of which belong to Pat Riley.) Auerbach, who won 938 regular-season games in 20 seasons and another 99 playoff contests, had the NBA's Coach of the Year award named in his honor. Simply put, he built the Celtics' empire.
Larry Bird
Let's start with the obvious: Bird is a three-time champion and two-time Finals MVP, three-time league MVP, 12-time All-Star and nine-time All-NBA first-team member. He averaged 24.3 points, 10 rebounds and 6.3 assists per game over a 13-year career. Maybe the best all-around player the franchise has seen, Bird was slowed only by injuries.
Bob Cousy
After winning an NCAA title at Holy Cross, Cousy transformed the point guard position in the NBA with his ballhandling and passing skills. The "Houdini of the Hardwood" helped Boston to six NBA titles and was the MVP of the 1957 season. A 13-time All-Star, Cousy averaged 18.4 points and 7.5 assists in 924 career games.
John Havlicek
Everyone knows about Hondo's scoring legacy: He's the Celtics' all-time leader in points (26,395) and games (1,270). But it's his all-around impact that lands him here. Havlicek averaged 20.8 points, 6.3 rebounds and 4.8 assists during his 16-year career. He was an eight-time champion, 13-time All-Star and a five-time member of the NBA's All-Defensive first-team.
Best of the rest:
Tom Heinsohn (1967 Rookie of the Year, six-time All-Star, eight-time NBA champion, 427 wins in nine years as coach -- including two championships -- and Celtics broadcaster); Sam Jones (10-time NBA champ and five-time All-Star); and Dave Cowens (1971 Rookie of the Year, two-time NBA champ, 1973 MVP and seven-time All-Star).