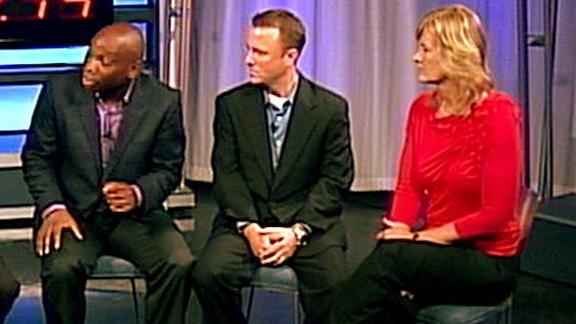 ESPNBoston.com
Why no recent Patriots among the 20 nominees?: Watch

In creating an ESPN Boston Hall of Fame this summer, we're asking readers to help induct five non-active athletes/coaches/iconic figures. It might be tough for the Patriots to break into the inaugural five-member class, in part because they don't have the same rich history of other professional teams in town.
Regardless, here's a look at the five non-active Patriots who would make up our first class of a Patriots wing of the Hall ...
Selected with the first overall pick in the 1993 draft, Bledsoe brought with him a cannon right arm along with new hope for the franchise. In his nine years with the Patriots, Bledsoe threw for the second-most passing yards in team history, and tossed 166 touchdowns. He was selected to three Pro Bowls and will be inducted into the team's Hall of Fame in 2011.
Video
Cast your votes now! Watch

Photo gallery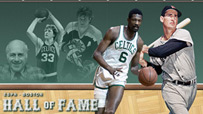 Check out the 20 candidates for the
ESPN Boston Hall of Fame: Gallery

Arguably the most popular Patriot of all-time, he played for the team from 1996-2008 and was a key member of three Super Bowl championship squads. His inspirational return from a stroke also endeared him to the team's fans. When he retired in 2009, Bruschi was called the "perfect Patriot" by head coach Bill Belichick because he always seemed to be in the right place and said the right thing.
Gino Cappelletti
One of only three players to play in every game of the American Football League's 10-year history, Cappelletti (1960-70) was the AFL's all-time leader in points (1,100) and field goals (170). He doubled as a wide receiver, totaling 292 receptions over his 11-year career, while appearing in five AFL all-star games. Cappelletti has been the longtime radio analyst for Patriots games.
John Hannah
Inducted into the Pro Football Hall of Fame in 1991, "The Hog" played 13 seasons for the team (1973-1985) and was voted to a team-record nine Pro Bowls. A powerful left guard, he played in 183 games, missing only five due to injury, while earning a reputation as one of the NFL's all-time greats at his position. In 1978, he helped lead the Patriots to an NFL record 3,165 rushing yards.
Arguably the best pass rusher in franchise history, he finished his 11-year career with 100 sacks, which stands as the franchise record. Tippett played from 1982-1993, missing the 1989 season due to injury, and was one of the NFL's most feared rushers early in his career when he totaled 18.5 sacks in 1984 and then 16.5 in 1985. He was inducted into the Pro Football Hall of Fame in 2008.
Best of the rest:
Bruce Armstrong, Troy Brown, Tedy Bruschi, Nick Buoniconti, Ben Coates, Steve Grogan, Rodney Harrison, Mike Haynes, Ty Law, Bill Parcells, Mike Vrabel