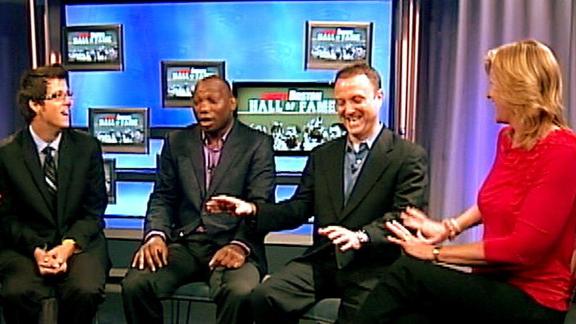 ESPNBoston.com
Our panel debates who should be No. 1? Watch

Trying to produce a Top 5 all-time Bruins list is simple and difficult at the same time. There are some obviously deserving players that wore the Black and Gold sweater, and there are so many more that are on the cusp.
Here are my top five:
1. Bobby Orr
Bobby Orr could be No. 1 on any all-time sports list. No. 4 completely changed the way the game is played and he molded a region into a hockey community that still exists today.
During a 12-year Hall of Fame career that ended prematurely due to knee injuries, Orr won Stanley Cup championships in 1970 and 1972. He won the Hart Trophy three times, the Art Ross Trophy twice, the Calder Trophy, the Norris Trophy eight times and was a two-time winner of the Conn Smythe Trophy.
Bruins legend Milt Schmidt, now 93, has said many times that if there were ever a player to come along who is better than Orr, Schmidt would hope the good Lord would keep him on earth long enough to see it.
Video
Cast your votes now! Watch

Photo gallery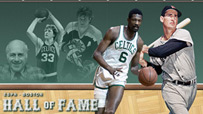 Check out the 20 candidates for the
ESPN Boston Hall of Fame: Gallery

2. Milt Schmidt
Schmidt has been involved with the Bruins organization for nine decades. A member of the famous "Kraut Line" along with Bobby Bauer and Woody Dumart, Schmidt won two Stanley Cup championships (1939 and 1941) as a player and another as general manager (1972). He also coached the Bruins from 1962 to 1966. This Hall of Famer is a close second to Bobby Orr.
3. Cam Neely
Neely quickly became a fan favorite for his ability to drop opponents with his fists and ferocious body checks. No. 8 was also a proven playmaker and gave new meaning to the term "power forward" during his career. He never won a Stanley Cup as a player, but in his first season as team president, Neely helped orchestrate the 2011 Stanley Cup title in Boston. He's also in the Hall of Fame and his number is hanging from the rafters at the Garden.
4. Johnny Bucyk
Johnny "Chief" Bucyk holds franchise records for seasons played (21), games played (1,436), goals (545) and he's second in points (1,339). This Hall of Famer won two Stanley Cup titles and earned two Lady Byng trophies. His No. 9 is also retired and he remains an integral member of the Bruins' hockey operations department.
5. Ray Bourque
Unfortunately Bourque never won a Stanley Cup with the Bruins. He had to go elsewhere to achieve that goal (Colorado Avalanche, 2001). But his accomplishments in Boston will never be forgotten. No. 77 won a Calder Trophy and was a five-time Norris Trophy winner. Bourque is one of the greatest defensemen in NHL history. His number is retired and he's a member of the Hall of Fame.
Best of the rest:
Terry O'Reilly, Phil Esposito, Eddie Shore, Rick Middleton, Dit Clapper.