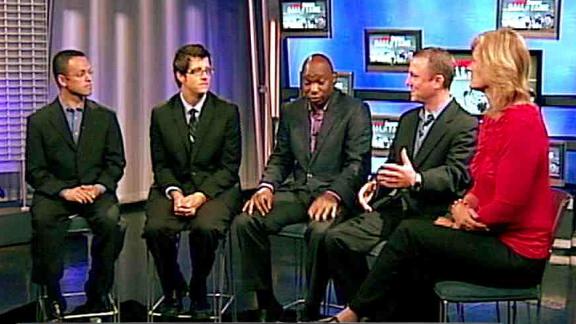 ESPNBoston.com
How does Roger Clemens fit into the Hall talk? Watch

Roger Clemens has some competition for the title of best pitcher the Boston Red Sox have ever had. Pedro Martinez. Smoky Joe Wood. Cy Young. Lefty Grove. Shoot, for doing what "The Rocket" failed to do, pitching the Red Sox to a World Series title, even Curt Schilling, who credits Clemens for setting him straight, would carry a few precincts.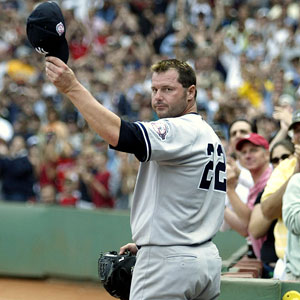 Associated Press Yes, Roger Clemens was cheered at Fenway while wearing a Yankees uniform (on Aug. 31, 2003).
But Clemens is nearly in a class by himself in Boston jockdom, across all sports: No great athlete who ever performed for one of this town's teams is as reviled as The Rocket, often by the same folks who used to wear his jersey on their backs. The only player who comes close is Johnny Damon, who even in the end-of-his-career incarnation as a Tampa Bay Ray gets booed for the audacity of becoming a Yankee, as if the former employee of the Kansas City Royals and Oakland Athletics had somehow forfeited his birthright by choosing to sell his services to the highest bidder.
Put Clemens on their Boston Hall of Fame ballots? Some folks around here would sooner erect a statue to Whitey Bulger or Lizzie Borden, who while not convicted are widely believed to have blood on their hands. The only thing Clemens killed was his own reputation.
There was one brief shining moment for Clemens when it appeared Sox fans were willing to set aside all their grievances -- his postseason failures (the blister in '86, the eye black and ejection in Oakland), his complaints about carrying his luggage, his rebirth in Toronto as a freshly chiseled Cy Young winner after going 40-39 his final four seasons in Boston and finally his embrace of pinstripes.
That was the Sunday afternoon in August 2003 when Clemens, who had signaled his intention to retire, made what was assumed to be his final appearance in Fenway Park. A sellout crowd saluted him with a standing ovation as he made his way to the visitors dugout after being taken out of the game.
Video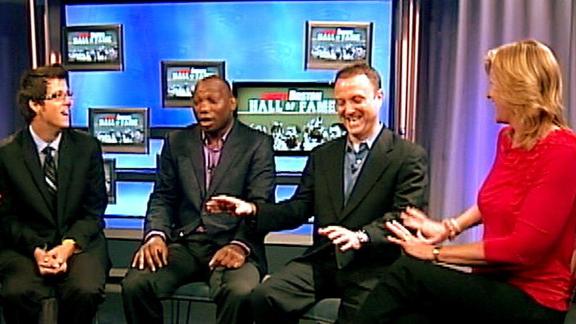 Who's the best in Boston sports history? Watch

Photo gallery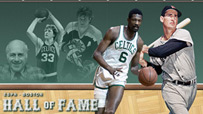 Check out the 20 candidates for the
ESPN Boston Hall of Fame: Gallery

As he acknowledged the cheers that washed over him, it was easy to recall the 20-win seasons and 20-strikeout games, the Lawrence Taylor-like intimidation, the sound and the fury and the fastball. Only Larry Bird stood taller than Clemens during his Boston glory years, and in that moment that was the way fans opted to remember him, not as a Yankee ingrate but as a Red Sox icon.
But even though six years had passed since Dan Duquette famously pronounced Clemens as being in the twilight of his career, The Rocket couldn't stop. He "unretired" after the 2003 season, signing with his hometown Houston Astros, but even a homecoming wouldn't do as a final act. That's when Clemens perfected his mercenary act, drawing record sums first from the Astros and then the Yankees for half-season efforts at maximum prices.
And then it all came undone, with the accusations of steroid and human growth hormone use. The Mitchell report, the defiance in Congress, the blind arrogance that made him believe that all he had to do was rear back and throw harder and no one would stand up to him.
That had always worked on a ball field. Not so well under oath. A mistrial in his perjury trial meant a reprieve, at least temporarily, but Clemens -- winner of seven Cy Young awards, author of 354 wins and 4,672 strikeouts -- had seriously miscalculated the toll this would take on his good name. In the court of public opinion, it was Roger Clemens who had whiffed.
As with Manny Ramirez, there was a wish that Clemens would just go away.
Viewed exclusively through the prism of what Roger Clemens achieved while he was playing here, he belongs in a Boston sports hall of fame. Looking through a glass darkly, it's anything but a sure thing.
Gordon Edes covers the Red Sox for ESPNBoston.com.