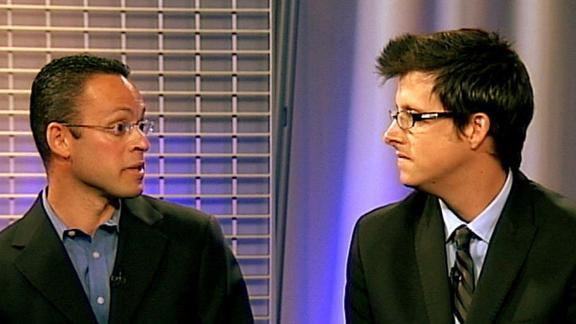 ESPNBoston.com
Which active players would make it into our Top 20? Watch

When it comes to championships, the New England Patriots have been the most successful professional sports team in the region over the last decade with three titles (2001, 2003, 2004). But when it comes to ESPNBoston.com's inaugural Hall of Fame class, the Patriots have only one candidate among the 20 being chosen for five spots -- Pro Football Hall of Famer John Hannah.
What gives?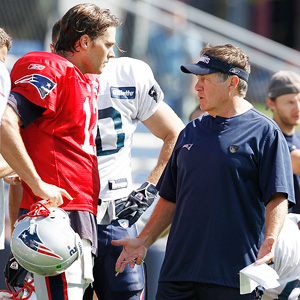 Associated Press Tom Brady and Bill Belichick will undoubtedly land in our Hall of Fame. The only question is when.
Check the rulebook and there is the explanation. As part of Hall guidelines, eligible candidates have to be retired. That quickly eliminates some surefire Patriots options.
Now consider, for a moment, what would happen if we altered those rules.
Of all Boston's professional sports teams, arguably none would be as dramatically affected as the Patriots. The Hall would surely swing open its doors for quarterback Tom Brady with no debate. The only question would be where to place him.
Does he crack the top five, joining the iconic figures of Bill Russell, Ted Williams, Bobby Orr and Co.? And if so, who would he bump off?
Just curious: Brady and his three Super Bowl rings versus Red Auerbach and his 16 titles. Who are you taking? That could be what it comes down to.
And don't forget coach Bill Belichick, the architect of those three Super Bowl-winning teams. He'd be in, too. Top 5, maybe not, but certainly Top 10. The Hall doesn't have a dress code; hoodies are permitted.
And owner Robert Kraft would have a strong case, as well, especially after he was credited by some over the last month as the man who saved football. What other local owner has had such an impact, with his team and with the league in which it plays?
So between Brady, Belichick and Kraft, the Patriots will soon be carving out some significant Hall real estate. But the rules are the rules, and if Patriots fans are lucky, it will be another decade or so before these three enter the discussion.
Video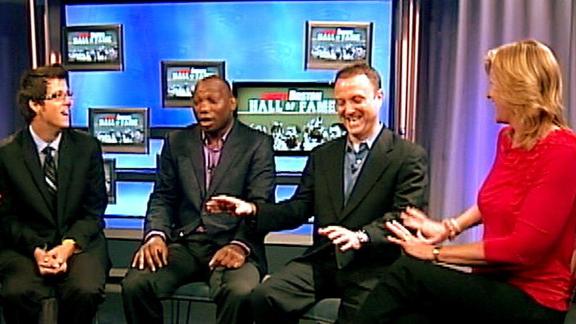 Who's the best in Boston sports history? Watch

Photo gallery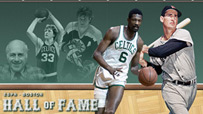 Check out the 20 candidates for the
ESPN Boston Hall of Fame: Gallery

The Patriots aren't alone when it comes to having worthy active candidates. Red Sox manager Terry Francona deserves consideration, as does David Ortiz. But how high? One would also have to consider majority owner John Henry for helping end the World Series drought so we no longer had to hear "1918" every season. And what about Theo Epstein? Does he enter the conversation?
The Bruins wouldn't have won the Stanley Cup this year -- their first title since 1972 -- without goaltender Tim Thomas. Meanwhile, Paul Pierce is the Celtics' top active candidate. Do these two make the cut? There is no shortage of debate when it comes to Pierce; he's a polarizing figure of sorts when it comes to this stuff.
In general, Hall of Fames spark that type of debate, and when the topic of active candidates is broached, the most powerful discussion centers around Brady because of his top-5 potential.
Think of it this way: In 1992, longtime Boston sportscaster Bob Lobel pulled off one of the greatest coups in local TV sports history when he arranged for Ted Williams, Bobby Orr and Larry Bird to be in studio for his "Sports Final" program. The sight of the iconic legends on the same set was unforgettable. When the show began, you knew you were watching something special.
If we could go back in time, knowing what we know now, would you put Brady in a fourth seat?
The answer seems obvious: of course.
Brady is that once-in-a-lifetime story, a special talent whose unexpected rise played arguably the biggest role in helping deliver three Super Bowl championships to a franchise that had never won one. He belongs with Russell, Orr, Williams and Bird.
That will come in time.
If anything, the topic of considering active players for the ESPN Boston Hall of Fame serves as a reminder to appreciate the greatness among us now. It starts with Brady.
Mike Reiss covers the Patriots for ESPNBoston.com.