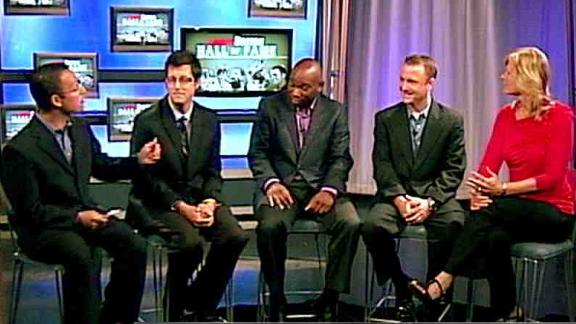 ESPNBoston.com
The Last Cut: Who doesn't make the Top 20? Watch

Here in Boston we have a simple way of honoring our sports heroes: Statues.
Bobby Orr sails through the air outside the TD Garden, while inside Larry Bird preps for a free throw. Red Auerbach enjoys a cigar near Faneuil Hall, while Ted Williams gives his cap to a youngster outside Fenway Park. Soon, Bill Russell's (long overdue) bronzed depiction will sit in revamped City Hall Plaza.
Stars from Boston's major professional sports are unsurprisingly well represented, but explore the Commonwealth and you'll find effigies to other local sports heroes that earned a spot among the 20 nominees of the inaugural class of our Boston Hall of Fame, despite not being quite as mainstream as the others.
In Newton, you'll find elite long-distance runner Johnny Kelley in his marathon pose, while up the road outside Boston College's Alumni Stadium, Doug Flutie preps to throw a "Hail Mary" pass. Scholastic standout Harry Agganis readies a southpaw delivery outside the Boston University arena bearing his name and, like Russell, Brockton's heavyweight hero, boxer Rocky Marciano, will soon have an overdue statue in his likeness in the City of Champions.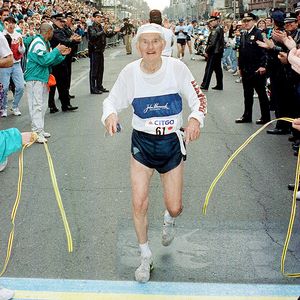 Associated PressJohnny Kelley completed his final Boston Marathon in 1992 at age 84.
Here's a closer glimpse at those four candidates:
JOHNNY KELLEY: If the Boston Marathon is the region's signature event, nobody embodied the race more than Johnny Kelley. The Medford native started the race 61 times during his running career, winning twice (1935, 1945) and finishing second a record seven times. He completed his final Boston Marathon in 1992 at age 84.
"Johnny Kelley has long been the heart and soul of the Boston Marathon," BAA executive director Thomas Grilk said at the time of Kelley's death in 2004. "Now that he's gone, his heart and soul live on in the race that he, more than anyone else, has come to personify."
A year after that final race, a statue of Kelley dubbed "Young at Heart" was unveiled about a mile before Heartbreak Hill near Newton's City Hall. Two images of Kelley are depicted, one at age 27 (his first Boston win) and the other at 84 (his final full race) with hands clasped.
Kelley also competed for two Olympic teams (1936, 1948; World War II prevented him from competing in 1940). In 2000, Runner's World magazine named Kelley its "Runner of the Century."
ROCKY MARCIANO: Dubbed "The Brockton Blockbuster," Marciano is the only heavyweight champion to ever emerge undefeated, winning all 49 career fights (43 by knockout), and retired as champion at age 32.
Marciano won the heavyweight title on Sept. 23, 1952 at Philadelphia's Municipal Stadium, knocking out Jersey Joe Walcott in the 13th round of a 15-round match. It was his 43rd career victory and Marciano successfully defended his title in six fights before retiring on April 27, 1956.
His final professional fight saw him knock out Archie Moore in the ninth round at Yankee Stadium on Sept. 21, 1955.
"After a fight with Marciano, you felt like someone had been beating you all over the body with a blackjack, or hitting you with rocks," said Moore, who could lay claim to being one of only two men to put Marciano on the canvas (the other being Walcott in Marciano's championship-winning fight).
Marciano's life ended tragically on the eve of his 46th birthday, when the plane he was traveling in to Iowa crashed short of the runway, hitting a tree and killing Marciano, an inexperienced pilot not certified to fly in the bad conditions that existed that night, and another man.
His Brockton statue is still being planned.
Video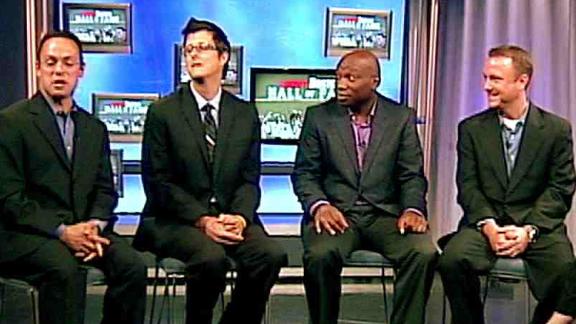 Our panel discusses some of the athletes who didn't make the top 20. Watch

Photo gallery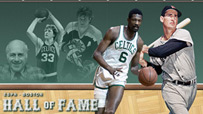 Check out the 20 candidates for the
ESPN Boston Hall of Fame: Gallery

HARRY AGGANIS: One of the region's most celebrated scholastic athletes for his accomplishments at Lynn Classical, Agganis went on to re-write the football record book at Boston University, setting a new school mark with 15 touchdown passes during the 1949 season. By the time he left the Terriers, Agganis held school records for passing yards, touchdown passes, kicking average, and interceptions. He was selected by the Cleveland Browns in the first round of the 1952 NFL draft (12th overall), but the Boston Red Sox outbid the Browns for his services, and Agganis elected to pursue a career in baseball closer to home.
Agganis, a 6-foot-2, 200-pound first baseman, made his Red Sox debut on April 13, 1954 and hit .251 with 11 HR and 57 RBI in 132 games his rookie campaign. The following year, he batted .313 through 25 games, but was hospitalized in early June with pneumonia. On June 27, Agganis died in Cambridge of a pulmonary embolism at age 26.
DOUG FLUTIE: We could insert a YouTube clip of the "Hail Flutie" pass against Miami in 1984 and that would suffice, but the Natick product put together an amazing football resume beyond his most famous moment as Boston College quarterback.
During that 1984 season, the 5-foot-10, 180-pound Flutie garnered college football's top honor in netting the Heisman Trophy (he threw for 3,454 yards and 27 TDs while guiding the Eagles to a 10-2 mark), but drew limited NFL interest because of his stature (he was ultimately drafted by the LA Rams in the 11th round, 285th overall). Flutie began his pro career in the ill-fated USFL, but migrated to the NFL (and the Chicago Bears, where his rights had been traded) by the 1986 season. Flutie came home to New England during the 1987 campaign, where he crossed picket lines when the NFL Players Association went on strike, and ultimately appeared in 17 games (13 starts) over three seasons.
Flutie later took his talents to another BC - - the BC Lions of the Canadian Football League -- where he starred for eight seasons (eventually landing in the Canadian Sports Hall of Fame in 2007, the first non-Canadian to be inducted).
Flutie returned to the NFL in 1998, playing seven more seasons in Buffalo and San Diego before wrapping up his career as a backup in New England in 2005 (the NFL's first drop-kick PAT in 64 years being his biggest highlight -- and the final play of his career). Flutie finished his NFL career with 14,715 yards passing and 86 TDs. He was the 1998 Comeback Player of the Year, earning a Pro Bowl nod while going 7-3 in 10 starts for Buffalo.
Information from The Associated Press and ESPN Archives was used.