ESPNBoston.com
Our panel discusses who belongs in the media wing Watch

First things first. If we're going to have a media wing for the ESPN Boston Hall of Fame, it's going to be named after Will McDonough.
The legendary Boston Globe columnist broke more stories than anyone, was better connected than anyone, worked harder than anyone and was more respected than anyone. Beyond that, he encouraged countless young reporters, always taking the time for a kind word or some sound advice, and was as generous a person as you'd ever meet.
When your wake is held at Boston Garden, you must have done something right.
But beyond McDonough, Boston has been home to many Hall of Fame-caliber writers and TV anchors, among them Bob Ryan, Peter Gammons, Ray Fitzgerald, Leigh Montville, Larry Whiteside, Kevin Paul Dupont, Bob Lobel, Mike Lynch and our own Jackie MacMullan. All were or are extremely talented, groundbreaking journalists worthy of inclusion in our media wing.
Video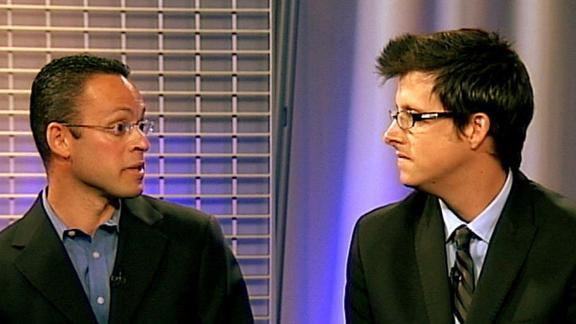 How do active players change the HOF landscape? Watch

Photo gallery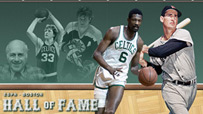 Check out the 20 candidates for the
ESPN Boston Hall of Fame: Gallery

And what about our broadcasters? No city can claim a deeper roster of legendary play-by-play and color announcers than Boston. Sure, L.A. and New York have some star power -- Chick Hearn and Vin Scully in L.A., Mel Allen and Red Barber in New York -- but when you're talking quality and quantity from the past half century to the present, no one can match Boston. Sorry, John Sterling.
Consider: Johnny Most, Curt Gowdy, Ken Coleman, Fred Cusick, Johnny Peirson, Bob Wilson, Ned Martin, Jim Woods, Mike Gorman and Tommy Heinsohn, Gil Santos and Gino Cappelletti, Joe Castiglione and even the RemDog, Jerry Remy.
These are the people we've listened to, through thick and thin, sharing the highs and lows of being a sports fan in Boston.
To salute all the greats who deserve recognition in our media wing for helping us enjoy, understand and appreciate Boston sports, we recall five of the most memorable calls in Boston sports history. As you read the words, you can't help but see the plays and hear the voices.
"Greer putting the ball in play. He gets it out deep -- and Havlicek steals it. Over to Sam Jones. Havlicek stole the ball. It's all over, it's all over. Johnny Havlicek stole the ball. Oh boy, what a play by Havlicek at the end of this ballgame. Johnny Havlicek stole the ball on the pass-in. Oh my, what a play by Havlicek."
-- Johnny Most, Game 7, 1965 Eastern Conference finals
"Westfall rolled it in front, Sanderson tried a shot that was wide and Keenan cleared it but not out. Bobby Orr … behind the net to Sanderson to Orr … Bobby Orr … scores and the Boston Bruins have won the Stanley Cup."
-- Dan Kelly (national broadcaster), Game 4, 1970 Stanley Cup finals
"Game tied, 6-6. Darcy pitching. Fisk takes high and inside, ball one. Freddie Lynn on deck. There have been numerous heroics tonight, both sides. The 1-0 delivery to Fisk. He swings … long drive, left field. If it stays fair, it's gone. Home run! The Red Sox win! And the series is tied three games apiece."
-- Ned Martin, Game 6, 1975 World Series
"Ken Walter will hold, Lonie Paxton will snap, from the far hashmark angled to the left for Adam Vinatieri. Forty-eight-yard field goal attempt. Set to go, snap, ball down, kick up, kick is on the way, and … it … is GOOD! It's good! It's good! Adam Vinatieri booms a 48-yard field goal and the game is over. And the Patriots are Super Bowl champions. The Patriots are Super Bowl champions. The best team in the National Football League."
-- Gil Santos (punctuated by the laughter of partner Gino Cappelletti in the background), Super Bowl XXXVI
"The 1-0 pitch. Here it is. Ground ball, stabbed by Foulke. He has it, he underhands to first -- and the Boston Red Sox are the world champions! For the first time in 86 years, the Red Sox have won baseball's world championship. Can you believe it?"
-- Joe Castiglione, Game 4, 2004 World Series
As unforgettable as those five moments -- and the announcers' calls -- are, we'd be remiss if we didn't include one more, one that New Englanders around the age of 50 and older would place above them all:
"The pitch is looped toward shortstop. Petrocelli's back. He's got it! The Red Sox win! And there's pandemonium on the field!"
-- Ned Martin, final game of the 1967 regular season
Pandemonium indeed. Mercy!
Steve Richards is an editor for ESPNBoston.com.