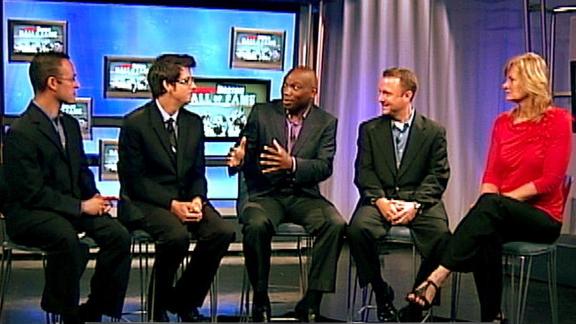 ESPNBoston.com
Panel members talk about their favorite dirt dogs Watch

BOSTON -- If there's one hockey player who epitomizes what it means to be a Boston Bruin, it's Terry O'Reilly.
Video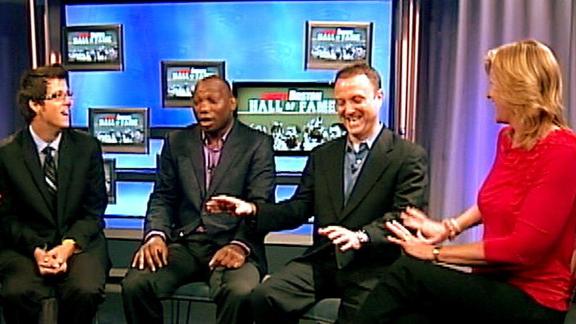 Who's No. 1 in Boston: Russell or Orr? Watch

Photo gallery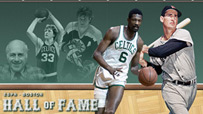 Check out the 20 candidates for the
ESPN Boston Hall of Fame: Gallery

He's been described time and again as the prototypical Bruins player who bleeds black and gold. No. 24 represented the blue-collar fan base in New England and nearly every hockey fan could relate with O'Reilly for his hard-nosed style of play. He could beat you with his fists. He could beat you on the scoreboard. He would do anything possible to win.
O'Reilly is, by definition, a dirt dog.
On Oct. 24, 2002, the Bruins organization retired his number and raised a spoked-B banner to the rafters of the Garden. It was fitting during a pregame ceremony on Terry O'Reilly Night that he entered the ice surface through the penalty box door.
It was the perfect curtain call.
There were former teammates, coaches and Hall of Famers in attendance for the ceremony, including former Bruins captain Ray Bourque.
"I learned how to be a Bruin from Terry O'Reilly," Bourque said in his speech during the ceremony.
O'Reilly's passion and relentless style of play has been passed on to every player who wears a Bruins sweater. O'Reilly's legacy resonates beyond the ice in Boston. Because he became a fabric of the sports landscape in New England, his attitude has rubbed off on other professional athletes in this city.
The "dirt dog" label was born out of the Taz Factor.
Gritty, never say die, making the most of your ability, always giving maximum effort. The tag was famously applied to Trot Nixon, but guys such as Steve Grogan, Mosi Tatupu and M.L. Carr also were fitting examples.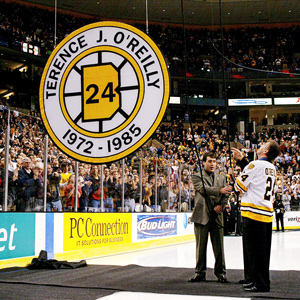 AP photo Terry O'Reilly got rather emotional the night his number was raised to the Garden rafters.
O'Reilly played a total of 891 regular-season games with the Bruins and posted 204 goals and 402 assists for 606 points, while accumulating a franchise record 2,095 penalty minutes.
O'Reilly called it a career at age 33 because his son Evan had liver problems at an early age. O'Reilly returned as head coach from Nov. 5, 1986 to May 1, 1989. He had not been back at the Garden until the night the Bruins retired his number.
For someone who was so tough and known for his fisticuffs, when the Bruins raised his number on Oct. 24, 2002, O'Reilly became very emotional. He knew, as all Bruins fans did, that the former player, captain and coach spent nearly his entire professional career giving his all to the Boston Bruins.
"I gave everything I had to the Boston Bruins organization," he said during his speech that night. "This will always be my home."
Spoken like an original dirt dog.
Joe McDonald covers the Bruins for ESPNBoston.com.